Designing a nursery for your baby-to-be can be a fun and rewarding experience, but it can also seem a little daunting, especially if you don't know where to begin — feeling a little overwhelmed? Take a moment to arm yourself with these helpful nursery design dos and don'ts, and you'll be ready to hit the stores in no time.
Sure, you're setting up the nursery with your baby in mind. But as you imagine a room as sweet and adorable as its future occupant, don't forget to factor yourself into the picture. After all, you'll be spending plenty of time in the nursery, too. While cute matters, so do your comfort (and convenience). For a nursery that's the perfect setup for your baby — and for you — dig into these decorating tips.
Decisions, delightful decisions. Will it be sunshine yellow or celadon green? Pastel polka dots or subtle stripes? A star-studded solar system or a farm full of baby animals? Of course, you want your little one's room to be picture perfect — and as perfect as you've always pictured it. But as you contemplate all those cute-and-cuter choices, remember who else will be in that picture…you. Let's face it — it's technically called "baby's room," yet after the twelfth diaper change or eighth feeding session of the day, you may wonder why the stencils on the wall don't also spell out "Mom's Room". So as you set about setting up a baby-friendly nursery, make sure it's mom-savvy, too. Adorable's a given, but you'll also want to design your little one's new digs with your comfort and convenience in mind. Soothing yet organized within an inch of its square footage. With everything you need — including that beautiful baby, you can't wait to hold — at your fingertips or at least, just an arm' s-length away.
The decisions that come along with having a baby and raising a tiny human are endless. Although some of those decisions can feel quite daunting, we're here to tell you that at least one of them can feel easy and even fun. Here's your go-to guide to what you need to know when putting together your new baby's happy place. The most important thing you can do in creating this space is to design a nursery that makes you smile, relax and enjoy. After all, you're going to be spending a lot of time in the room.
Looking for baby nursery chairs? Look no further. My Baby Nursery have an extensive list to choose from.
How to Set Up Primary Furniture in a Nursery
There are four main pieces of furniture in the nursery—a crib, changing table, dresser, and a chair. The price of furniture varies and may be influenced by detailing, finish, quality of construction, and overall design. The first step in your selection is to determine how long you want to be able to use it. With planning, you might consider a nursery design so that:
The pieces adapt easily from a nursery to a child's room.

The furniture has a simple design that can be mixed and matched easily with new pieces to update the look.

The furniture is essentially just for a baby, and new furniture will be purchased in a few years.
You may intend to re-use the nursery furniture for several years if you plan on having more children. However, if the thought of the short life-span of "baby-fied" furniture is unappealing to you, there are many other options.
Convertible cribs adjust easily to the growing child. Depending on the design, these cribs may transform into toddler beds, daybeds, and/or double beds and will be used for years to come. Some changing tables convert in a similar fashion into dressers or other storage units. By selecting simple designs that can coordinate with new pieces, you will extend the length of use of the nursery furniture.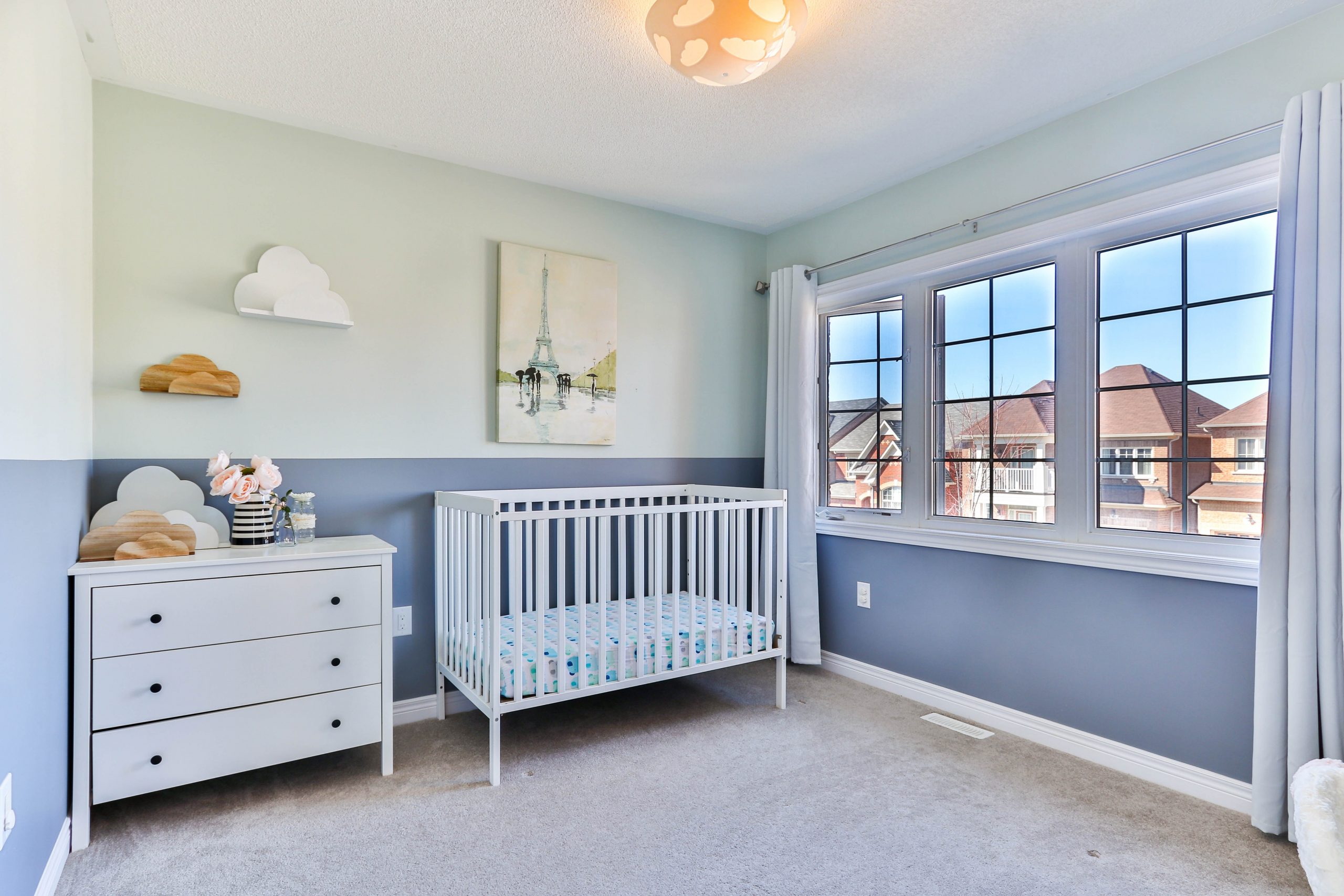 Selecting Furniture Positions
Selecting the crib is not only about what model you choose, but also where you position it in the room as well. This is not to say that you need to position your nursery according to a strict philosophy of feng shui. Room arrangement should be about enhancing safety, efficiency, comfort, and sleep.
Be sure that you position the crib in a part of the room away from windows, avoiding outside walls if at all possible. In certain climates and homes, outside walls can be drafty and cold. Also, consider how the light enters the room at different times of the day.
When the sun comes up in the morning, you may not want it shining directly on your baby. Evening light from street lamps may also affect a baby's sleep. Thoughtful placement of the crib may help them snag those few extra minutes of much-needed sleep.
Creating Storage 
Do not underestimate the amount of storage space you will need. Babies may be little, but baby items will take up a considerable amount of room. When looking at dressers and shelving units, there are several tell-tale signs, whether a piece has the quality to remain durable over the years.
Dovetail drawer joints and drawers having corner blocks on the interior will withstand more abuse than those without. For safety purposes, you should anchor dressers, shelves, and other large pieces to the wall or install anti-tip devices.
Choosing a Changing Table
Many parents choose to place a changing table in the room. There is a wide range of styles and designs for changing tables from which to choose. These items double as a comfortable place to change the baby and as a storage space. However, it is not necessary to have one. If space or cost prohibits you from purchasing one, you may opt to change the baby on a mat on the floor.
Some changing tables slide over the rails of traditional cribs and flip down when not in use. These are a great choice for smaller nurseries. Crib and changer units may also be a space-saving option.​
Picking a Rocker, Glider, or Comfortable Chair
The final major piece of furniture that you might want to include in the nursery is a chair. For comfort during those late-night feedings, chairs with padded armrests and a wider seat base may make feeding sessions more comfortable. You will want the seat to be wide enough to accommodate you and your baby, plus a nursing pillow if you so choose.
If the space in the room allows, wider chairs are a very practical choice. Matching ottomans may also increase your comfort, particularly during those rather exhausting nights, or consider swivel rocking chairs that are easy to slip in and out of. Be cautious about squeaky chairs that can disrupt a peaceful, late-night feeding.
Consider positioning the chair near a nightlight, so you can avoid turning on the lights during those late feedings. A lit room may encourage a baby to stay awake rather than drift peacefully back to sleep.
Change table for baby nursery have you stressing? Look no further, My Baby Nursery have you covered with our extensive range of baby change tables.
Create a mom-station 
You've probably already been eyeing a glider — after all, besides the crib and the changing table, there's probably not another piece of nursery furniture you and your baby will get as much use out of. It's the perfect chair for feeding and cuddling your newborn — and fast-forward, for a million-and-one magical Mommy-and-me moment. But while you're mulling over which glider to buy (or borrow), don't forget to consider these often overlooked mom-station musts: a side table and a small lamp. The side table, well, that's a no-brainer — it'll keep everything you'll need to reach for (but won't be able to get up for with baby in your arms easily) conveniently close by a snack and drink for you (hey, moms get hungry and thirsty, too!), the phone that's bound to start ringing the minute you settle in, a burping cloth and diaper wipes for…whatever comes up. The lamp? It'll give you just enough light to see you through those late-night feeding-and-rocking sessions — and soon enough, the perfect glow for those bedtime stories and snuggles.
Keep your back in mind
Is your back aching under the load of your growing belly —and baby? There's no better time than now (as you're setting up the nursery) to put potential nursery purchases to the back-comfort test – and there's no better way to do that than to try before you buy. As you check out the floor models, ask yourself these back-focused questions:
Is the glider contoured for back support? Does the frame fit your frame, or will it be a stretch to get cozy? How about the armrests — will you be able to cuddle and feed your newborn comfortably while sitting up straight (the best posture for avoiding back strain)? Take that glider for a ride and see. And while you're at (and giving your swollen dogs a much-needed rest), check out the ottoman options. Keeping your feet elevated at a comfortable height will make all of that sitting less of a pain.

Is the crib the right height for you? Deposit an imaginary baby (or a real doll) in those cribs you're considering to make sure putting your baby down won't be too much strain on your back. Since the very convenient but not-so-safe drop-side cribs are being phased out, look for a model that allows you to adjust the mattress height. Higher will be better during that newborn phase when you'll want those dreamland landings to be as smooth and gentle as possible (while keeping new mom back strain to a minimum). But as your baby reaches new mobility milestones (such as sitting and pulling up), it will be important to lower the crib to avoid tumbles.
What about the changing table — will that have your back, too? The right changing table can keep caring for your baby's bottom from being a pain in your back. Whether you opt for a designated diaper table (a stand-alone), or a combo diaper table/dresser, the top should hit somewhere between your hips and waist to prevent the kind of stooping that puts pressure on your lower back and shoulders. Look for a diaper caddy or storage system that's big enough to store what you need (diapers, creams, and wipes) but portable, too, so you don't have to twist and bend to reach essential items.
Find a suitable arrangement. 
Location, location, location — once you've settled on the right nursery furniture and accessories, you'll also have to settle on the right nursery set up. The crib? Place that away from the door (you'll want to be able to crack it open for a peek at your sleeping baby without risking a wakeup) The changing table? That should be conveniently located near the closet or dresser (so you can grab an outfit more quickly before you dress your baby). Your mom station? Consider setting that up as close as you can to the crib (so you won't have to tiptoe as far for the arms-to-crib transfer).
Take five. 
Has set up the nursery left you breathless with anticipation — and just plain breathless? Take a break from the frenzy of last-minute baby preparation for a few minutes of relaxation (who knows when you'll have the chance to do that again?) Settle into your newly created mom station for a rest (aren't you glad you added the ottoman?), a snack (remember, that's what the side table was for), and a little daydreaming about the days (and nights) to come soon!
Change table for baby nursery have you stressing? Look no further, My Baby Nursery have you covered with our extensive range of baby change tables.
How To Setup a Baby Nursery
Creating a nursery can sometimes be an overwhelming task. Fortunately, we can help you get a start on planning your baby's new room. Here are a few tips on how to set up a baby's nursery.
Downsize. Babies are small and don't need to be in full-sized cribs to get a good night's sleep. A fold-up crib (think Pack n' Play) is one low-profile option, and there are also mini cribs whose mattresses measure approximately 24″ x 38″ instead of the standard 27″ x 52″.
Multitask. This one is obvious but still worth mentioning because it's one of the best solutions for small spaces: Use a dresser as a changing table. Choose a bureau that hits about waist-high, and then simply put the changing pad on top. (If you're worried about the pad sliding off, you can buy special boxes, rails or fasteners separately.) Store diapering supplies close at hand but out of sight in the top drawer, and when you're through with diapers altogether, you still have a useful piece of furniture.
Get vertical if you need all your drawer space for baby's clothes, store diapering supplies and other must-haves in a shoe organizer that hangs flat against the back of a door. Diapers, creams, powders, lotions, nasal aspirators, pacis, a thermometer – each item can fit into its see-through pocket.
Share the space. Shoe racks that hang from closet rods are great for organizing baby clothes, whether they need to fit into a small closet or a shared one. Don't waste valuable rod real estate by hanging each tiny onesie from a separate hanger when you can store a dozen or more outfits vertically in the same space.

Keep it fresh. For itty-bitty nurseries, consider keeping the diaper pail somewhere else. Even the best "odour-lock technology" can overwhelm a small room.

Store smart. If your baby's nursery is truly tiny, chances are you won't be playing in it a lot. Don't crowd the space with things you won't use in the space. Reserve the nursery for things the baby needs only at night and during naps (clothes, diapering supplies, blankets, a few bedtime stories, etc.) and keep everything else (toys, playmats, bouncers, bath supplies, etc.) in another room or closet.
Trick the eye. Is there a safe space to mount a mirror on your nursery wall (not above the crib or changing table, for instance)? If there is, even a small mirror can bounce light around the room and make space feel bigger and lighter.

Hide the clutter. If you have lots of odds and ends that need to be kept in the nursery, use closed storage to keep the clutter out of sight. Shelves without doors look lovely when they're styled with a few special items but downright messy when they're piled with a bunch of random stuff. Using boxes or baskets on open shelving can also solve this problem.

Edit. You want your baby's nursery to be functional, but you also want it to be warm, inviting and nice to look at. When it comes to decorating, streamline your design by including fewer pieces you adore instead of packing the room with stuff you only kinda-sorta like. And donate/store/trash everything you don't love.
If you're still intimidated by the process of the actual design, start with colour inspiration. Find a photograph of an outfit or room or landscape that has an overall palette that you're drawn to. Then, pull from that. Consider making a Pinterest board to gather ideas. It'll help to visualize the space.
And, if there's one thing parenting will teach you, it's to ask for help when you need it. So, ask a friend or ask us. We'd be happy to design the whole room, or just look over your ideas and give you the thumbs up.
Remember, it's your home. It's for your family. If it makes you smile, then it's perfect. Happy decorating! And congrats on your new bundle of joy… it's going to be an awesome ride.