The cost of daycare is an essential factor in deciding whether to have a baby or how many children you want. If you're pregnant with your first child, here are some tips on ways to save money during this exciting time.
Whether you're getting ready for your first baby or just looking for ways to trim your current costs, we're here to help with ways to save money on childcare.
No matter what stage of pregnancy you're currently in, it's never too early to start saving for daycare. 
Depending on factors like location, how many days a week and what type, child care can sometimes cost as much as a second mortgage—and that's on top of all the other baby expenses you're about to take on!
You might be wondering how you'll afford it all, but don't worry. If you start now, you'll be in a good place when the baby comes. 
Looking for baby nursery toys? Look no further. My Baby Nursery has you covered. 
Ways to Save Money on Childcare
More good news: It's not too difficult to save each day. Try these simple ways to start saving now.
Start Early
We cannot stress the importance of this enough. Because child care is expensive and often in high demand, especially in large cities, waitlists run long. 
As soon as you're pregnant or close to bringing home an adopted child, start shopping around for child care and get on at least one or two waitlists. 
Otherwise, you risk having no options at all when you're ready to go back to work.
Clip Coupons
If you don't already, take advantage of free sites such as Coupons.com, which has dozens of coupons on items, you likely buy already. 
In just a few clicks, you can save on every single grocery trip. Additionally, download an app to your local grocery store, which likely has digital coupons you can clip on top of paper ones.
On the same note, try only to buy things on sale, unless you need them. Most things at the supermarket go on sale one week or another! 
The same goes for clothes, electronics, and other gadgets as well. Bonus: Getting into the coupon habit now will do you well once the baby comes, too.
Cook Meals at Home
Do you dine out a lot on weekends or immediately gravitate toward takeout on the weekdays? 
Cooking meals at home, especially when you're in the habit of eating out so much, is one of the best ways to save. 
Pro tip: Try making recipes that have overlapping ingredients to get the most bang for your buck.
While it's nice to get in a few date nights before the baby comes, you'll want to be smart about it—e.g., try to limit it to restaurants you have a coupon for or going out to eat only for special occasions.
Take up a Part-Time Job
In the time you have now, you might consider working a bit extra. However, since this is bonus money, you can put all of it into a daycare fund and continue spending the rest of your money as you usually do. 
By the time the baby comes, you might've saved enough for a few months of daycare on just your part-time job's income!
Could you take on a babysitting gig after your full-time job? Brew some coffee as a barista at your local coffee shop on the weekends? Offer your writing skills to a website?
Automate Your Savings
Sometimes the key to saving is as simple as making it automatic. Take a visit to your bank and see what kinds of options they have for you.
Typically, you'll be able to choose a percentage of your income to be deposited into a savings account automatically. 
This way, you don't even have to think about it and can find comfort in knowing that you're making the moves to have at least some padding once daycare comes around. And if you can find a high-interest savings account, that's even better!
Get to Know Your Local Market
Before you sign up for a particular daycare centre, research your local market. For example, I was recently part of an informal survey of childcare costs for local working moms. 
It's incredible how much costs vary from one side of town to the other in a mid-sized city like Indianapolis. Plus, church-based centres are the cheapest in some areas, and in others, home daycare is the most affordable option. Just do some comparison shopping or ask friends and coworkers to feel what child care costs are like in your area.
Look Into Church-Based Options
Some churches run daycares as part of their ministry. 
This means they charge lower rates. In addition, in some states, daycare ministries can follow more relaxed guidelines than public or private daycares. 
But many churches run high-quality programs that follow best practices, even if they don't necessarily need to. 
Even if your family isn't particularly religious, a local church could provide a high-quality daycare option for a lower fee. 
If you're not comfortable with religious instructions, other non-profits like the YMCA and Boys & Girls Club also provide low-cost childcare.
And Check Out Home-Based Daycare
In some areas, home-based daycares are a cheaper option than ministries. It depends on your local market and the types of home-based providers that are out there. 
Some parents are more comfortable with home-based providers and their smaller groups. But even if that's not your reasoning, a home-based daycare may be a cheaper option for you.
Your state may have a home-based daycare database, so be sure to check online. Many of them even list the licenses held by the owner, if applicable. 
Check Out Third-Party Certifiers
When shopping around for daycares, it can be intimidating to find great providers without paying through the nose. 
But one way to ensure you're getting quality, safe child care is to check out third-party certifiers. 
Some programs inspect and rate childcare providers independently of the state. 
Look for similar programs in your area, as often they'll turn up high-quality, affordable options that aren't fully licensed in your state.
Talk to Your Hr Representative
If you're currently working or about to go back to work, talk to your HR representative about your employer's benefits for child care. 
Dependent care accounts are one way employers help employees access more affordable care. 
Your employer might also offer discounts with certain local providers, for instance.
Ask Local Stay-At-Home Moms
Have a friend who is a stay-at-home mom? Sometimes these moms would love to care for an additional child to bring in a bit of extra cash. 
And if your friend or neighbour doesn't run a licensed childcare operation, they'll likely charge lower rates. 
Just be sure to shop around for comparable providers so you can settle on a fair price.
Host an Au Pair
This is a good option for older kids, especially. In addition, au pairs are often foreign young women (and sometimes young men) who want to live abroad for a time. 
You can often host an au pair as part of your family for a summer or even an entire year. 
Typically, an au pair will charge less than a live-in nanny, but they do live with your family — which can be convenient if you're juggling hectic work schedules.
Check out our range of toys for baby nursery here.
Change Your Schedule
Talk to your employer about shifting your work schedule so that you can save on child care. 
For instance, you could work Tuesday through Saturday and have your spouse as the primary caregiver on Saturdays. 
Then, you could have Mondays off to be the primary caregiver, so you're only paying for four days a week of daycare. 
If you and your spouse have this option, you could even shift your daycare needs down to two or three days a week, though this can wear on your family over the long term.
Shift Your Hours
Maybe you don't need to work completely different days from your spouse to save on child care. Instead, you could shift your work hours. 
Say you work from 7 AM to 3 PM, and your spouse works from 9 AM to 5 PM. In this case, you'd only need childcare from 8:30 AM to 3:30 PM. 
If you're paying a provider by the hour, that could create some huge savings.
Nanny Share
If you're more comfortable with the one-on-one care and flexibility a nanny offers, consider a nanny share. 
This is where you share a nanny with friends or neighbours, preferably those who live close by. 
Nannies are often happy to do a nanny share because it means higher weekly rates for them. But since you're splitting up the rates with another family, you'll pay less.
Have Kids Close Together
Most daycare centres offer sibling discounts, sometimes substantial ones. 
We get a $30 per week discount just for having our son in the daycare that does our daughter's after-school care. 
Having kids close together means you can take advantage of such discounts for a few years while all your children are with the same care provider. 
Plus, childcare expenses will drop out of your budget altogether more quickly.
Have Kids Far Apart
On the flip side, you could have your kids further apart. You won't get a sibling discount, but you have the luxury of paying for only one kid's cost of child care at a time. 
If your job allows you to work just during school hours and choose public school, you won't have to pay for child care for your older, school-aged child. 
You'll have to cover daycare costs for your younger child for most of the year.
You'll pay for child care for a more significant number of years, but you'll also pay less in any given year. 
If your budget is tight, spreading out your kids (and their care costs) may be the preferable option for your family.
Opt for a Parent Co-Op
If you have a somewhat flexible work schedule, find other parents who do, too. Then, exchange child care. 
This can look something like the work schedule suggestion above, where you get out of just one or two days of paid child care a week. 
Or, if you find the right people to co-op with, you could wind up paying for zero child care. You'll have to take care of other people's kids as well as your own when you're not working.
Leverage the Local Teen Workforce
What if your childcare needs are shorter-term? 
Say you need after-school care for your older son or daughter. In this case, consider paying a local teenager to stay with your kid for an hour or two after school. 
Teenage babysitters can be fun for kids, and they can cost a lot less than a formal after-school program.
Check Out Low-Income Assistance
If you're genuinely struggling to make ends meet, be sure you check out low-income childcare assistance in your area. 
In much of the country, if you're making 200% or less of the poverty income level, you'll qualify for at least partial assistance with your costs. 
Search for state and county subsidised programs to see what options are available to you.
Analyse Your Budget
It can be a little scary at first, but consider making a spreadsheet of every single monthly bill you have. 
It can be incredibly eye-opening to see exactly where the majority of your money is going each month.
With everything in the open, it's easier to see opportunities where you can save more money. 
For example, can you eliminate your $10 monthly beauty box subscription? Do you pay too much for cable? Do you even need cable at all? How about your gym membership—can you work out at home instead? 
Ask yourself these questions, and then go on an elimination spree.
Take Advantage of Faas
If your employer offers Flexible Spending Accounts or FSAs, you should sign yourself up. 
An FSA means you're able to put away money that comes right out of your paycheck directly into an account just for childcare.
The best part about an FSA is that the money comes out before it's taxed, which means you're saving even more than you would if you put that money aside after it already hits your bank account. Know that you might not be able to cover the entire cost of daycare at the end of the year, but it's certainly a start.
Make Coffee at Home
If you're someone who heads to Starbucks every single morning, take heed: 
Buying coffee out (especially at an expensive shop like Starbucks) is one of those unassumingly frivolous purchases that can add up quickly, without you even realising.
Fact: It's incredibly cheaper to make your coffee at home. Try it out for just a few weeks, and watch the savings roll in. 
Bonus: This might also motivate you to see what other seemingly "small" purchases you make often and what types of things you can do in its place instead to save.
Download a Money-Saving App
These days, there's an app for everything, so of course, you've got plenty of options when it comes to ones that help you save money.
One of the most accessible money-saving apps to use is Ibotta. You take a picture of your receipt or shop directly through the app and get money back on things you probably already buy. 
The app hosts most grocery and retail stores, and even Amazon as well. You can also check out other apps that offer rewards or cashback, such as SavingStar and Checkout 51 or desktop apps like Rakuten.
Save Only $5 Bills
Indeed, cash is sometimes easier to spend than using a credit card. 
Try salvaging it with this simple yet effective trick: just putting away $5 bills whenever you come across them. 
Just pretend these bills are off-limits until you sign the paperwork for a daycare.
Sure, you're going to need quite a bit of $5 bills for even just one month of daycare, but you might be surprised at how quickly your $5 stockpile can add up. 
When combined with other tips on this list, you'll have enough money in no time!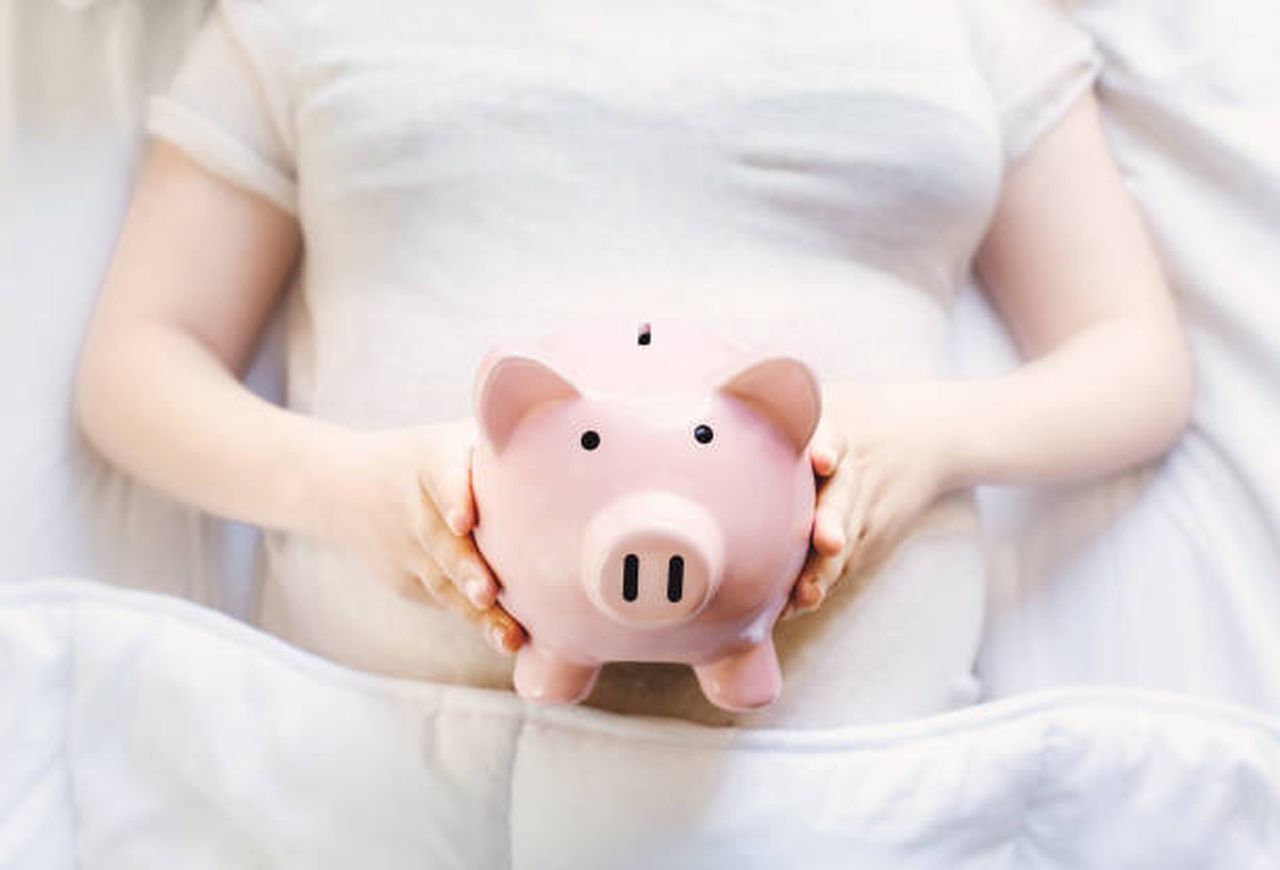 Buy in Bulk
There's no better time to join a warehouse club, such as Costco or Sam's Club. 
While at the moment, it can feel like buying the 6-roll pack of paper towels is cheaper than the 20-pack, that's not the case. 
When you go by price-per-item, the bigger pack is always much cheaper.
In general, supermarkets are one of the most expensive places to get these household items, but wholesale stores like these offer huge bulk items at lower prices. 
Your membership will also come in handy for things like vast packs of diapers and wipes in the future!
Look Into Additional Fees
Before you sign up for centre-based child care, ask about their fees. While many childcare providers offer a flat rate, some have additional charges. 
For instance, your daycare could tack on a fee for taking your older child to school or feeding your child their lunch and snacks. 
If this is the case, you can likely lower your costs by trimming out some of these fees.
Stay Home for a Year
Because infants are so care-intensive, the child-to-caregiver ratio for infants and toddlers in daycare centres is considerably lower. 
This means that infant care is much more expensive than child care for older kids. So it may be more financially viable than you'd think to stay home for your child's first year of life when childcare costs are highest.
Side Hustle to Pay for Daycare Expenses
If you can't find a way to cut that much money out of your budget to save for daycare, consider thinking of ways to make extra money now. 
You could look into a side hustle. Another option is for you or your partner to consider getting a new higher paying job, so you have what you need to afford daycare once the baby is here.
Start Your Daycare
If you love children and want to stay home with your child, but you also need income, you could consider watching other family's children and starting your daycare.
Work from Home
If you work for a flexible company, you may be able to work from home. 
While this is an affordable option, it may not be ideal because children can distract you from your work, and your work can distract you from being a mindful parent.
Use a Combination of Options
Don't be afraid to mix and match when it comes to caring for your kids. 
Maybe you can negotiate for one work-from-home day a week, where you can hire a mother's helper to entertain your littlest kids. 
And then you can give the kids and grandparents time together one other day a week. So you'll only pay for care three days a week.
Using a combination of options can often get you better childcare coverage for a lower cost. 
Just be sure that you have steady enough arrangements that you're not suddenly left scrambling trying to cover a day when grandma or the babysitter down the street backs out.
These tips won't all work for everyone. But by trying at least some of them, you can cut this huge expense down to a more reasonable amount of money each month. 
And, remember, your kids aren't little forever. Someday they'll be able to take care of themselves. 
And when they are, you'll be glad you searched for the highest-quality, most caring child care providers you could find!
My Baby Nursery has an extensive range of baby play mats for you to choose from.