Pregnancy is the most wonderful time of your life. You can finally experience what it's like to be a mother, and you have nine months of blissful anticipation. Of course, the last thing you want is anything to go wrong with the pregnancy or labour, but sometimes things happen that we can't control.
Pregnancy is a difficult time for women. First, you are pregnant, so you have to be careful of what you eat and drink. But how do you know if the restaurant food or water is safe? How about your work environment? Are there any chemicals that could harm your baby?
If you're looking for some help with this, then this blog post might help!
We have compiled some of our favourite obstetrician recommendations, including the doctors who are experienced with high-risk pregnancies and those who are open-minded on birthing methods.
Best Obstetrician Melbourne, Victoria
Dr. Colin Sabau Obstetrician Melbourne, Victoria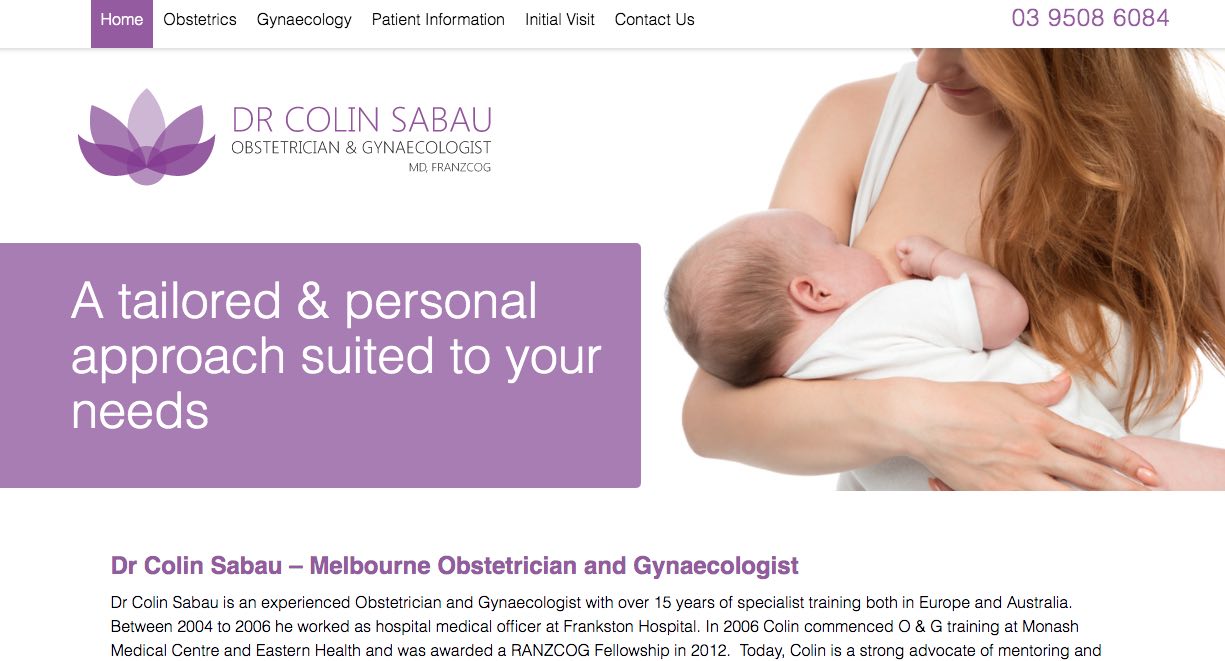 03 9508 6084
Dr Colin Sabau is an experienced Obstetrician and Gynaecologist with over 15 years of specialist training both in Europe and Australia. Between 2004 to 2006, he worked as a hospital medical officer at Frankston Hospital. In 2006 Colin commenced O & G training at Monash Medical Centre and Eastern Health and was awarded a RANZCOG Fellowship in 2012. Today, Colin is a strong advocate of mentoring and training upcoming O&G specialists and teaches and trains students and registrars at Sandringham and Box Hill public hospitals.
His gentle manner and comprehensive approach to treating his female patients have resulted in hundreds of happy women who continue to see Dr Sabau for ongoing care throughout the different phases of their life.
Colin has a special interest in laparoscopic surgery of benign gynaecological conditions, prolapse repair and treatment of urinary incontinence. In addition, he is accredited to perform colposcopies and manage vulvar and cervical dysplasias.
As an obstetrician, Dr Sabau is involved in the antenatal care of both low and high-risk pregnancies. Colin believes in the importance of providing a continuity of care and will see you throughout all of your antenatal visits, delivery of your baby and post-delivery care.
Dr Sabau delivers his patients at Waverley, Freemasons, Cabrini and Jesse McPherson private hospitals.
For the convenience of his patients, Colin can consult in English, Romanian and French.
Obstetric Services
For every woman, pregnancy is an amazing time of change and development. As each pregnancy is different, my goal is to offer a professional and customised model of care for you and your baby.
It is important to develop a solid and trusting relationship with you and your partner to ensure you receive the very best care and advice and your desired outcomes and expectations for the pregnancy and delivery.
Dr. Kiran Atmuri Obstetrician Melbourne, Victoria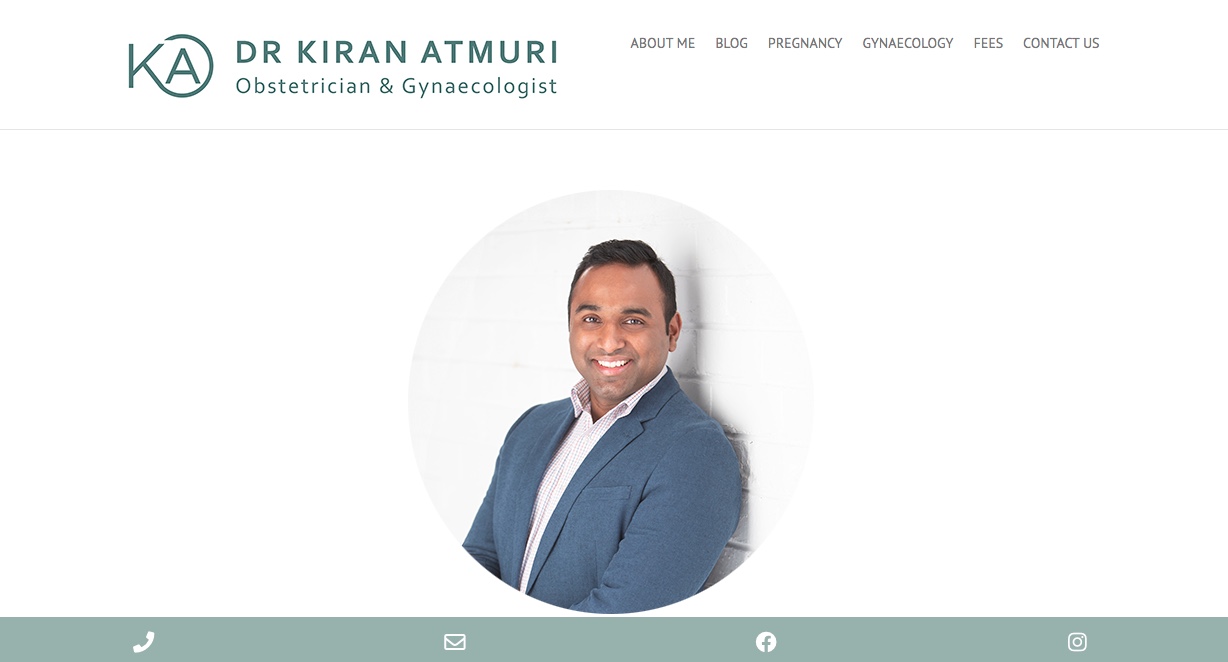 03 9978 9416
Kiran is a Specialist Obstetrician & Gynaecologist practising in South East Melbourne.
Kiran provides highly personalised care with a commitment never to rush an appointment. Instead, he will take the time to understand your needs and preferences and focus on providing holistic care. If surgery is required, Kiran performs the latest keyhole techniques, ensuring safety, minimal scars, and quick recovery.
For pregnant women, you will be provided with continuity of care seeing Kiran at all appointments and birth, can contact Kiran at any time, and always have reliable communication with Kiran and his team.
Kiran provides private pregnancy care at St John of God (SJOG) Hospital in Berwick.
Kiran also has active public roles at Monash Health Casey and Peninsula Health (Frankston Hospital).
Dr. Owen Stock Obstetrician Melbourne, Victoria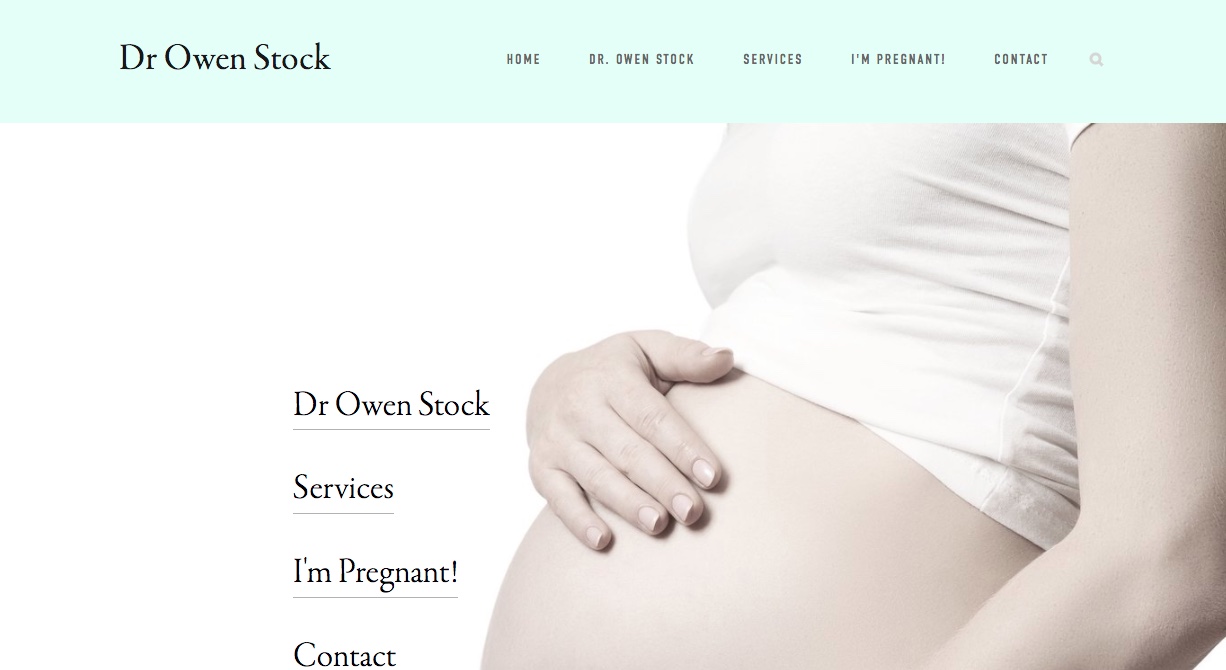 03 9418 8588
Dr Owen Stock is an Obstetrician and Gynaecologist consulting at the Epworth Freemasons Hospital in East Melbourne, Australia.
Owen has the knowledge and skills to look after you if you're preparing for a normal, uncomplicated pregnancy and straightforward birth and if you have a pre-existing medical condition or develop complications in pregnancy.
In addition to providing complete obstetric care, Owen is a Gynaecologist who advises on general gynaecological and reproductive conditions, particularly interested in laparoscopic surgery.
A graduate of The University of Melbourne, Owen trained in Obstetrics and Gynaecology at the Mercy Hospital for Women before working across the river at the Monash Medical Centre, then at Royal Darwin Hospital and the Mater Mothers' Hospital in Brisbane.
Owen is actively involved in obstetric research and works at the cutting edge of scientific discovery and clinical medicine. The recipient of a postgraduate scholarship from the National Health and Medical Research Council, he is involved in several projects that aim to improve pregnancy outcomes for women and their babies. Owen is also part of the 'PROMPT' program of multi-professional training to manage Obstetric emergencies for Obstetricians and Midwives.
Our Services
Dr Owen Stock provides complete obstetric care: whether you're preparing for a normal, uncomplicated pregnancy and straightforward birth if you have a pre-existing medical condition, or you develop complications in pregnancy.
Owen is also a Gynaecologist advising on general gynaecological and reproductive conditions, including laparoscopic surgery.
Obstetrics
Pre-pregnancy health optimisation
Normal (low-risk) obstetrics
Complicated (high-risk) obstetrics
Gynaecology
Management of early pregnancy complications
Recurrent miscarriage
Laparoscopic treatment of benign gynaecological problems
Treatment of abnormal bleeding/periods
Frequently Asked Question About Obstetrician Melbourne
An obstetrician specialises in obstetrics, which deals with all aspects of pregnancy, from prenatal care to postnatal care. An obstetrician delivers babies, whereas a gynecologist does not. An obstetrician can also provide therapies to help you get pregnant, such as fertility treatments.
This depends a little on your history, but usually, patients are between 8 – 10 weeks of pregnancy. Patients with pre-existing medical problems or who take regular medications should be seen on the earlier side of that window.
Private obstetricians will generally charge an out-of-pocket pregnancy management fee of between $3,000 – $5,000+ including selected scans, tests and medical services. Medicare rebates are available to subsidise some of these costs. However, this is comparatively the most expensive pregnancy care option.
Possible questions to ask your provider during your prenatal appointment:
Is there a nurse line that I can call if I have questions?

If I experience bleeding or cramping, do I call you or your nurse?

What do you consider an emergency?

Will I need to change my habits regarding sex, exercise, nutrition?
How to choose an obstetrician
Know what you want. If you decide you want to have an obstetrician, or your GP has recommended you see one, finding the right obstetrician is similar to finding any service provider. 
Shop around and get advice.
Make sure you're comfortable with them. 
Ask questions. 
Understand your costs upfront.
Dr. Neil Israelsohn Obstetrician Melbourne, Victoria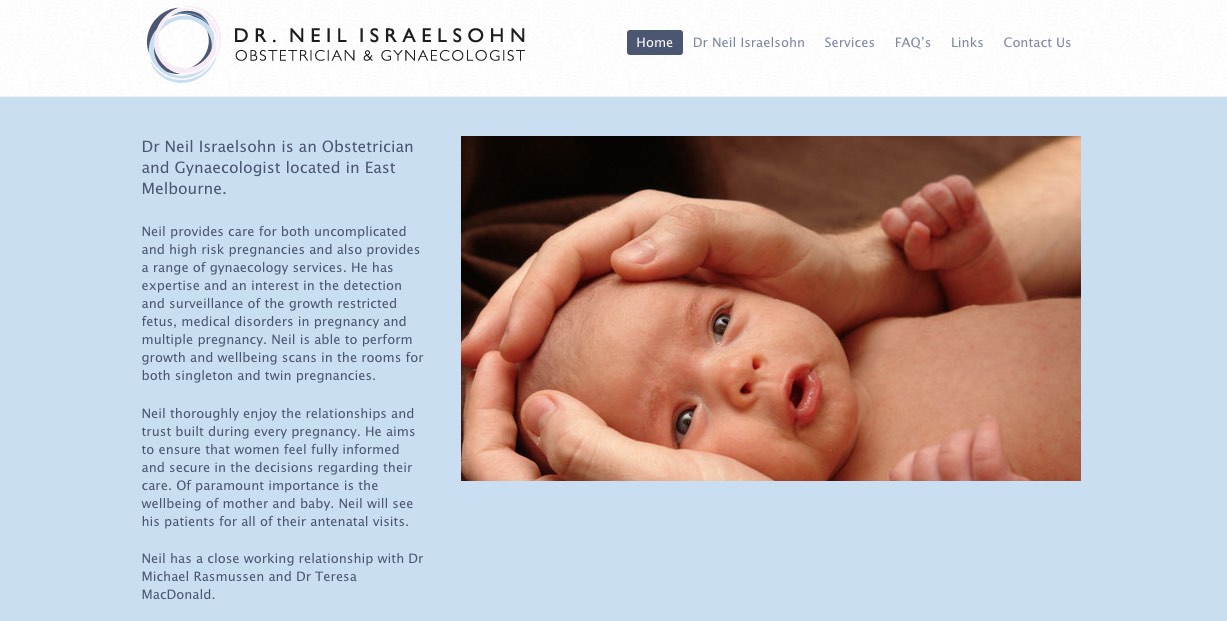 03 9418 8127
Dr Neil Israelsohn is an Obstetrician and Gynaecologist located in East Melbourne.
Neil provides care for both uncomplicated and high-risk pregnancies and also provides a range of gynaecology services. He has the expertise and interest in detecting and surveillance the growth-restricted fetus, medical disorders in pregnancy and multiple pregnancies. Neil can perform growth and well-being scans in the rooms for both singleton and twin pregnancies.
Neil thoroughly enjoys the relationships and trust built during every pregnancy. He aims to ensure that women feel fully informed and secure in the decisions regarding their care. Of paramount importance is the well-being of mother and baby. Neil will see his patients for all of their antenatal visits.
Neil has a close working relationship with Dr Michael Rasmussen and Dr Teresa MacDonald.
Consulting sessions and antenatal visits are available at Epworth Freemasons and the Mother and Baby Centre at Cabrini hospital. Pregnant patients may choose to deliver at Epworth Freemasons, Cabrini Hospital or St Vincent's Private Hospital.
Services
Obstetric
Pre-pregnancy counselling
Low-risk pregnancy
High-risk pregnancy

Pre-existing medical conditions
E.g., Thrombophilia, hypertension, diabetes, epilepsy, thyroid disease
Fetal growth restriction – including ultrasound detection and surveillance
Preeclampsia
Previous preterm birth
Gestational diabetes
Multiple pregnancies (Twins, Triplets)
Gynaecology
Emergency management of early pregnancy complications
Laparoscopy (Keyhole surgery)
Management abnormal periods/bleeding
Infertility
Contraception
Dr. Suzana Kotevska Obstetrician Melbourne, Victoria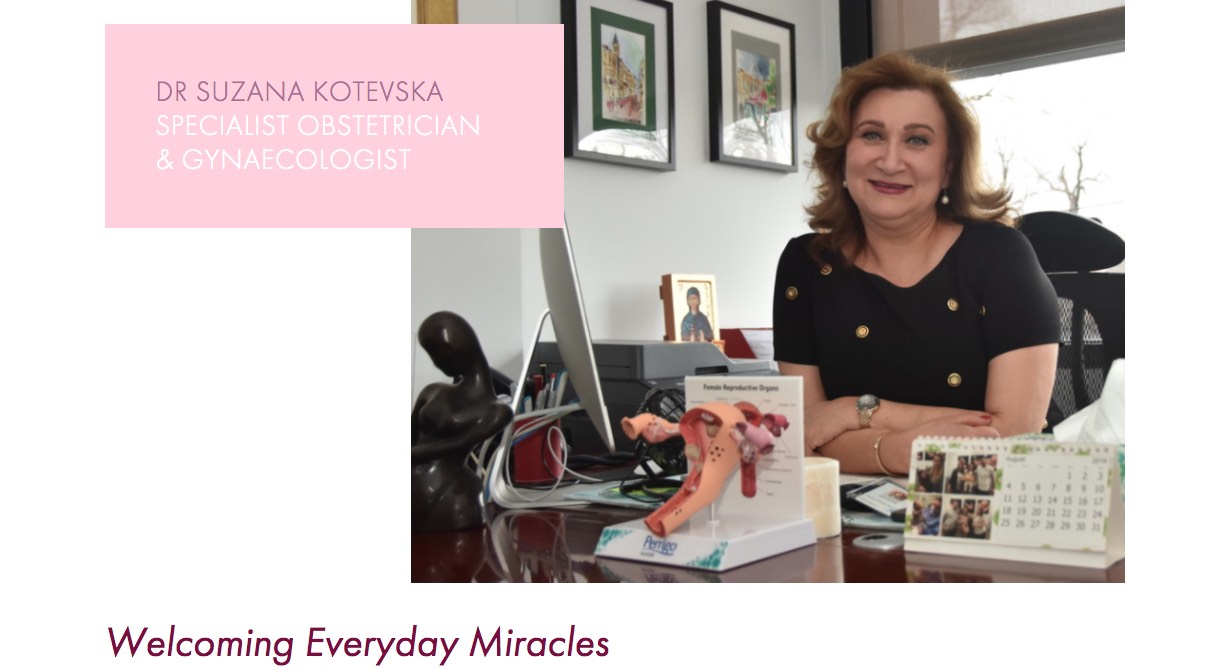 03 9419 8333
Dr. Suzana Kotevska is an extremely passionate and experienced female Obstetrician and Gynaecologist based in Melbourne. She is one of the best in her field. Located in The Epworth Freemasons Private Hospital in the heart of East Melbourne.
An obstetrician gynaecologist truly loves her job, going above and beyond for each patient of hers.
She offers a range of personalised services tailored to every woman's needs, and she operates from two of the best private hospitals, Epworth Freemasons and St Vincent's Private.
Dr. Suzana is experienced in providing the utmost expert and personable assistance for women from all cultural backgrounds and being a skilled multi-lingual professional with decades of experience.
She has a passion and enjoyment for her profession that has seen her strive to provide the best possible care for both mother and baby. 
We pride ourselves on ensuring that women feel comfortable and relaxed with our all-female team of professionals at our practice. 
Private Care Benefits
The main reason to choose a private obstetrician is to guarantee a specialist is in attendance at your birth and to have your choice of which person this is.
Luckily everyone in Australia with a Medicare number is entitled to free treatment as a public patient in a public hospital, paid for by Medicare. However, the public system does rely on trainee doctors (interns, residents and registrars) who provide the majority of the care whilst being supervised by specialists by phone or in person.
In the public system, it is unlikely that you will know who will be present at the birth of your baby until it happens or who your care will be directed by, whether that be by midwives, junior or senior doctors.
Choosing a private obstetrician is an extremely personal decision, by doing so allows you to develop a bond and a relationship with your doctor. The doctor that if an emergency arises, such as going into labour, you can have the confidence within your obstetrician that the decision being made is by a fully qualified specialist with years of experience, someone you built a connection with throughout your appointments.
As a private patient, it also means you have the security of phoning your obstetrician at any time of the day or night with questions about your pregnancy that are not necessarily emergencies.
Obstetrics & Gynaecology Consulting Group Melbourne, Victoria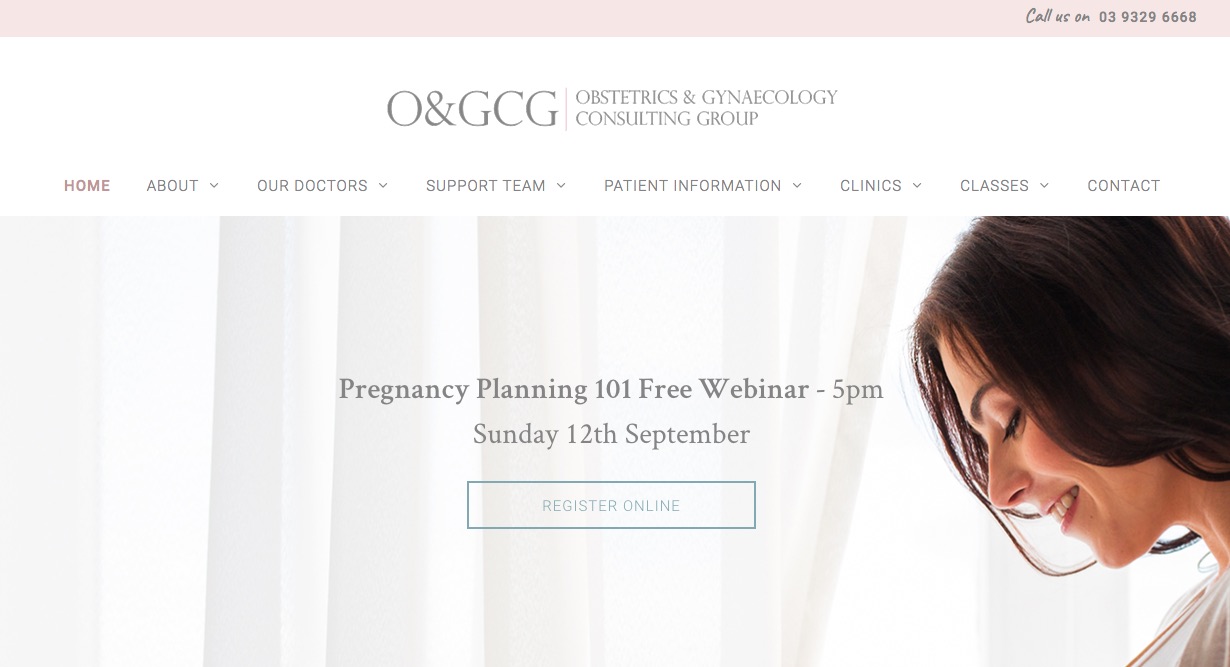 03 9329 6668
Your choice of doctor is important to you.
At Obstetrics & Gynaecology Consulting Group, your obstetrician and gynaecologist is with you throughout your pregnancy, through delivery and beyond. Our doctors have varied specialist areas, offering you a wide range of expertise for gynaecological conditions and pregnancy care.
Your health and that of your baby is our passion and profession. As mothers ourselves, we can empathise with you during the different stages of your pregnancy and delivery. We have a rare privilege amongst doctors of sharing one of life's greatest joys: that of childbirth. Our ultimate goal is to deliver your baby into the world, happy and healthy, and to provide ongoing personalised care for you.
Our Obstetricians
Our group philosophy supports your choice of a primary obstetrician. In addition, it ensures that you are familiar with our other doctors (whom we endeavour to meet throughout your pregnancy) who may cover shifts overnight or on the weekend*.
Our obstetricians work independently but support each other with a shared after-hours, on-call roster. This means personalised 'safe care' for you: no matter what time of day or night, your doctor will be well-rested and alert to your needs.
* Very occasionally, at times of annual or maternity leave, your doctor may be a locum obstetrician who is not a participating member of O&GCG. However, we will inform you of the possibility of this in advance and will endeavour to introduce you to your locum doctor beforehand
Melbourne Mothers Obstetrician Melbourne, Victoria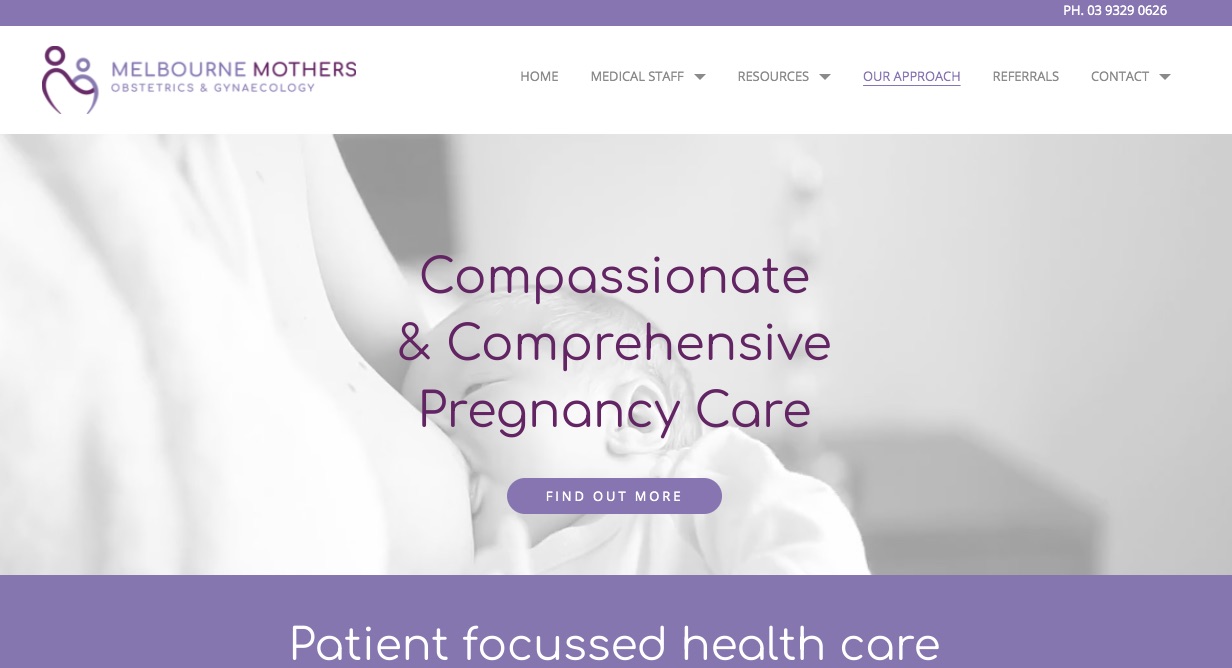 03 9329 0626
Melbourne Mothers is a private obstetrician and gynaecologist service operating at Altona North and are conveniently located to servicewomen from Caroline Springs, Werribee, Williamstown, and throughout Melbourne.
The team at Melbourne Mothers are highly passionate about what we do, providing complete health care for the women and girls of Melbourne. Our aim is to provide the highest standard of customer service available in the area and conduct our practice in a highly customer-focused model.
We are continuously keeping abreast of new advances to achieve the safest, newest, and best standard of care available in the industry. We do this to ensure that the best practices are being implemented by our team here in Melbourne.
Our physicians aim to help maintain the health of all women throughout the community, and we feel privileged to be a part of the women's health industry in Australia.
Our private obstetrician is conveniently located to servicewomen throughout Melbourne with Kew, Altona North, and Frances Perry rooms.
East Melbourne Obstetrics and Gynaecology Melbourne, Victoria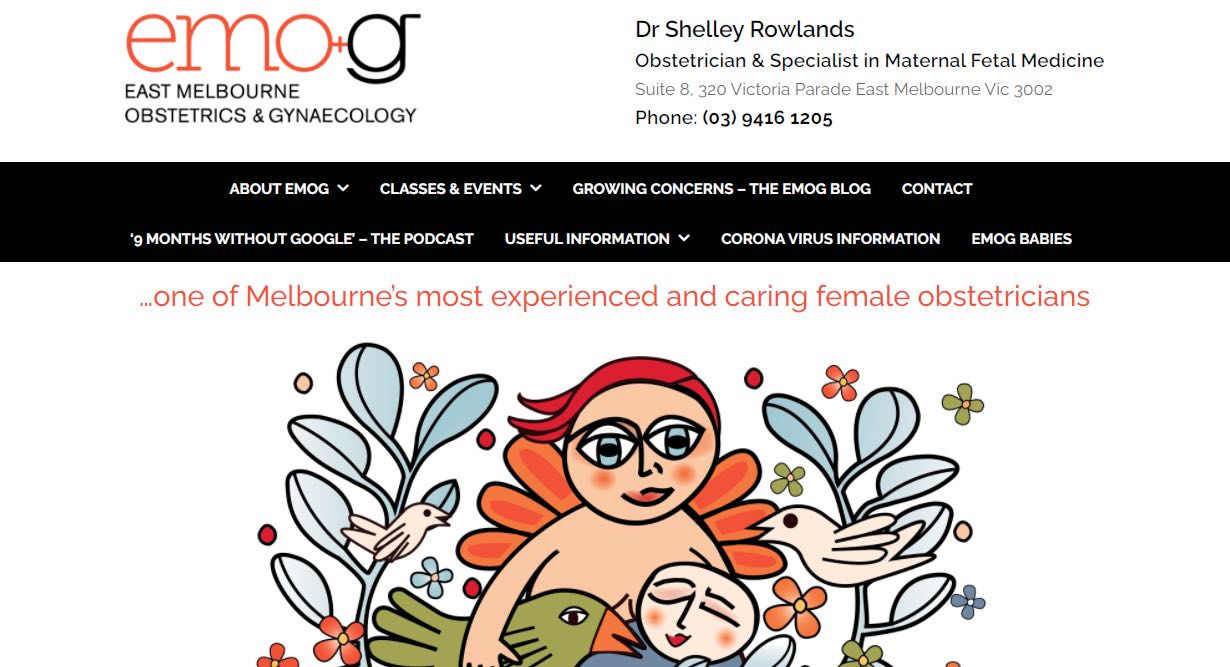 03 9416 1205
Dr Shelley Rowlands is one of Melbourne's leading female obstetricians with sub-specialist qualifications in Maternal-Fetal Medicine (MFM) – high risk and complicated pregnancy.
Shelley and her team at East Melbourne Obstetrics and Gynaecology (EMOG) know that every woman's family and baby is different. Her care for you during your pregnancy will be complete, whether or not it's a straightforward pregnancy.
Dr Rowlands works in both the private and public sector and is accredited to deliver your baby at the Epworth Freemasons Hospital, St Vincent's Maternity Hospital, Frances Perry House or The Royal Women's Hospital, Melbourne.
Shelley maintains a modern, up-to-date and family-focused approach to pregnancy care that is tailored to meet your individual needs, ensuring you achieve a safe and healthy birth and ongoing follow up care and advice.
EMOG's services include:
An experienced female, caring obstetrician who can manage high-risk pregnancy
An ultrasound specialist
Pre-pregnancy counselling and second opinion consultations
An experienced midwife
Boutique birthing classes and sleep workshops
Medical physicians
Gynaecological services
EMOG offers care for all pregnant women – those with low-risk pregnancies and those with high-risk pregnancies.
In addition, EMOG provides all women with gynaecological and women's health services.
We are experienced, but as importantly, we are friendly, patient, careful and approachable.
Dr Shelley Rowlands is an experienced obstetrician with sub-specialist qualifications in maternal-fetal medicine (high-risk pregnancy). She is knowledgeable, skilled, experienced and compassionate.
Prue Hartley is an experienced midwife. She provides important adjunctive midwifery antenatal care. In addition, she has developed a comprehensive childbirth education program. With her friendly approachability and sure knowledge, she can answer your questions about your pregnancy.
Dr Briony Cutts is a physician with expertise in medical disorders of pregnancy. She helps manage medical problems that precede your pregnancy or develop during pregnancy.
Emily Fitz is a diabetes educator who can provide our diabetic patients with outstanding care throughout pregnancy.
Dr John Negri is a consultant obstetrician and gynaecologist. He has worked exclusively in this field for more than 20 years. In addition to caring for pregnant women and delivering babies, he is a specialist gynaecologist. In addition, he has extensive experience in general gynaecology, including gynaecological surgery.
Kara Lennon (practice coordinator) and Tomasia Guterres (administrative support officer) are the friendly faces of our practice. They make a confusing time easier by helping with the logistics – bookings and appointments, forms and finances, medical insurance and sometimes even a bit of babysitting.
At EMOG, we work together to make you feel comfortable in our care. We won't rush you, include you in all decisions, and keep you informed about the process. Our goal is to keep you safe at all times.
Dr Alex Polyakov Obstetrician Melbourne, Victoria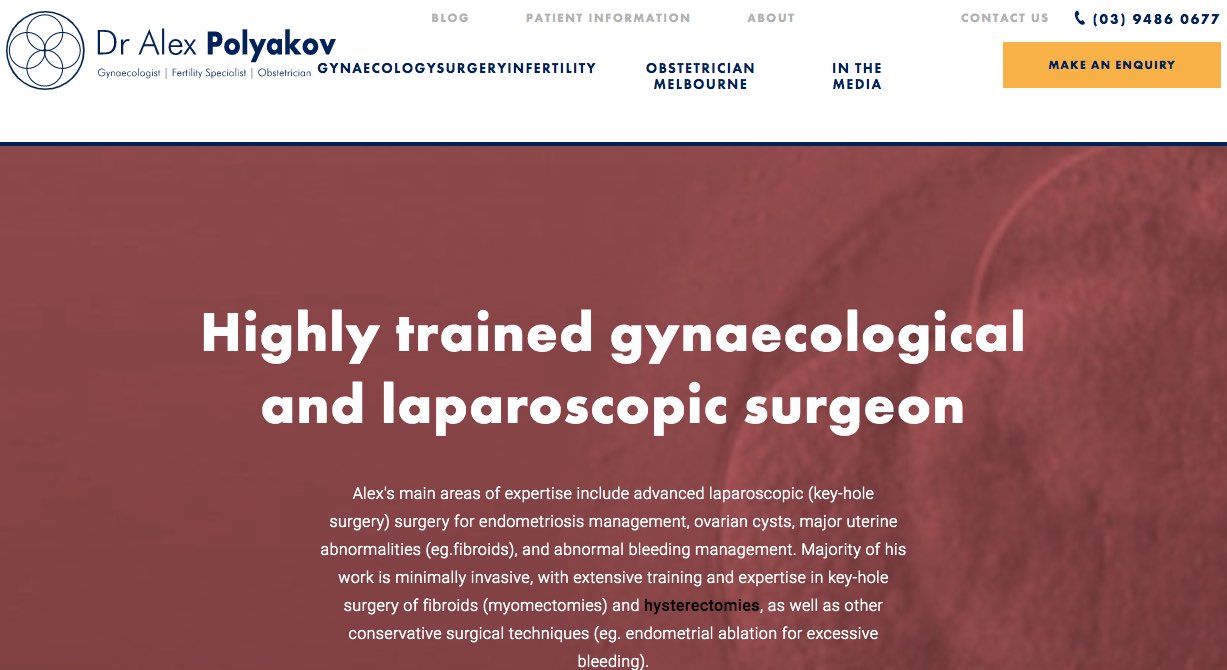 03 9486 0677
A flexible approach, from conception to delivery
Dr. Alex Polyakov is a Consultant in Obstetrics, Gynaecology and Reproductive Biology practising in Melbourne.
While Dr Polyakov has broad experience in many aspects of obstetrics and gynaecology, his subspecialties focus specifically on treatments in the following areas:
Pregnancy – normal and high risk
Infertility
Endometriosis
Endometrial Abnormalities
Fibroids
Abnormal Vaginal Bleeding
Vasectomy and Reversals
Male infertility and abnormal sperm count
Polycystic ovary syndrome
As well as gynaecological conditions that may require surgery and experience in advanced laparoscopic techniques.
Your trusted Gynaecologist in Melbourne
Dr Alex Polyakov is a highly qualified and experienced gynaecologist in East Melbourne who specialises in IVF treatments and infertility issues. As an accomplished laparoscopic surgeon, Dr Alex can assist with a diverse range of treatments for endometriosis, uterine fibroids, and menopause. Additional gynaecologist Melbourne services available include treatments for ovarian cysts, polycystic ovarian syndrome, and pelvic inflammatory disease. So if you're looking for an accomplished gynaecologist in Melbourne for advice and guidance on reproductive health issues, contact Dr Alex Polyakov today.
Dr. Samantha Hargreaves Obstetrician Melbourne, Victoria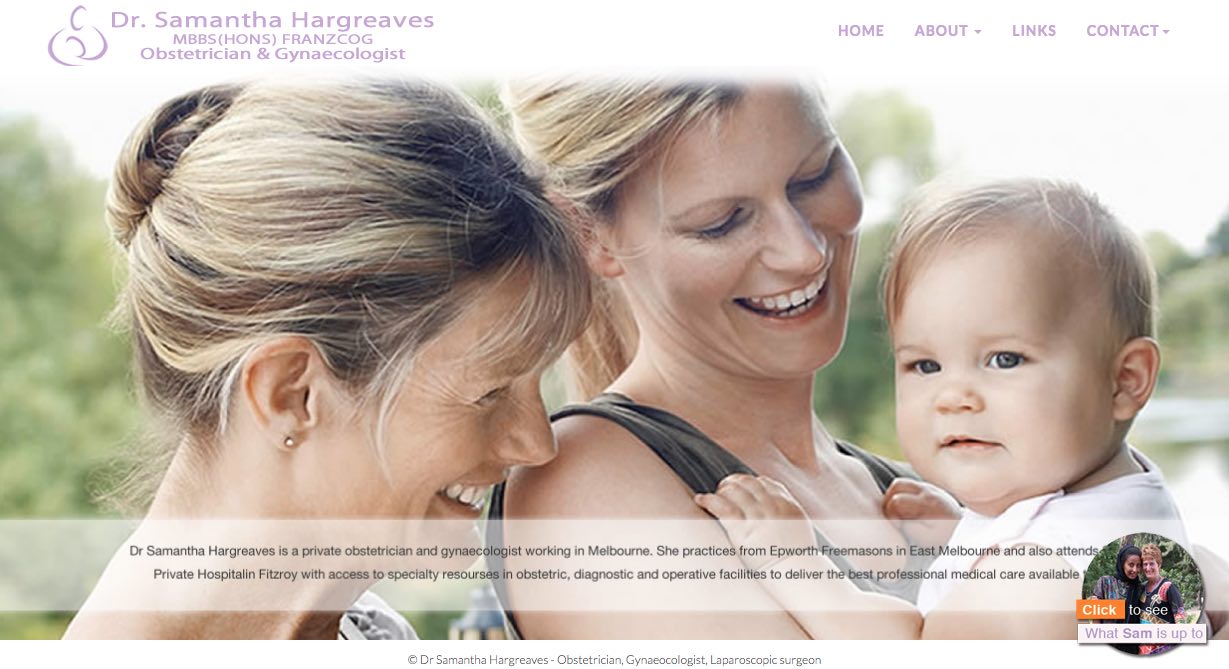 03 9419 6566
Samantha has over 20 years of experience in women's health. She specialises in normal and high-risk pregnancies, managing menstrual disorders, and in-office and surgical gynaecology and has an avid interest in minimally invasive laparoscopic surgery.
As well as being in private practice, Samantha is also an educator who holds a position as Senior Consultant Obstetrician/Gynaecologist at the Royal Women's Hospital and at Epworth Freemasons, where she is involved in teaching undergraduate and postgraduate medical students and midwifery students.
Fees
As a private patient, the fees for managing your pregnancy are claimable by Medicare and not covered by your health insurance. The delivery and hospital accommodation fee is largely covered by your health fund, depending upon your level of insurance. Fees for pathology, ultrasound or other specialists incur additional costs.
Choosing private obstetric care in a private hospital can incur high costs to patients partly due to poor rebates obstetrics receive from Medicare and health insurance companies relative to our expenses. Providing care 24 hours a day, 7 days a week from conception until 6 weeks after delivery by highly qualified specialists, professional indemnity insurance, access to a midwife, equipment such as ultrasounds, and maintaining professional rooms carries a financial cost. Acknowledging this is also a time when families are conscious of their own expenses, fees are kept within reach of private patients with private health insurance.
​​Dr. Vicki Nott Obstetrician Melbourne, Victoria
03 9132 4777
Dr. Vicki Nott is an award-winning Melbourne based Obstetrician and Gynaecologist with a deep interest and strong focus on all aspects of pregnancy and birth.
She specialises in making sure you have a pregnancy and birth experience that is unique to you.
In her comfortable private rooms, she provides highly personalised care for each of my patients at whatever stage of pregnancy (or pre-pregnancy) you might be at. She practised in hospitals both here in Melbourne and London, caring for women with a vast range of pregnancy concerns. She is qualified and experienced to care for the most high risk of conditions.
She enjoys getting to know all of my patients and helping them achieve the birth and family they desire. However, because of her passion for pregnancy and obstetrics, she now concentrates only on looking after pregnant women and those women and couples planning a baby or having trouble conceiving.
Her birth philosophy is to get to know you, listen to your preferences and decide together (with my expert guidance) on the birth that will suit you and your baby best.
Dr. Len Kilman Obstetrician Melbourne, Victoria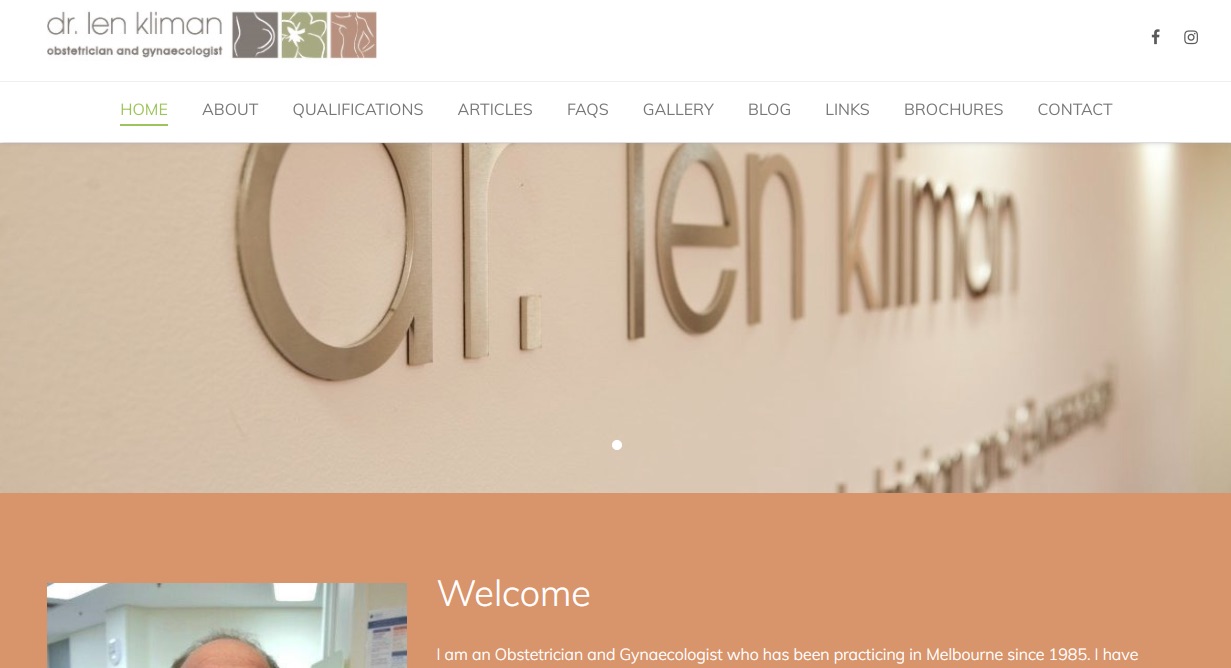 9419 2372
Dr Kliman established and was Obstetrician in Charge of the Chemical Dependency Unit, Royal Women's Hospital. He was Head of an Obstetric Unit at Royal Women's Hospital for eight consecutive years running. This was a unit that specialised in high-risk pregnancies. He also established and was Obstetrician in Charge of The Fetal Management Unit at Royal Women's Hospital. (A multidisciplinary unit specialising in High-Risk pregnancies.) Dr Kliman is Chairman of Obstetrics at the Epworth Freemasons Hospital. He is also the Deputy Chairman of the Epworth Clinical Institute – a research and education body.
Dr Kliman is constantly upgrading his education with regular attendances at national and international conferences and was a senior lecturer for the University of Melbourne from 1986 to 2000. He then became Clinical Supervisor in Obstetrics and Gynaecology of Medical Students for the Epworth Group until 2016.
Dr Len Kliman has extensive experience in the following areas:
High risk and complicated pregnancies
Multiple pregnancies
Normal pregnancies
General Gynaecology
Abnormal pap smears and colposcopy
Diagnostic / Laparoscopic (keyhole) surgery
Management of pelvic pain
Contraception
Menopause
Menstrual dysfunction (heavy, painful or irregular periods)
Polycystic ovary syndrome (PCOS)
Vulval and vaginal disorders, including skin disorders
Dr. Vadim Mirmilstein Obstetrician Melbourne, Victoria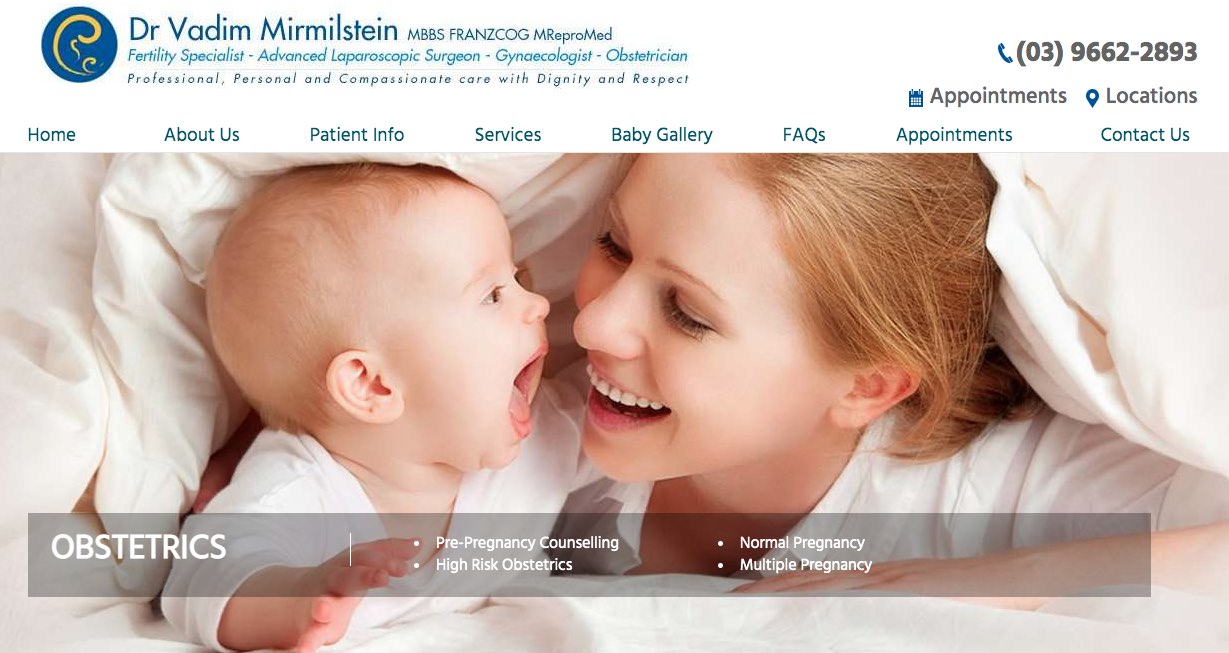 03 9662-2893
Dr Vadim Mirmilstein is a fertility specialist and consultant obstetrician & gynaecologist. He believes in better patient education for better treatment outcomes. Therefore, he designed this website, which features all the necessary info for his patients about common obstetrics & gynaecology problems, infertility, and various treatments options. In addition, patients can book appointments online and find driving directions to consult rooms on the website.
Dr Mirmilstein is an experienced and well-trained surgeon with clinical interest and expertise in infertility and IVF, advanced endoscopic surgery, endometriosis and providing modern obstetric care, including high-risk obstetrics. He is one of a very few Gynaecologists in Melbourne who performs the majority of operations, including myomectomies (removal of fibroids) and hysterectomies via laparoscopic ("keyhole") approach. Fluent in English, Russian and Ukrainian, Vadim currently works and has admitting rights at The City Fertility Centre, the Royal Women's Hospital, Epworth Freemasons & St. Vincent's Private Hospitals, Frances Perry House, The Avenue Private Hospital.
He is a member of the Fertility Society of Australia (FSA), the Australasian Gynaecological Endoscopy & Surgery Society (AGES) and is a Fellow of the Royal Australian and New Zealand College of Obstetricians and Gynaecologists (RANZCOG). Vadim completed and was awarded Masters of Reproductive Medicine from the University of NSW.
Through continuous self-education and training, Dr Vadim Mirmilstein offers his patients the modern and the most appropriate treatment options. Vadim is an understanding doctor who does his best to assist women and their partners in getting the appropriate and individual care they need. He believes that the patients should play an active role in decision making and guarantees that you will not feel like a number.
Dr. Joseph Sgroi Obstetrician Melbourne, Victoria
03 9416 1586
Pregnancy care, Gynaecology, Laparoscopy and Fertility.
Dr Joseph Sgroi is a qualified obstetrician, gynaecologist, fertility and IVF specialist who provides the best evidence-based care to women throughout Melbourne. His consulting rooms are located at Epworth Freemasons in East Melbourne.
Dr Joseph provides holistic medical care to support women's health and well-being during fertility treatments, including ovulation induction, IUI or IVF, donor eggs and sperm, pregnancy, childbirth beyond.
His focus is to assist women and couples in achieving pregnancy in even the most challenging of situations and providing support during pregnancy and childbirth. This may be following IVF through his IVF clinic in Melbourne or if the pregnancy was conceived naturally.
Graduating from Monash University in 1998, Dr Joseph became accredited by the Royal Australia and New Zealand College of Obstetricians and Gynaecologists (RANZCOG). Prior to embarking on his career as an obstetrician, he spent three years at The Alfred Hospital undertaking physician training (Internal Medicine), making him well equipped to manage complex medical and high-risk pregnancies.
He has previously held high office on RANZCOG's and The AMA's Federal Council. In addition, he continues to positively influence female health policymaking as a media spokesperson on women's health issues and is also on the advisory board at Tiny Hearts.
Dr. Nicole Ong Obstetrician Melbourne, Victoria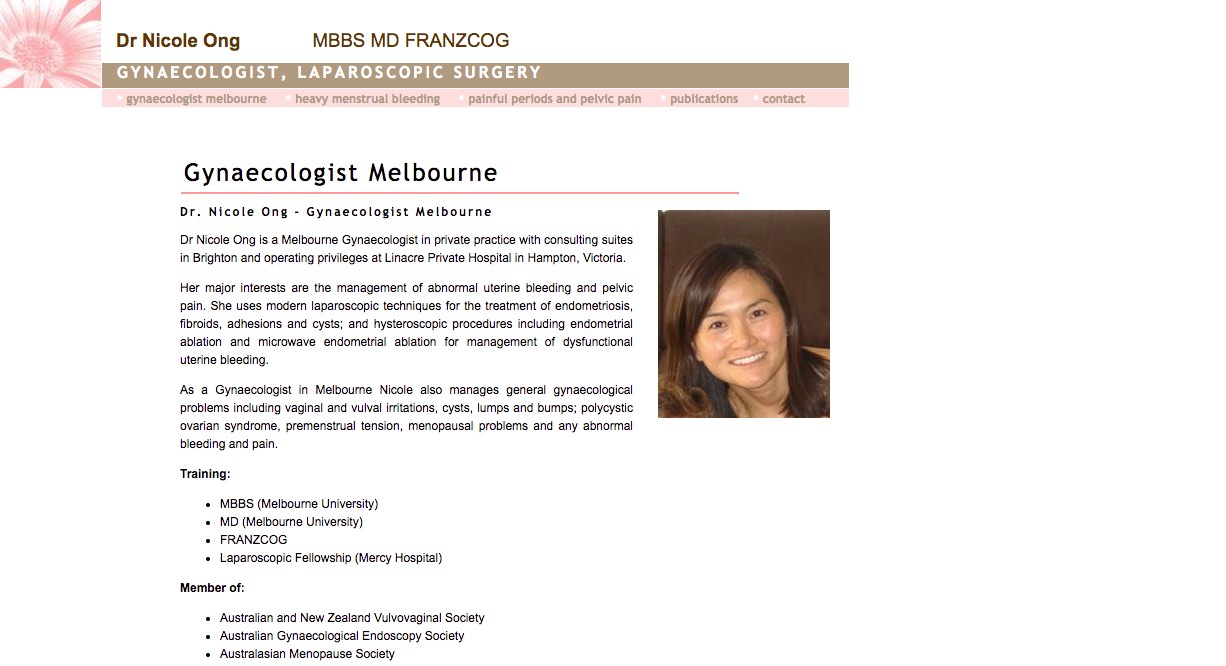 03 9567 9080
Dr Nicole Ong is a Melbourne Gynaecologist in private practice with consulting suites in Brighton and operating privileges at Linacre Private Hospital in Hampton, Victoria.
Her major interests are the management of abnormal uterine bleeding and pelvic pain. She uses modern laparoscopic techniques to treat endometriosis, fibroids, adhesions and cysts; and hysteroscopic procedures, including endometrial ablation and microwave endometrial ablation, to manage dysfunctional uterine bleeding.
As a Gynaecologist in Melbourne, Nicole also manages general gynaecological problems, including vaginal and vulval irritations, cysts, lumps and bumps, polycystic ovarian syndrome, premenstrual tension, menopausal problems and any abnormal bleeding and pain.
Dr. Grant Saffer Obstetrician Melbourne, Victoria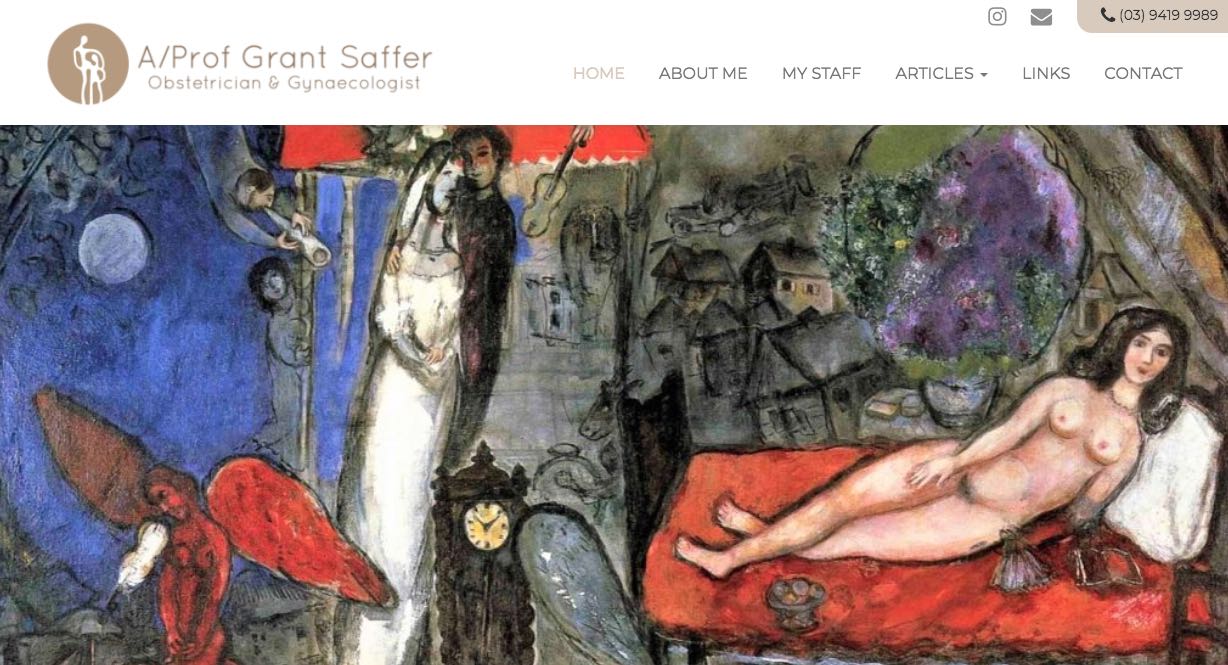 9419 9989
Grant Saffer is an Obstetrician and Gynaecologist practising at the Epworth-Freemasons Consulting Suites in East Melbourne. He is also the Associate Dean of Women's Health for the Epworth Clinical School of Medicine, University of Melbourne. Grant's medical focus is geared towards the care and management of natural pregnancy and delivery, ranging from low risk to a focus on high-risk pregnancies that may involve associated complications such as delayed conception, preeclampsia, hypertension, multiple births, gestational diabetes and assisted reproduction (IVF) pregnancies.
Dr. Marcia Bonazzi Obstetrician Melbourne, Victoria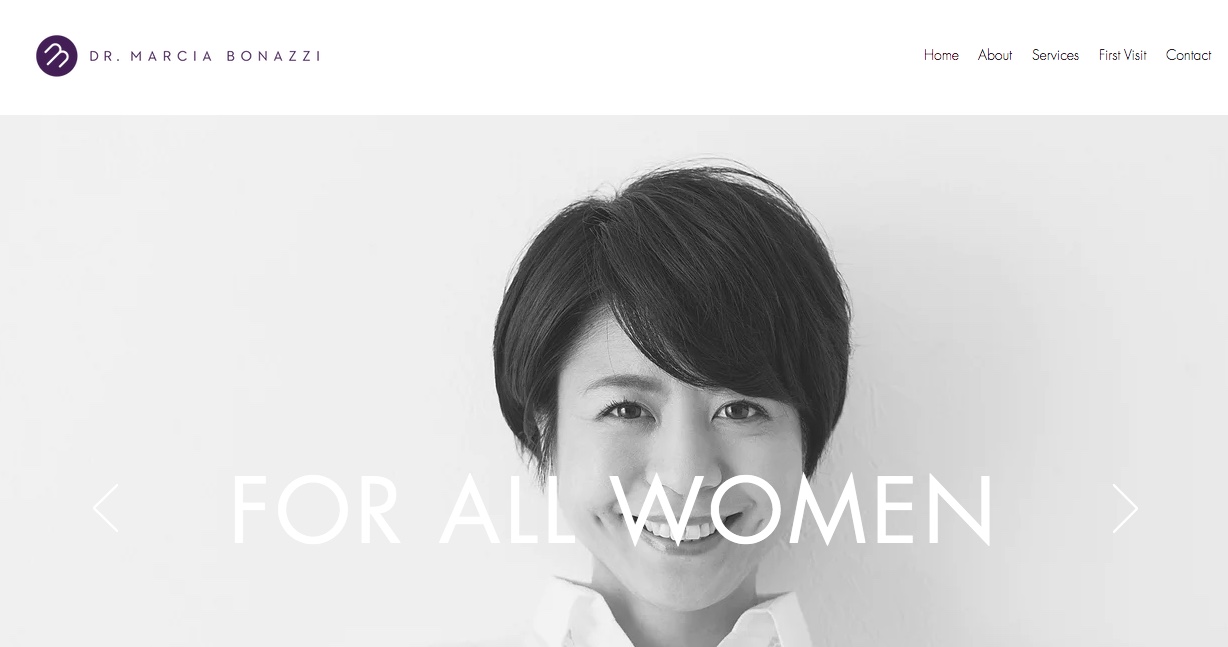 03 9419 5601
Dr. Marcia Bonazzi is a well-respected and highly acclaimed Obstetrician & Gynaecologist based in Fitzroy, Melbourne. She cares passionately about women's health and approaches her patients calmly and confidently, making them feel completely at ease. Marcia has also delivered an astonishing 10,000+ babies during her distinguished 30-year career and likes to be involved in every step of a woman's health journey.
Our Philosophy
Dr. Marcia Bonazzi is about empowering all women. No matter the reason for your visit, she is devoted to each and every one of her patient's health and well-being needs. Marcia is very passionate about women's health. She provides her obstetric and gynaecological care warmly and compassionately, which quickly helps establish a sense of trust and confidence in her patients, thanks to her extensive experience and calm approach.
Choosing the right obstetrician and gynaecologist for you is one of the most important decisions you will make in your health journey as a woman. Marcia's goal is to ensure that you experience the highest standard of care and feel fully informed every step of the way.
Services
Obstetrics
Dr. Bonazzi has delivered over 10,000 babies in her 30-year career. Throughout their pregnancy, she looks after her patients, offering antenatal guidance, delivery & labour support, and postnatal care.
Gynaecology
Dr. Bonazzi's reputation as one of the best gynaecologists in Melbourne is somewhat due to her ability to develop trust and provide a safe and welcoming environment for every one of her patients.
MonaLisa Touch
Dr. Bonazzi also provides the MonaLisa Touch Treatment, which is a minimally invasive, non-surgical laser therapeutic procedure used to counteract the effects of vaginal atrophy and post-menopausal changes.
Dr. Kylie Goh Obstetrician Melbourne, Victoria
9344 5050
Dr Kylie Goh is a female specialist Obstetrician and Gynaecologist practising at Frances Perry House, conveniently located in Parkville, near Melbourne CBD. She manages normal and high-risk pregnancies while maintaining a special interest in minimally invasive endoscopic surgery, endometriosis, colposcopy, vaginal prolapse, and family planning.
As a female obstetrician and gynaecologist based in Melbourne, Kylie appreciates women's concerns during pregnancy and following childbirth. She is a mother of two cheeky young boys and therefore understands first-hand the beautiful and sometimes challenging experience of pregnancy and motherhood. Managing a good balance between her work as a specialist doctor and her young family is important. During her spare time, Kylie enjoys travelling, cooking and spending quality time with family and friends. Kylie's day always starts with a good coffee.
Melbourne based Dr Kylie Goh offers both obstetric and gynaecology services. As your primary carer, Kylie provides a holistic approach with her specialist care. All deliveries and gynaecology elective surgery are performed from Frances Perry House, Parkville.
Our consulting rooms are conveniently located in the same building as Frances Perry House, just outside of Melbourne CBD. Dr Kylie Goh is supported by her experienced midwife and friendly reception staff, who assist patients through their pregnancy, appointments and surgical procedures.
For gynaecology services, we have an on-site treatment room for cervical screening, colposcopy, insertion of IUD and other related procedures. Kylie has a special interest in the management of abnormal smears and endoscopic surgery. All her surgical procedures are conducted at Frances Perry House.
Your well-being is important to our practice. Therefore we are here to provide the best support. Unfortunately, at times, our appointments may run behind due to the nature of being an obstetric practice. We will do our best to inform you ahead of time to make plans or reschedule if required, but we ask for your understanding if unexpected emergencies happen beyond our control.
Kylie is currently taking patients for pre-pregnancy planning, obstetric and gynaecology services. You can make an appointment by contacting our friendly staff on 03 9344 5050. A GP referral is required before you attend your first appointment. This is so we can help process your Medicare claim and also have relevant information related to your medical symptoms or pregnancy.
Dr. Stephen Lee Obstetrician Melbourne, Victoria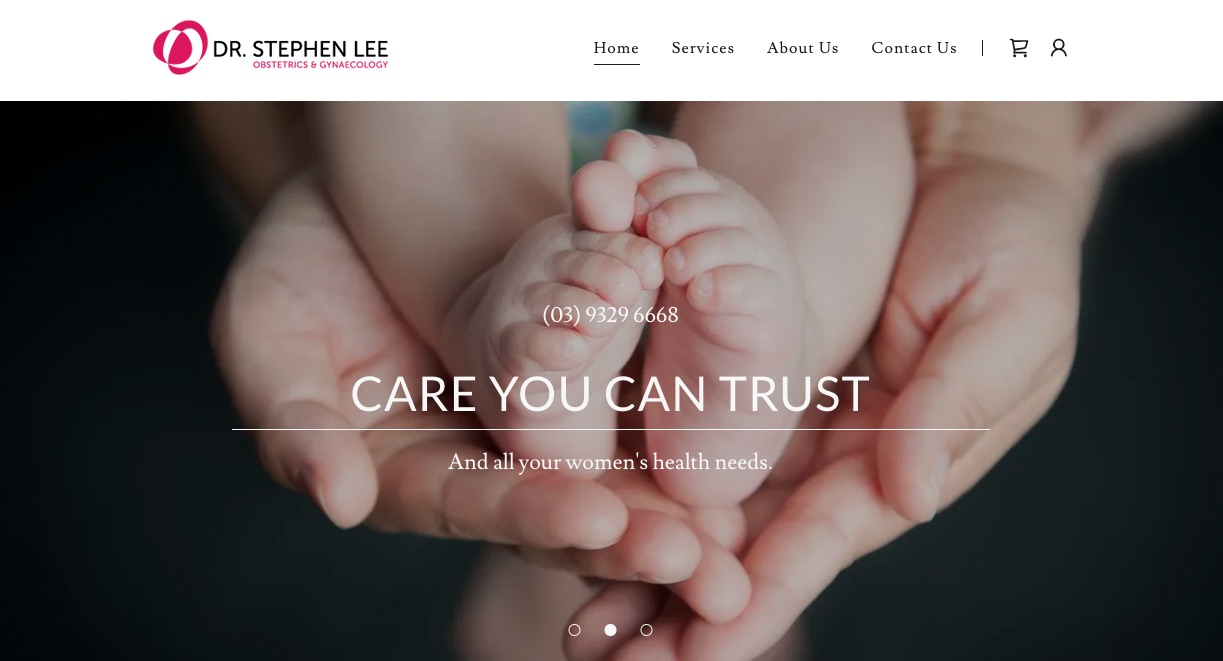 (03) 9329 6668
Dr Stephen Lee is a Gynaecologist at the Obstetric and Gynaecology Consulting Group and a Staff Specialist in Obstetrics and Gynaecology at the prestigious Royal Women's Hospital in Parkville, Melbourne. At the Royal Women's Hospital, he is the Clinical Lead for the Acute Gynaecology Unit, which handles all acute gynaecological conditions. He is also an integral part of both the Gynaecology 1 Unit, which specialises in abnormal menstrual bleeding, and the Gynaecology 2 Unit, which specialises in endometriosis and gynaecological pain.
Minimally Invasive Gynaecology
Minimally invasive gynaecology, approaching gynaecological surgery laparoscopically (using keyhole surgery), vaginally or hysteroscopically, has advantages of the improved cosmetic outcome, reduced pain and shorter recovery. In addition, advances in surgical technology have enabled most gynaecological surgery to be performed using the minimally invasive gynaecology approach.
Acute Gynaecology
Acute gynaecological problems can arise without warning. Conditions like miscarriage, ectopic pregnancy, pelvic inflammatory disease, and ovarian cyst accidents are physically and emotionally draining and need a timely response. As the Clinical Lead of the Acute Gynaecology Unit at Royal Women's Hospital, Dr Stephen Lee is the steady hand you need. If you have an acute gynaecological condition, Dr Lee will see you within 24 hours.
General Gynaecology
Dr Stephen Lee can help with gynaecological problems such as endometriosis and chronic pelvic pain, heavy menstrual bleeding and fibroids, ovarian cysts, vaginal discharge, menopause in women with a history of cancer, uterovaginal prolapse and urinary incontinence, contraception in women with medical disorders, long term contraception, Pap smear abnormalities and sexual dysfunction.
Melbourne City Obstetrician Melbourne, Victoria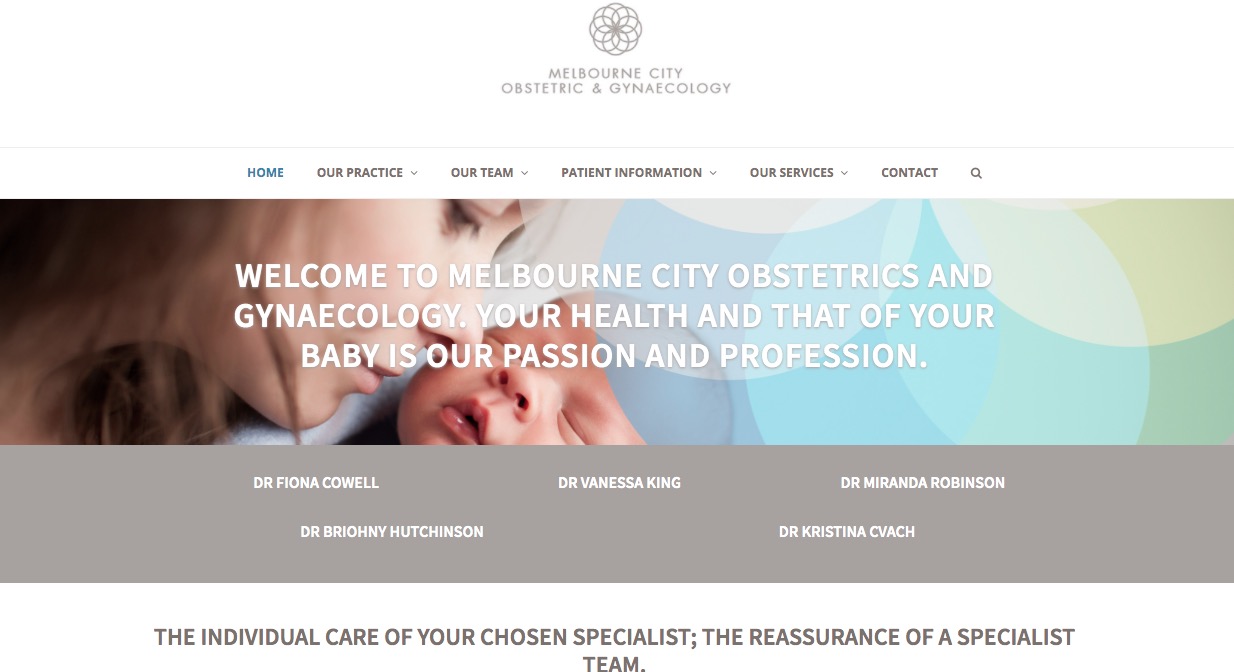 03 9415 6077
Explore our range of helpful resources such as frequently asked questions, information about our Melbourne obstetricians, useful links, suggested reading and more.
Obstetrics
We are qualified to manage all pregnancies – healthy and well women and those who are high Rriskin their pregnancy. All of the Melbourne obstetricians are highly skilled in all types of birth, with many years of teaching hospital and overseas experience.
Your first visit will normally be at around 9 weeks of pregnancy. It is a longer appointment and gives the opportunity for your doctor to take a full medical history, arrange tests and discuss your questions and concerns. In addition, a pregnancy ultrasound will usually be performed.
In uncomplicated pregnancies, you will usually have an appointment each month until 30 weeks, then every 2 weeks until the last month, when your weekly visits. Extra appointments are easily scheduled for women with high risk or complicated pregnancies and for emergencies.
We choose to look after our own patients. This means that your routine visits and usually your labour and birth or caesarean will be with the obstetrician of your choice.
As part of safe, modern daycare, we have scheduled time off and work together (with two other female obstetricians) to ensure our patients always have excellent cover 24 hours a day by a Melbourne obstetrician. If we have any planned holidays or study leave of more than a few days, you will be informed of this when you ring to book in for pregnancy care.
We are all working mums, dedicated to the well-being of you and your baby, but also offering lots of life experience in juggling careers, home and motherhood.
Women's Obstetric and Gynaecology Specialist Melbourne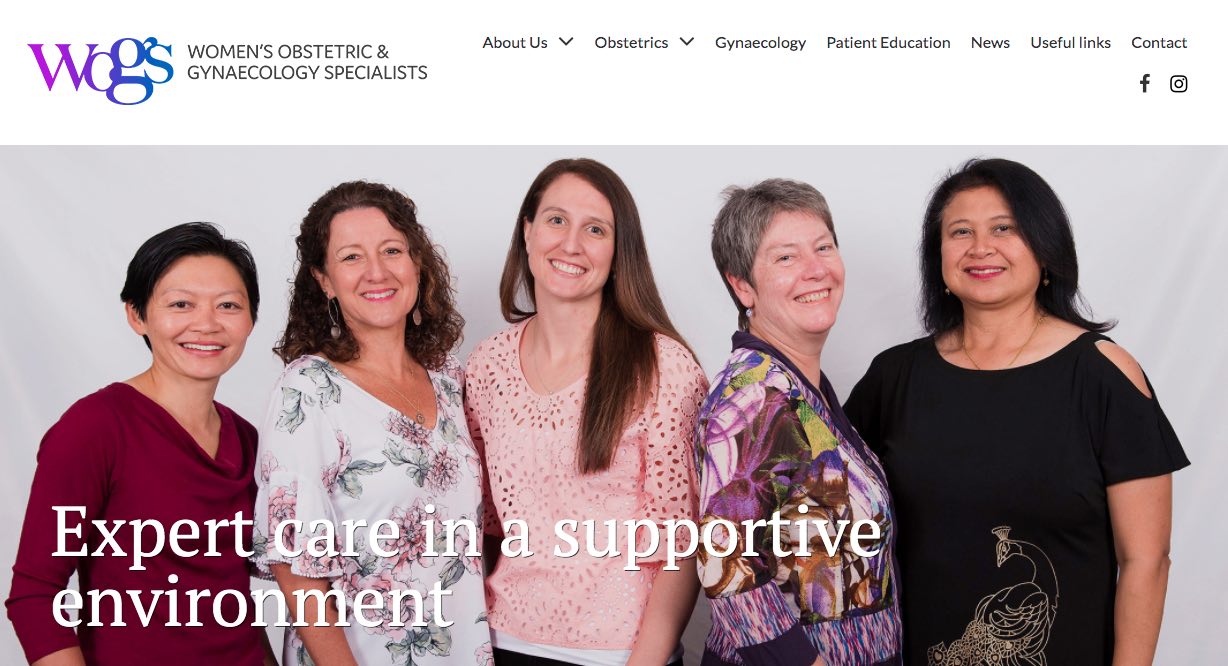 9387 1000
Providing excellence in women's obstetric and gynaecological health care
Women's Obstetric and Gynaecology Specialists (WOGS) was established in 1998. Our five female obstetricians and gynaecologists – Dr Jenny Dowd, Dr Khairul Mohamed-Noor, Dr Kym Jansen, Dr Renee Wong and Dr Philippa Costley – are dedicated to providing you with the highest standard of specialist health care in a supportive environment.
Having a baby with WOGS
At WOGS, we consider it a privilege to accompany families on their pregnancy journey. Placing our patients at the centre of care, we use our expertise and experience to support them to make informed choices and achieve a safe and healthy delivery.
Patients can access one of our specialist obstetricians 24 hours a day throughout their pregnancy and up until their six-week postnatal visit. Although patients will mainly see their dedicated primary obstetrician, they will also meet all the WOGS obstetricians. This ensures that they will always be cared for by someone familiar to them.
All our patients are delivered at Frances Perry House, the private hospital co-located above the Royal Women's Hospital. This is also where our rooms are conveniently situated.