A standard crib size is 51 3/8" – 52 5/8" L x 27 3/8" – 28 5/8". Standard cribs are traditional in both style and design. They are intended to comfortably fit your child during the first 18–24 months of their life. 
Although standard cribs can be expensive, they are long-lasting, giving them great value. Some standard cribs are designed to transform into a toddler bed as your child grows. These convertible cribs typically include additional parts that help the crib transition into a new, larger sleeping space. 
The size of your nursery will affect the crib dimensions you choose. Due to their dimensions, standard cribs are optimal in larger rooms and spaces. They will thrive in open-layout nurseries or the centre of a spare room.
Standard size baby cribs are full-size cribs of different types and models. Internal dimensions of standard size cribs are the same for all full-size cribs. But their overall measurements (external dimensions) are not the same!
Why? Because of the material, design, and crib type!
First of all, frames of standard size cribs are made from different materials. The thickness of different wood, metal or acryl is not the same. 

Second, standard size cribs have multiple designs and shapes. For example, you can buy a full-size, convertible crib with a sleek, minimalist frame. Or you can decide on a bulky full-size crib with an arch and curves.

And last but not least. Standard size cribs are available in many different types, making their outer dimensions vary by several inches. A portable, standard-sized crib needs a minimalistic frame, full-size, convertible cribs can be sleek or bulky, a combo crib has an attached changing table, so it is even bigger, etc.
When you're welcoming a new baby into your life, there are many things to plan out and consider. From setting up the nursery to baby-proofing your home, it's an exciting time. We've outlined everything you need to know about crib dimensions and how to pick out the best one for your baby.
The CPSC requires that full-size baby cribs have a standard width of 28 inches and a standard height of 52 and ⅜ inches, but with a "pull or minus factor" of ⅝ inches.
What is a toddler mattress? A toddler mattress isn't much different than a crib mattress; in fact, it's the same size as a crib mattress and can be used in a crib until you're ready to transition your child to a toddler bed.
Most toddler beds are around 50" to 60" long, whereas a twin bed is 80" long. Most kids will use a toddler bed for a couple of years before moving to a twin or full bed, although the timeline is different for everyone. So why would you choose a toddler bed? For most parents, it comes down to a space issue.
In most cases, a crib mattress is the same as a toddler mattress size, as the crib converts into a toddler bed. With convertible cribs, you might remove a side rail or lower it to turn it into a toddler bed. Your child will sleep on the same mattress. If you buy a toddler-specific bed, the mattress should come with it.
Toddler beds use the same size mattress as a crib. So whether you get a new bed or convert your crib, you can take your pick from crib sheets or toddler bedding. It's the perfect time to give your little one's room an update with their favourite colours, patterns or characters.
Size examples of popular cribs:
Here are a handful of the most popular full-size cribs on the market right now, both from Amazon and from top retailers like Pottery Barn, along with exactly how much space they take up in your house.
The dimensions below (the ones given directly by the manufacturer) are typically referring to the overall size of the crib, which is probably what you're interested in.
The size of the inside/sleeping surface of the crib, and the mattress, are federally regulated within less than an inch.
The sizes below refer to max exterior width, length, and height at the tallest point.
Union convertible crib: 53.5L x 30.5W x 33.5H (inches)

Graco Benton crib: 56.7L x 29.8W x 40.5H

Pottery Barn Lark crib: 59.5L x 32W x 46.5H

Sorelle Annie Elite crib: 55L x 30.25W x 40.35H

Babyletto Gelato crib: 55L x 31W x 35.2H

Delta Children Brayden crib: 54.5L x 30W x 41.25H

Serta Mid Century Modern crib: 55L x 29.75W x 39.25H

Little Seeds Monarch Hill Ivy crib: 54.5L x 28W x 40.6H

Baby Mod Modena crib: 54.25L x 29.63W x 35H

Babyletto Hudson crib: 54L x 29.8W x 35H

Pottery Barn Kendall crib: 57L x 32W x 44H

IKEA Gulliver crib: 53.5L x 29.5W x 32.6H

Graco Charleston crib: 56.5L x 30.1W x 45.7H
As you can see, the sizes are pretty standard. If you don't need a lot of extra ornate design features, you can shave off a few inches here or there (usually on the height), but since the actual inside of the crib is regulated, the wiggle room is rather small.
If you don't have space for a full-size crib (or don't have the budget, haven't picked one, or aren't ready!) There are many alternatives to full-size cribs that will work just fine, especially during the baby's first weeks home.
External and internal dimensions of standard cribs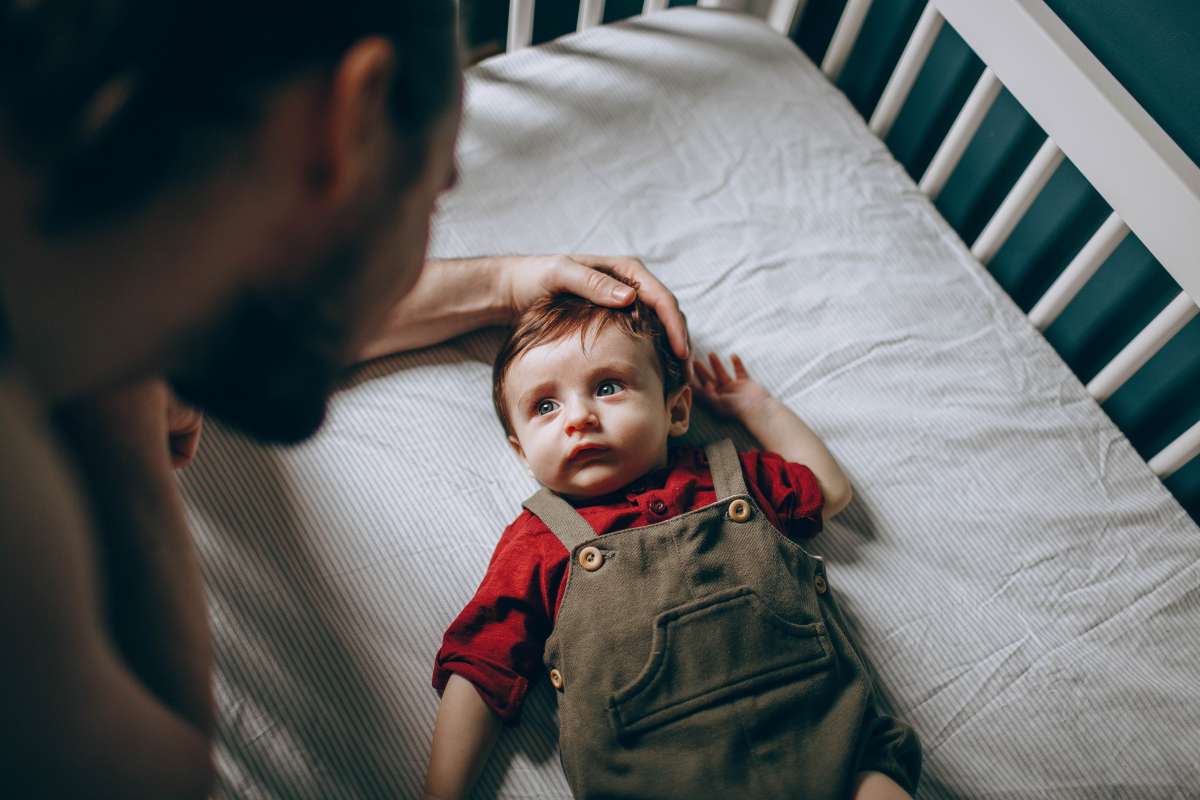 Full-size crib's external measurements

 are important if you are tight with space! Carefully check what the crib's measures are before you make a purchase!

Internal measurements of standard size cribs

 are important while picking the right mattress for your selected crib. Luckily inner measurements for standard size cribs are standardized, so any standard size crib mattress should fit into any full-size crib.
Types of full-size standard cribs
A picture says a thousand words! That's why we used them to present standard size cribs types. We were wondering how to do it most practically and understandably and came up with the idea of a hierarchy graph.
Below is a graph with standard size baby cribs of all types. We have also made a short description of each type and incorporated the links to their detailed description.
Non-convertible traditional standard size baby crib
Those are regular, classic full-size cribs. A non-convertible crib is a traditional first bed for your baby, which serves only as a crib.

The crib doesn't have any extra features, it doesn't convert into bigger beds, and it's not portable.

Finding this type is hard, as they are not on the market anymore. Parents usually expect more from the crib, so there is virtually no demand for such cribs.

Because it doesn't have additional features, it is the cheapest type amongst standard size baby cribs.
Convertible standard size baby crib
Convertible cribs convert into one or more different bed options. Those cribs grow with your child! Some models can transform up into full-size adult beds. Such convertible cribs can be even a lifetime bed for your child.
You have to buy conversion kits for transformations separately for most models. Only a few convertible cribs have the safety guardrail for a toddler bed included in the price. A great example is Babyletto's convertible cribs.
Why am I telling you this? Because it is very important to read the specifications for a specific convertible model thoroughly. Often, parents think they will get everything included in the price. As such, the crib looks affordable. But when they buy all the extra parts, it is quite expensive.
Also, make sure what the numbers in the name of the convertible crib mean! For example, not all 3-in-1 convertible cribs need to convert into a toddler and daybed. Some can skip one of these phases and convert it directly into a full-size bed. Check what numbers in the name means!
Based on the number of conversions certain crib has, they are divided into:
2-in-1 convertible cribs: crib + one bed

3-in-1 convertible cribs: crib + two beds

4-in-1 convertible cribs: crib + three beds
A convertible crib is our standard crib with an additional conversion kit. This is what you'll need if you're looking for a crib that can grow up with your child until you're ready for a change. You have a few options: You can transition your crib to a toddler bed, and then you can upgrade to a full bed from there. 
Our cribs are rigorously tested to meet or exceed all required and voluntary safety standards. Depending on how you'll want to convert the bed in the future, you'll need a specific conversion kit. By purchasing a separate conversion kit with your crib, you'll have everything you need to transition to a toddler bed, including:
Toddler bed conversion kit: With two platform heights, this kit allows you to swap out one side of the crib with safety guardrails to create a toddler bed—without having to put together a whole new bed!

Full bed conversion kit: When they outgrow the toddler bed, you can use the backboard with a metal frame or coordinating conversion kit to create a bigger full-size bed. We recommend purchasing any corresponding conversion kits, you think you'll need when you buy the crib—your little one will grow up right before your eyes!
The crib dimensions are essentially the same as our standard cribs. Each convertible crib has an adjustable platform to lower the mattress to toddler height. 
The guardrail adapters for the toddler bed range in width, offering openings between 15.3" and 20". The full bed conversion kits offer standard full bed dimensions whenever you're ready to change things up.
Full-size, convertible cribs with an attached changing table = Combo cribs
A convertible crib with an attached changing table (combo or combination crib) is a multifunctional crib. It has an area for sleeping and an area for changing nappies, combined into one piece of furniture.
Combo cribs are space and money savers!
Although combo cribs take up more space than standard types, they are space-saving furniture. Why? Because they take up less space as stand-alone changing tables and cribs. Combo cribs are usually cheaper as a combined price of a crib and stand-alone changer!
All combo cribs are convertible to some point. It is worth mentioning their last conversion, as it is unique. If such a crib converts into a full-size bed, a separate changing table serves as a nightstand beside the full-size bed.
Combo cribs have many names, which all mean the same:
combo crib

multipurpose crib

combination crib

multifunctional crib

convertible cribs with changing table
Full-size portable cribs
Portable cribs with a standard size, which is defined by law, are rare. Portable types such as mini portable cribs, travel cribs, or Pack 'N Plays are much more common and familiar to the ordinary consumer. But their measurements are not regulated by the government and can differ from model to model.
Only a full-size portable crib has the standard measurements we are talking about here! We all know that the measurements of mini cribs and standard cribs are not the same. But it is important to remember that the inner dimensions of cribs vs. Pack 'N Plays can differ a lot. A crib mattress doesn't fit into a Pack 'N Play!
Few facts about standard size portable cribs:
their portability is tied to moving around the house

some of them can even fold up for quick and easy storage

these cribs take a standard crib mattress
Two Types Of Full-Size Portable Cribs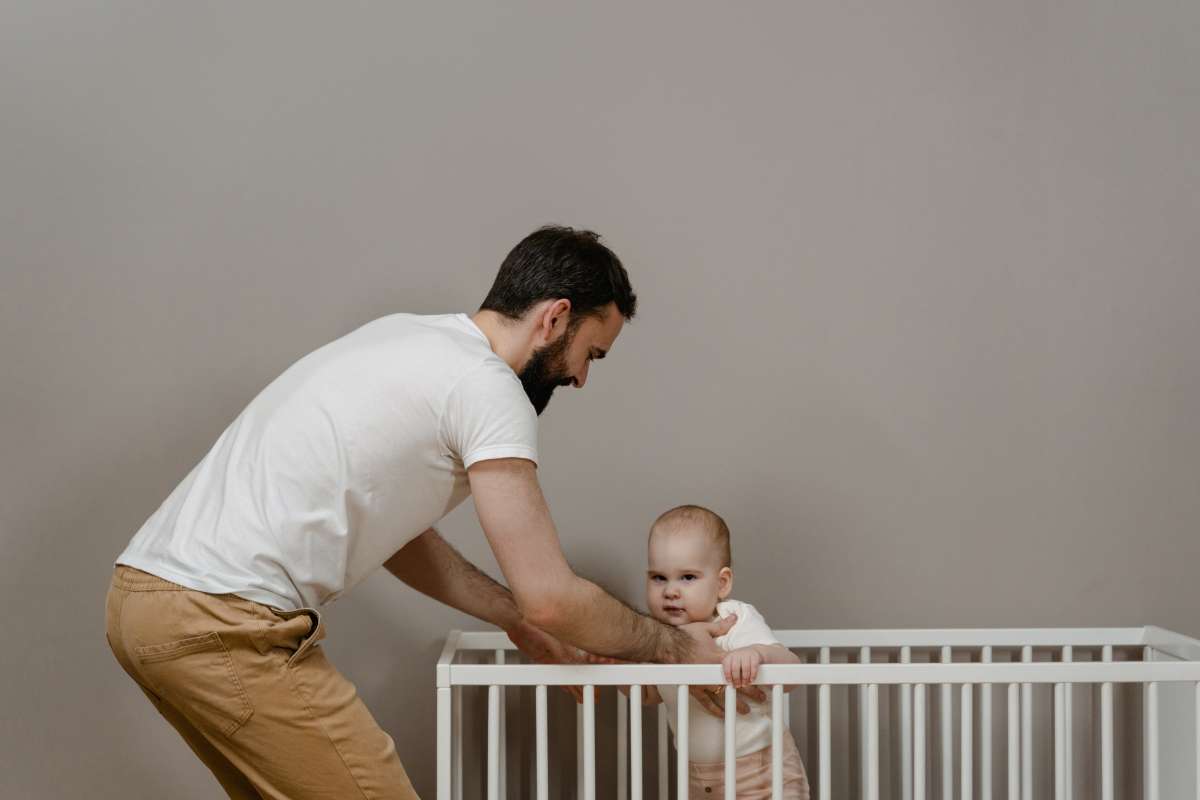 Folding standard size baby crib on wheels:
it has wheels for easy moving around the house

it has a minimalist designed framework to fit through room doors

it can fold up for easy storage

you don't need any tools for the folding

no disassembly is needed for the folding

perfect for the secondary crib in grandparents, or holiday house

two of the best full-size folding cribs are Babyletto Maki and Dream On Me full-size folding crib
Crib on wheels that doesn't fold up:
it doesn't have a bulky design, that it can fit through room doors

easy moving around the house

it must have a good locking mechanism, so the crib will stay sturdy in place while your baby is in it

the best model in this group: DaVinci Jenny Lind 3-in-1 convertible crib on wheels
Are standard size baby crib measurements the same as Pack 'N Plays' dimensions?
No, they are not the same! While standard cribs' measurements are regulated by the government, the dimensions of mini cribs, Pack 'N Plays, and travel cribs are not defined by the law.
Although, in theory, especially in bigger Pack 'N Plays, you could use a traditional standard crib mattress, manufacturers do not recommend it. Crib mattresses are thicker than those in Pack 'N Plays so that the baby could trap between the soft side of the Pack 'N Play and the crib's mattress!
Facts about travel cribs:
you can choose between a lightweight travel crib, traditional Pack 'N Play, or care station Playard

they can fold up in a second

most of them double as a Playard

you can store them in a travel bag, suitcase, or in a convenient backpack

lots of models have included an infant insert

care station Playards have many additional features, like crib mobiles, toys, a napping station for a newborn, changing table, additional storage pockets, and more
A standard crib is exactly what it sounds like: Your baseline crib option that's a go-to for most spaces. Made with child-safe materials and with the ultimate safety standards in mind, this is the ideal option for any nursery. 
Each crib is constructed with safety and quality in mind—from our Fair Trade Certified construction to our GREENGUARD Gold Certified materials—so you can be confident that your baby's nursery will remain healthy, no matter which crib you choose. 
Our standard cribs are also the baseline for any convertible crib—add on a conversion kit, which we'll cover more next.
Dimensions:
Our standard crib dimensions cover 51"–56"w x 29"–32"d x 32"–44"h. These variations depend on style and design, so make sure you double-check the measurements of your space.
Crib Mattress Size
The standard crib mattress size is 52" L x 27" W. The mattress is typically 5" – 6" thick and should not be thicker than 6". For safety reasons, there should be no gaps larger than two fingers wide between the mattress and the crib. The typical mattress size for a mini crib is 38" L x 24" W. The thickness tends to be lower, around 3" – 4" high and no higher than 5".
Another important component of any crib is the mattress. Thankfully, most standard crib mattresses fit standard cribs, so there shouldn't be a lot of number crunching going on. You can be confident that a twin mattress will fit a twin bed frame. The same goes for cribs. 
Most crib mattresses are big enough for toddlers, so if you're opting for a convertible crib, you'll get plenty of use out of the mattress before your little one gets too big. Plus, with a waterproof surface, cleanup will be easy and help the mattress last longer.
Firmness
The firmness of a crib mattress is important to consider, both for babies and toddlers. Ours offers two options: One side is firmer for infants, while the other is softer for toddlers. This will ensure they have a safe and comfortable bed.
Safety
Finally, safety is just as a priority with crib mattresses as it is for the crib itself. Our crib mattress breathes and is made with only the highest quality materials. Both GREENGUARD and CertiPUR-US® certified will help your baby (and you) have a peaceful night of sleep.
Be sure to use a fitted crib sheet that fits the mattress snuggly. This will ensure a safe (and cozy) night of sleep for your little one.
Your baby's sleep is so important, and having the perfect crib for them will help them sleep through the night. Once you understand which crib dimensions will work best in your space, you're ready to shop. 
Be sure they have everything they need, from the best crib bedding to cozy nursery decor that will help their first months be full of joy!