Whether you are heading for a long, multi-city adventure or are simply spending a weekend away, travelling with a child requires a lot of preparation. If we had to sum it up, we'd say that it all comes down to this: creating the same safe environment your bundle of joy has at home in a hotel room or a rental property that you've never seen before. Yes, that can be a daunting task.
Not only do you have to pack all of your baby's essentials, but you also have to make sure your little one has a comfortable place to sleep and play, and that means carrying a crib — or if you have a newborn, a bassinet — not to mention that if you have a baby and a toddler, you need both.
Here, explore the best travel cribs that have earned a seal of approval from parents and learn how to find the right one for your little one and adventure style.
Several components will help you determine whether or not you've chosen the best portable crib and bassinet for your baby. Size, of course, is key here, especially if you're travelling by plane or train.
You'll want something relatively easy to set up and, when folded, can be carried in its bag (bonus points if the bag can fit in an overhead compartment). Sturdiness and quality are also important since your little one's safety are at stake.
The construction comes into play, too, when it comes to assembling and disassembling your portable crib. If you are travelling with a lot of luggage, you'll want one that snaps into place fast without any hassle. Pay close attention to the weight, as lighter options will be easier to carry.
To help you get started, we rounded up the best and most highly rated portable travel cribs that parents (and their kids) can't get enough of.
If you travel a lot, it's worth the price tag.
However, if you travel a lot, this play yard will last you a long time, it will be easy to pack into a car or carry in an airport, and it will be easy to pop up in a hotel room—so the price is worth it.
The crib meets your baby's age, size, and weight range.
Comfort. Comfort is another important factor to consider while purchasing a portable crib. 

Ease of Assembling or Dismantling. 

Size and Weight for Packing. 

Age Range. 

Price. 

Travel Bag. 

Design. 

Extra Features.
Another common question amongst parents is placing their newborn to nap in a travel crib. Of course, you can, as long as your travel crib conforms to all safety standards! Most travel cribs are safe for use from newborn till age 3.
Although travel costs are safe for babies and toddlers to sleep in for short stints, they are not designed for regular sleep over a long period. It would help if you had a more robust, permanent cot for normal use in addition to an occasional-use travel cot.
The main differences between a travel crib vs pack n play are their portability and price. A pack n play can be portable but is still heavier to carry and move around than a travel crib. A travel crib is lighter, but it can be more expensive than a regular pack n play.
What is a travel crib?
A travel crib is a lightweight option that folds up and is super compact but sturdy enough to use every day. With portable cribs or playards, you want to ensure it has fine mesh netting, a babyproof collapsing mechanism and removable fitted sheets. 
When using your travel crib, make sure only to use sheets recommended by the manufacturer. If you try to use a regular crib sheet on a smaller mattress, you could end up with too much loose fabric, which might be a suffocation hazard. 
And don't leave anything in the sleeping area. Keep it clear of bumpers, quilts and blankets, and if you've been letting your little one play in her travel crib during the day, be sure to pull out any leftover toys and stuffed animals at bedtime. 
How to choose the best travel crib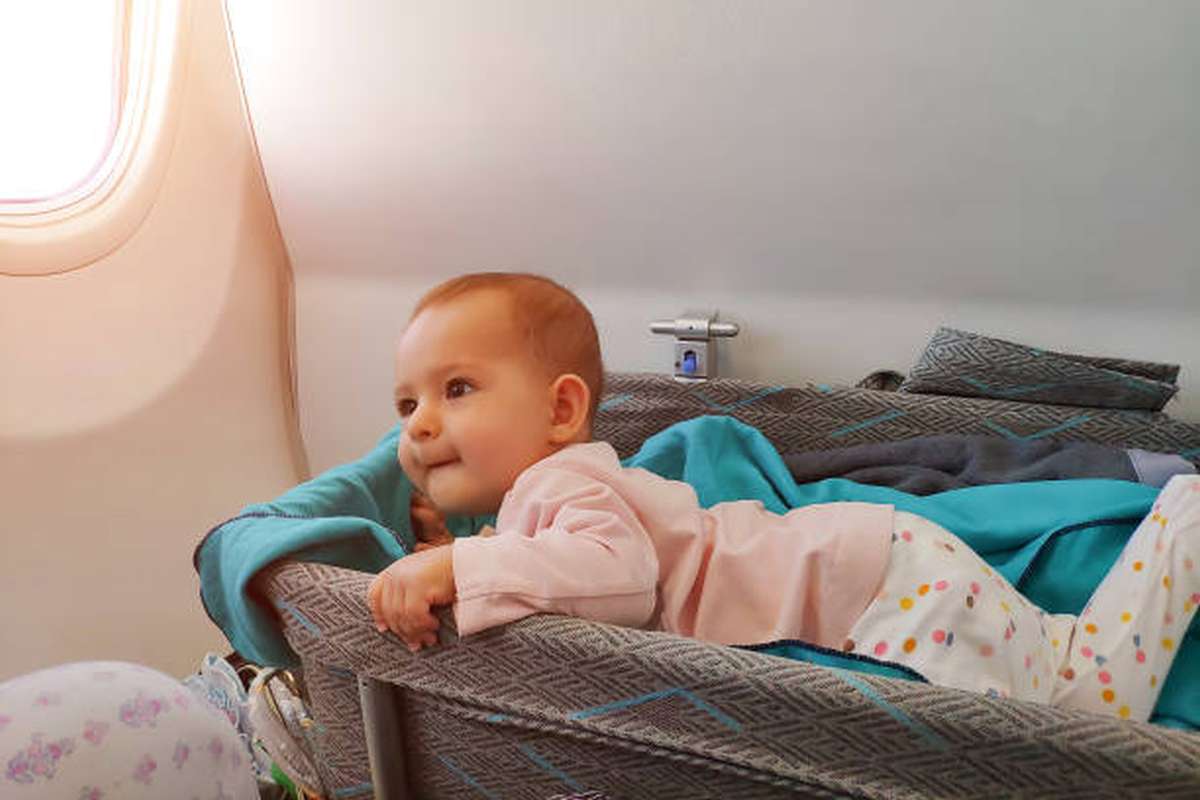 The best portable cribs boast these features:
A snug mattress. You shouldn't be able to fit more than two fingers between the mattress and the crib's side. 

Meets current safety standards. Look for products that meet safety standards through the ASTM (American Society for Testing and Materials) and the CPSC (Consumer Product Safety Commission). If you're getting a hand-me-down travel crib, make sure you have all the proper hardware, there are no loose pieces, and the item hasn't been recalled by the CPSC.

Comes with a sturdy bag. Your travel crib should come with a bag that can withstand the rigours of air travel if you plan to check it. (There are cribs on our list that are small enough to be put in the plane's overhead bin or even your suitcase, but others will need to be included with your checked luggage.)
Travel cribs are sold with a wide variety of add-ons, so consider the following: Where will you be travelling? Are the relatives or friends you're visiting local, or do you need a crib that fits in the overhead compartment on a plane? How often will you use the crib — only when you travel, or at home, too? Will you be spending a lot of time outside while you're away? What does your budget look like?
Here are some of the extras you may find useful:
Business attachment

Changing table 

Diaper caddy

Wheels

Sun canopy

Mosquito netting

Zippered opening on the side 
12 Best Travel Cribs for Babies and Toddlers
Babybjörn Travel Crib Light (Top Pick)
As the best overall travel crib, the BabyBjörn Travel Crib is a clear winner. It was our most important piece of baby gear when my daughter was young.
This ergonomic, portable crib provides sturdiness and support. It weighs just 13 lbs, making it great to travel with. The nice carrying case is good for air travel. Check with your airline for carry-on dimension guidelines, but some parents report flying with it as carry-on luggage.
It's simple to set up. The soft padded mattress rests on the ground, so this travel crib doubles as a soft (and contained) place to play and a sleeping environment. When you need to pack up, remove the mattress, fold in one leg at a time, and then fold the whole crib in half. It takes just a few easy minutes.
What's more, once you've folded the crib and put it in its neat carrying bag, there's room to throw in a few special extras like small blankets and stuffed animals. You can remove the fabric and put it in the washing machine for cleaning.
We recommend buying it with the fitted crib sheet because it fits better than standard crib sheets. It is more of an investment than others on this list.
Ages: 0-3 years old

Weight limit: No upper weight limit

Dimensions: 19 x 23.5 x 5.5 inches (closed) and 44 x 24 x 32 inches (open)
Munchkin Brica Fold 'n Go Travel Bassinet.
If you're looking for an affordable option without carrying around extra bulk, you'll love this Munchkin Brica Fold n' Go bassinet. These best travel cribs for babies are easy to carry and weigh under three pounds, giving you a lightweight, durable, and reliable bassinet with a comfy mattress for sleeping at the park or nearly anywhere.
It features breathable mesh panels, soft fabric, and a four-point locking frame. Parents appreciate the low price tag, the safety, and peace of mind knowing that their most important priority is snuggled safely inside. The fitted sheet is machine washable, and you would wipe down the waterproof mattress pad. 
Ages: Infants who can't push up on hands and knees

Weight limit: 15 lbs.

Dimensions: 30 x 11.75 x 21.25 inches (open) and 22 x 17 x 3 inches (folded)

Item weight: 2.45 lbs.
Graco Pack 'n Play On The Go Playard With Folding Bassinet
Graco Pack 'n Plays are superb on the go players from one of the most trusted baby gear brands. We, like many parents, owned one and gave it a glowing review. This model can be used as a full-sized bassinet, playpen, and travel cot. You also can't beat the affordable price.
With a versatile mattress pad, the sturdy and durable nest will give your little one a comfortable place to nap. It features a full-size, removable bassinet that's easy to travel with and use as a diaper changing table.
It comes with a toy bar and soft toys to help keep your little one entertained. Designed to pack up easily with the signature Graco push-button fold means that packing it up is a cinch. Be sure to order the Graco Pack 'n Play On the Go Playard with the folding bassinet. 
It also has folding feet and wheels, so it's 20% more compact than standard Pack 'n Plays, and you can move it around your house or hotel. The mattress is included, but sheets are sold separately. To clean, wipe down with mild soap.
Bassinet Weight Limit: Infants up to 15 lbs

Playard Size Limit: Children up to 35″ tall, unable to climb out

Dimensions: 39.5 x 29 x 10.5 inches (folded) and 39.5 x 28.25 x 29 inches (open)
Guava Lotus Travel Crib 
If you've ever experienced travelling with kids, you'll know the value of having to cart one less thing around with you. That's where this easy Guava Lotus Travel Crib wins hands down as the best portable backpack travel bed. This ultra-lightweight, portable crib folds seamlessly into a compact carrying case, easy to toss onto your back and off you go.
Like the BabyBjörn travel crib, the mattress rests on the floor, so there's no worry about a weight limit. The frame is easy to open or stow away. One thing that's unique about this portable crib is its side zipper "door," creating a doorway for you to nurse, cuddle, and play with your little one. 
It also comes with a GreenGuard Certification, which means that you won't find phthalates, flame retardants, PVC, lead, and other harsh chemicals in the crib's materials.
The Lotus by Guava Family weighs 11 pounds with the bag, so it's not too heavy to carry around, worry-free at the airport, and easy to fly with. They call it airport-friendly, but you may have to check it at the gate. Check your airline's carry-on luggage measurements.
A comfy mattress and waterproof cover are both included. Wipe down to clean, but you can launder its organic crib sheets (sold separately).
Ages: 0–3

Dimensions: 46 x 31 x 25.5 inches (open) and 24 x 8 x 12 inches (backpack)

Certifications: GreenGuard Gold, US Federal Standard for Play Yards

(16 CFR 1221 / ASTM F406), Consumer Product Safety Info Act (H.R. 2020 / CPSIA 2008)
Fisher-Price On-The-Go Baby Dome
The Fisher-Price On-the-Go Baby Dome is a 2-in-1 portable crib, perfect for relaxing at home or travelling with your baby. Two colourful toys dangle from the toy bar for a little sensory entertainment. They are easy to remove, and you can also add other accessories to the bar if you like.
The portable crib features a comfortable mattress for your little one to take naps or play on. The canopy fully covers the crib to prevent distraction from sun exposure (it's UPF 20) and keeps out any bugs with its insect-protective netting. It's popular for use both indoors and outdoors. 
Collapse the dome flat and transport it everywhere using the convenient carry handle. The mat is machine washable, but you would wipe down the rest of the travel crib.
Ages: Babies who can not hold their heads up

Dimensions: 31.38 x 5.38 x 22 inches (open)

Item weight: 12.17 lbs.
My classic Foldable 2-In-1 Stationery & Rock Bassinet
If you're a parent who relies on rocking your baby as a part of their bedtime routine, the MiClassic Foldable 2-in-1 Stationary & Rock Bassinet is a superb travel bed. It quickly converts from a stationary sleeper bed to a rocking cradle that's super easy to pack up and move around. 
It comes with a carrying travel bag and folds quickly without disassembling. 
Though it's not the smallest option, parents do love this rocking bassinet with breathable mesh sides. You can take off its legs for easier transport, however. The brand also states that you can only use MiClassic sheets and accessories with this bassinet. The bassinet zipper cover and mattress cover are machines washable.
Ages: Okay for babies until they begin to push up on hands and knees or have reached 33 lbs

Dimensions: 37.4 x 23.8 x 28 inches (unfolded) and 22.8 x 6.7 x 20.7 inches (folded)

Item weight: 18.16 pounds

Certifications: Meets or exceeds all required and voluntary CPSIA safety requirements
Delta Children EZ Fold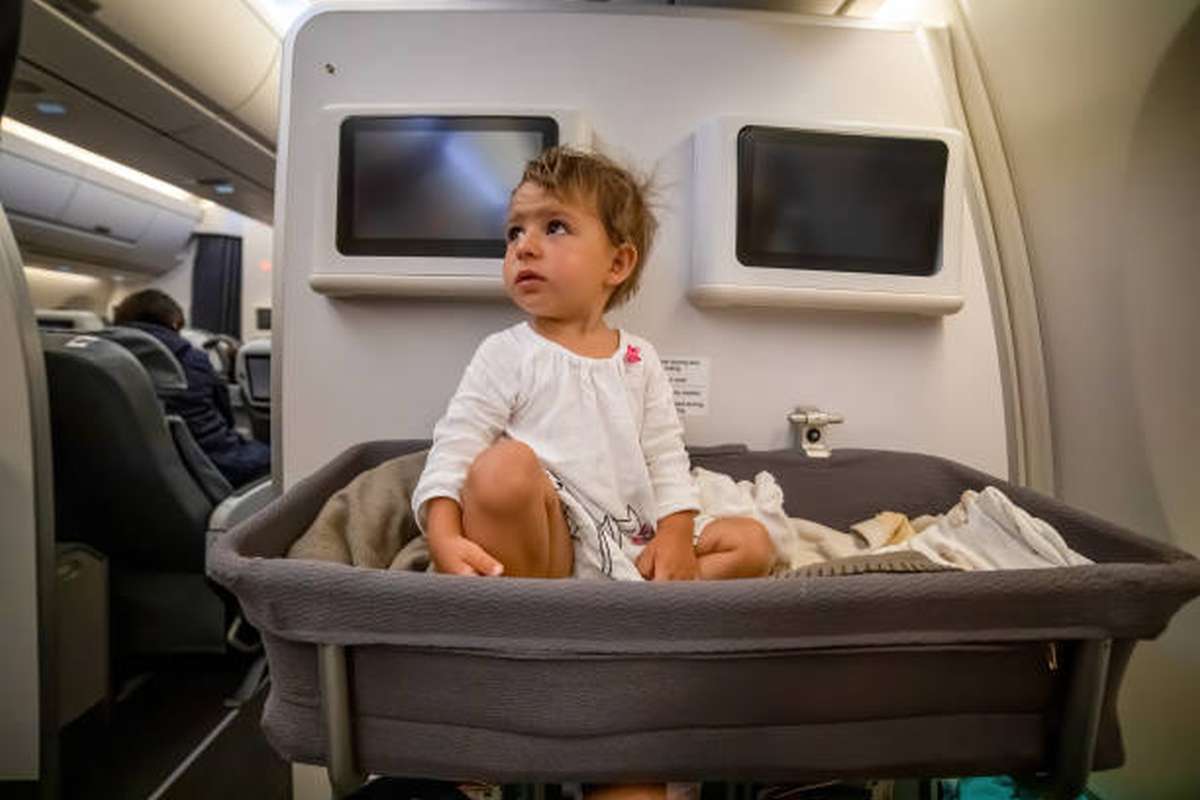 Delta Children EZ Fold is another easy to set, fold n' go travel crib option. The ultra-compact fold comes with a travel bag for quick transport and storage (no assembly required). 
It features breathable mesh sides providing ventilation for those hot summer days. For added protection, there is a removable canopy. The lightweight design and easy to use carrying case mean you can cart it anywhere without any trouble. A machine-washable, waterproof mattress pad and fitted sheet are also included.
Age: Until infants begin to push up on hands and knees or have reached the manufacturer's recommended maximum weight of 15 lbs — whichever comes first.

Dimensions: 41.7 x 20.7 x 24.8 inches

Item weight: 13.3 lb

Certifications: Certified by JPMA meet or exceed CPSC & ASTM standards
Kidco P3010 Peapod 
The micro-lite KidCo P3010 Peapod comes pre-assembled and ready to use. It's one of the most lightweight travel cribs on this list.
The lightweight travel bed is surrounded by mesh providing great airflow with anchor straps and UV protection. It's easy to fold up and fits into a standard carry bag, ideal for adventure parents looking to go camping, to the beach, on picnics, etc. This is one travel crib that you can toss into a suitcase or larger handbag with no problem. Wipe down to clean.
Ages: 1–3 years old

Dimensions: 16.5 x 3 x 16.5 inches (folded) and 46 x 18 x 28 inches (open)

Item weight: 2.45 lbs

Certifications: This product passes all required ASTM and Federal standards
4moms Breeze Go
It doesn't get any easier than this quick, one-push open and one-pull close setup. Please press on the centre of this roomy Playard and watch it all open in place. When you're ready to pack it away, pull the centre loop to fold it up. It's the perfect accessory for travel or moving around the house. 
The one-handed 4moms Breeze GO portable Playard is designed to give you clear views of your little one. It features a mattress that's easy to wipe down and a travel bag you can fold up and pack away. 
Though it's not the lightest travel crib, lacking in weightlessness, it compensates with its effortless setup. You can also check out the 4moms Breeze Plus for a more deluxe version with a bassinet and playard.
Age: birth to 30 lbs.

Dimensions: 43 x 30 x 29 inches (open)

Item weight: 23 lbs.
Joovy Room² Portable Playard
The Joovy Room² Portable Playard provides nearly 50% more play area than most traditional playards. This is perfect for families with twins or very active babies and their friends. The player doubles up as a portable crib with wheels for easy play on the go and mobility. 
What's also great is you can use this crib as a safe place for your baby right up until your kid is a toddler. It features four mesh walls to provide you with a 360-degree view of your child and their playdate. This portable playard also comes with a travel bag and waterproof cotton fitted sheet, making it ready for any family vacation.
Ages: newborns to toddlers 35″ tall

Dimensions: 39.75 x 39.75 x 31 inches (open) and 10 x 9.5 x 37 inches (folded)

Item weight: 29.6 lbs.
Ingenuity Foldaway Rocking Bassinet
From naptime to nighttime, the Ingenuity Foldaway Rocking Bassinet will provide peace wherever you go. The portable smart design includes a fitted sheet to keep your baby snug and safe. 
It features a foldable frame that expands and folds quickly. Mesh sides increase visibility for mothers and fathers and allow for airflow to keep your baby comfortable.
With different modes to use, you can rock your baby to sleep or lock it into a static mode whenever you need. Wipe or spot clean.
Ages: 0–5 months or 15 lbs.

Dimensions: 37 x 23 x 28 inches (open)

Item weight: 18.34 lbs.

Certifications: Meets ASTM Standards
Sunba Youth Baby Tent
One of the biggest selling points for the Sunba Youth Baby Tent is its ultra-portable weight at under two pounds. There's no assembly required because the tent pops up within seconds and is easy to fold back up into a small circle for storage. 
The lightweight travel tent is made of 100% eco-friendly certified fabrics that are gentle on your baby's skin. The tent has a UPF 50+ to protect your child from the sun's rays during your outdoor and beach vacations. Tent pegs help keep it in place outside.
It's the perfect travel crib for both outside and inside use, whether you're at home, on a picnic, or at the beach. It's super easy to set up and is the ideal light travel companion to sling over your shoulder with the provided carry bag. Note that it doesn't come with a mattress pad. Wipe clean.
Dimensions: 53 x 35 x 24 inches (open) and 19.3 inch diameter (folded)

Item weight: 1.4 lbs.