Let's be honest: A stroller is a big-ticket item, but unlike all those adorable onesies you scored at your baby shower, a good one will last more than a few months. So how do you make sure you buy a stroller (or two, but not four or five) that has everything you need for every age? 
Babies and infants spend a lot of time in their pram. Whether they're in a bassinet, a stroller seat or a car capsule, there are multiple ways to get them to and from places. There are many options and many things to consider when choosing a pram for your newborn. Some people compare choosing the right pram as big a decision as choosing the family car.
To help out during this exciting time, we've put together some questions you should ask yourself before making your pram purchase.
If you're like most parents, you'll likely get at least one stroller for your baby. With so many designs and types of strollers, however, how do you choose? Understand how to pick the best stroller for your baby and important stroller safety tips. My Baby Nursery is your one-stop baby product store.
What Should I Consider When Looking for a Stroller?
When looking at strollers for your baby, consider:
Your needs. For outdoor errands, you might need a sturdy stroller to maneuver along sidewalks. You might also want a lightweight umbrella stroller for quick trips or use while travelling. If you plan to run with your baby, consider a jogging stroller.

Your family. If you have an older child, you might want a double stroller or a stroller with an attachment for an older child. If you'll be using an attachment, read the manufacturer's weight guidelines.

Accessories. Do you want your baby's stroller to have a storage basket, rain cover, blanket, sunshade or cup holder? Some strollers aren't compatible with certain accessories.
What Type of Stroller Is Safe for a Newborn?
If you plan to use a stroller for your newborn, make sure that the stroller reclines — since newborns can't sit up or hold up their heads. Some strollers fully recline or can be used with a bassinet attachment or an infant-only car seat.
Also, most jogging strollers aren't designed to recline. As a result, they aren't appropriate for babies until about age 6 months.
What Do I Need to Know About Travel Systems?
If you have a car, you might look for a stroller that can hold your baby's car seat. Some car seats and strollers come in matching sets, while others require separate attachments that allow the strollers to be used with certain car seats. Once you strap your baby into his or her car seat, these kinds of strollers will allow you to move your baby between the stroller and car easily.
If you use a travel system that allows you to move your baby's car seat from your vehicle to a stroller base, you might be tempted to let your baby finish car naps in the car seat. However, using car safety seats for sleep when not travelling can pose a risk to infants. Experts suggest not letting your child sleep or relax in the car seat for more than two hours.
What Other Features Should I Look For?
Consider checking for safety features, including:
Practical brakes. Look for a stroller that has brakes that are easy to operate. Some strollers have brakes that lock two wheels — a special safety feature. Make sure your baby can't reach the brake release lever.

A wide base. Strollers that have wide bases are less likely to tip over.

A single footrest. If you're looking for a side-by-side double stroller, choose one with a single footrest that extends across both sitting areas. Small feet can get trapped between separate footrests.
How Can I Keep My Baby Safe in His or Her Stroller?
To prevent stroller accidents:
Stay close. Don't leave your baby unattended in his or her stroller.

Be careful with toys. If you hang toys from a stroller bumper bar to entertain your baby, make sure that the toys are securely fastened.

Buckle up. Always buckle your baby's harness and a seat belt when taking him or her for a stroller ride.

Use your brakes. Engage your stroller brakes whenever you stop the stroller. Never park the stroller on a slope.

Properly store belongings. Don't hang a bag from the stroller's handlebar, which can make a stroller tip over.

Take caution when folding. Keep your baby away from the stroller as you open and fold it since small fingers can get caught in stroller hinges. Make sure the stroller is locked open before you put your child in it.

Keep it out of the sun. During hot weather, don't let your baby's stroller sit in the sun for long periods of time. This can cause plastic and metal pieces to become hot enough to burn your baby. If you leave the stroller in the sun, check the stroller's surface temperature before placing your baby in the stroller.

Check for recalls. Return the stroller warranty card so that you'll be notified in case of a recall. If you're considering a used stroller, check that the stroller hasn't been recalled.
What's the Best Pram for a Newborn Baby?
Buying a pram for a newborn can be a confusing exercise, and as a first-time parent, it's normal to have a lot of questions. How do car capsules work, and what is a travel system? What's the difference between a convertible and a standalone bassinet? Can I put a newborn in a stroller seat?
We hear your questions, and we've got you covered! Read on for our comprehensive guide to buying a pram for your newborn.
The Unique Needs of Newborns
The first point of call is to make yourself familiar with the unique needs of a newborn baby. The consensus among health professionals is that newborns should spend as much time as possible lying flat on their backs. This is the optimal position for both spinal and muscle development while ensuring that their airways remain open and unrestricted.
Why Pram Bassinets Are Essential for Newborns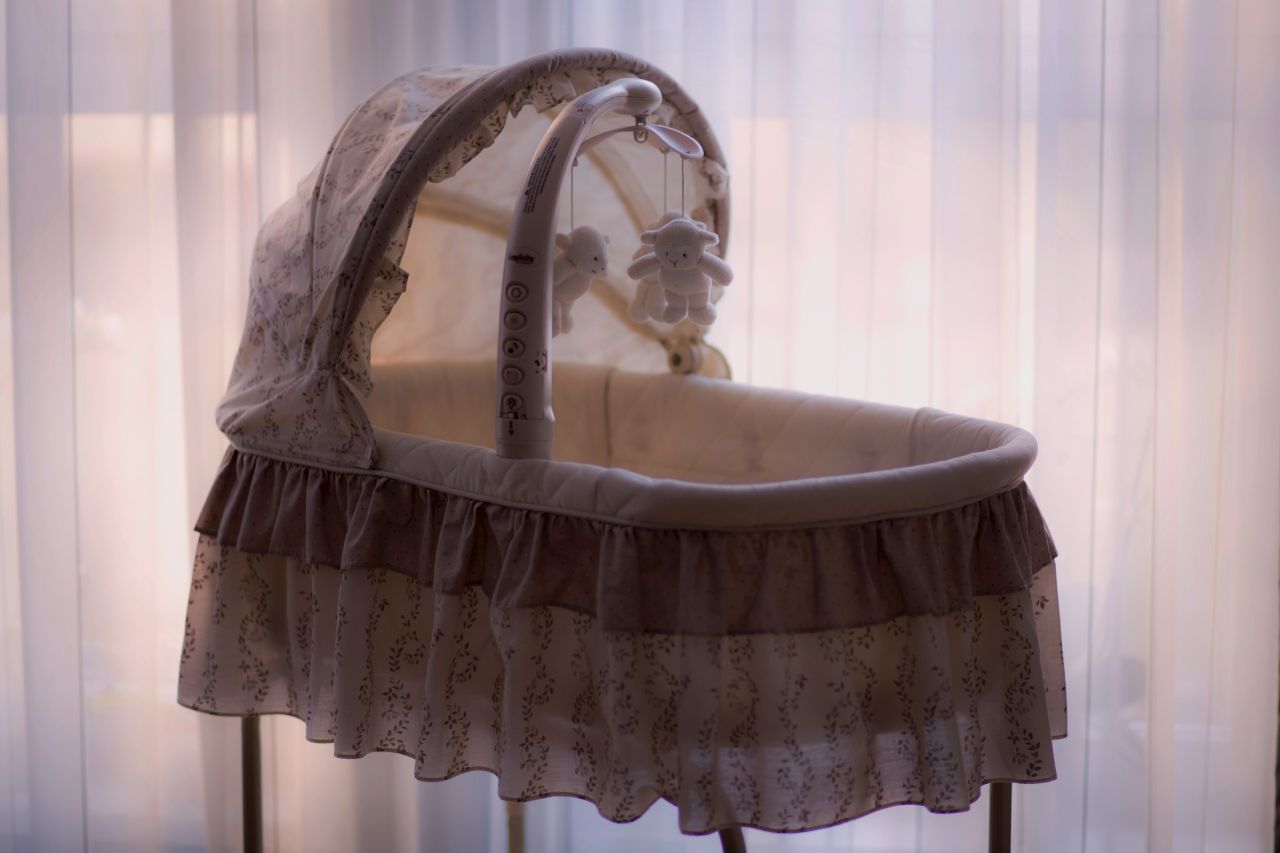 Experts recommend the use of bassinets for babies less than 6 months old as the safest travel option for their development and safety.
Here's why:
Bassinets reduce the risk of SUID (Sudden Unexpected Infant Death – formerly called SIDS). Lying flat ensures your baby's airways remain clear and they can inhale enough oxygen.

A flat, firm surface allows them to stretch out and move freely, which is important for both muscle and spinal development (your baby is developing rapidly during this period).

A flat position is also most comfortable for bub to sleep in – which means easier to get to sleep and stay asleep!
Reclining Stroller Seats
Unless the seat reclines fully to a 180-degree flat surface, it is not recommended to use a stroller seat with your newborn. Many stroller seats rotate the entire seat frame to recline. The risk with putting a young baby in a seat is that their back becomes curved with legs up and neck tilted forward. This can restrict the amount of oxygen they're getting and can be quite dangerous, hence why the Australian safety standards now require companies to advertise these types of stroller seats as "for use from 6 months plus".
We recommend they remain in the bassinet until they can sit up unaided and support their head and neck.
When Can I Transition from Bassinet to Stroller Seat?
It's not recommended that a newborn sit upright in a regular seat until they are able to sit and support their own head, unaided. This is to prevent their head from falling forward which can potentially block (or partially block) off their airways. This is generally around the 6-month mark but can vary greatly from child to child and is ultimately at your discretion.
Can I Use a Car Capsule Instead of a Bassinet?
A great feature of most prams is the ability to connect a compatible car capsule. Prams that can incorporate both a regular stroller seat and a car capsule are called travel systems and are extremely versatile prams, allowing parents to transport their newborn from the car to the pram easily.
Capsules are fundamentally an infant car seat for babies less than six months, with a carry handle that allows you to take bub straight from the car onto the pram, without disturbing them. They're great for quick trips out and about (picking up older siblings from kindy or school or picking up that bottle of milk you realised you need asap!) but are not designed for prolonged use.
0-6 Months
What You'll Need
At this point, your main concern is keeping the baby stable, supported and comfortable. Look for a sturdy, structured stroller with a good suspension system that can absorb bounces and prevent jostling. Another must-have feature: a comfy seat that fully reclines, so your newborn can lie flat on his back.
What You'll Want
With a travel system or a stroller that accommodates an infant car seat, you don't have to wake baby every time you take her in and out of the car. Some moms opt for an inexpensive stroller frame at this age, which the car seat snaps right into, and then get a pricier full-sized stroller once baby can sit up on her own. You can check out our deals and offers page to find a stroller that fits your budget.
What to Consider
If you're a city mom, or you just don't drive much, instead of a travel system, get a stroller with a bassinet attachment. That'll allow you to lay your little one down and go, with no attachments, adaptors or snaps to finagle with–something you'll appreciate in the early sleep-deprived, new-mom days. The bassinet can also double as a mini crib. 
6-12 Months
What You'll Need
Now that baby is sitting upright, your stroller's seat is more important than ever. It should be roomy, with plenty of support and cushioning, adjustable and offer multiple recline positions to keep up with your growing child. Also, make sure it comes with a five-point harness to keep your child snug and secure while you're strolling.
What You'll Want
You're getting the hang of this mom thing and feeling more confident taking a baby out and about. Strolling is a perfect chance to chat with him, especially when he can see your face. One often-overlooked feature that will come in handy now: a seat that can face forward or backward.
What to Consider
Now's the time you might start thinking of buying a specialty stroller to compliment your original one—once a baby has good head and neck control, of course.
To figure out which kind is right for you, think about your lifestyle: Are you an avid runner who wants to exercise with the baby? Look for a lightweight jogging stroller that handles both sidewalks and trails. Are you a mom on the go? Consider picking up an ultra-portable umbrella stroller that's easy to stash in the trunk.
Baby Prams are one of the most important baby products to get right. Check out our range here.
18-24 Months
What You'll Need
Your kid is becoming more independent and curious and wants to soak in the world around her. With your child constantly hopping out of the stroller, you'll likely wind up carrying it, so look for a lightweight model with a quick and easy fold. (If you have to choose one over the other, go with the one that's a cinch to fold.) At this age, it should still have a five-point harness to keep your wiggly explorer secure. Also, check for potential pinch points where the canopy opens and closes: It's a popular spot for kids to rest their hands when they're walking, and you don't want your toddler to get hurt.
What You'll Want
Look for a set of wheels that's easy to navigate. When your toddler is walking next to you holding your hand, you'll need to steer the stroller with the other hand. That's not easy to do with every stroller.
What to Consider
A ride-on board can be a godsend on those days when your child wants to be a big kid and walk instead of being wheeled around. Because let's face it, she'll soon be complaining about her tired tootsies after a few blocks; in that case, she can just hop on the board. Crisis averted. 
Stroller Features for Every Age
Whether the baby is 2 days or 2 years old, there are a few stroller features that'll always come in handy. When shopping, look for these extra important perks:
Sun protection. In a pinch, you can use a blanket to shield your newborn from the sun. But as she gets older and becomes more active, you'll be grateful for a stroller with a big canopy that's UV protective. 

Storage space. How much room you need is a matter of preference and lifestyle. Are you the kind of mom who likes to take everything but the kitchen sink with you when you leave the house, or do you travel light? Do you do your grocery shopping on foot or in a car? Would you rather stow your diaper bag or carry it? 

Adjustable handlebar. Let's say you're 5'4″, and your partner is 6'2″. Can you both comfortably stroll your little one? Consider who'll be doing the pushing, then make sure the handlebar can be moved to accommodate those people's height and leg span.
Some Other Tips
There are lots of other questions and aspects to consider when choosing a pram for your newborn, such as:
Is the storage space underneath sufficient? Keep in mind you shouldn't be hanging anything from the handlebar, so if you plan on carrying a lot while you're out and about, look for a pram with ample storage.

If the pram is easy to manoeuvre and can you steer with one hand if necessary? Remember the weight of the pram will change slightly with a child in it, as will the stability and movement.

Ensure the safety standards are all up to scratch, and the pram complies with safety regulations.

Does the canopy offer a good amount of shade? Babies' skin is notoriously sensitive to the sun, so making sure they are sufficiently shaded is crucial.
Must-Have Stroller Accessories for Baby Safety and Comfort
Most strollers only come with the basics. Adding various stroller accessories will not only provide more functionality, but it can make your baby safer and more comfortable in the stroller. Consider some of these baby safety products and accessories for strollers:
Stroller Weather Shield
Wondering how to cover your stroller in the rain? Well, wonder no more. All you need is this handy stroller cover. It protects your baby from wind, rain and snow, and most shields have great ventilation so your baby can ride comfortably no matter the season.
Safety Wrist Strap 
Whether uphill or downhill jogging, walking in a busy city or trying to handle multiple kids (human or fur babies), a strap ensures the stroller won't roll away from you. It gives you the freedom to take a drink while still keeping your child close and safe.
Stroller Toys 
Older babies will get bored on long walks and shopping trips. Keep them happily entertained with stroller toys, like an activity arch or a musical toy that attaches to the car seat handle if your infant sits in their car seat inside the stroller.
Car Seat Adapter 
While your baby is an infant, or if your baby just prefers being in their car seat, you might have to buy a car seat adapter that allows you to snap your car seat onto the stroller. Most parents love this stroller accessory because it means you're less likely to wake your sleeping baby when you move them from the house or car to the stroller or vice versa.
The Cushioned Body Supports
For most newborns, a full-body cushion provides head and neck support, along with the added comfort they need while in a stroller. Once you pass the newborn stage, you can also find stroller cushions or blankets for your baby to lie on.
Shoulder Strap Covers
Stroller straps aren't the most comfortable material. To prevent irritation from the material, get some soft shoulder strap covers for skin protection and extra padding for extra comfort and neck support.
Clip-On Stroller Fan
When there's not a breeze, and you have to be out and about, keep your babe cool and comfortable with one of these fans. They attach to strollers easily; just be sure to keep the fan away from your baby's fingers.
A stroller is just as necessary as a crib if you ask me. Even if you're a Gen Zer or a millennial like me who prefers the convenience of ordering stuff online and having it delivered to you, you can't stay at home with your baby forever—and trust me, and you won't want to.
A stroller is useful when you need (and want) to leave the house, whether it's running to the store or running for exercise. But the dilemma every parent faces is making sure their baby is both safe and comfortable while riding in a stroller. Check out our range of the best baby car seats for your baby.