Getting back into an exercise groove after having a baby can take some time. And if you're a runner, you'll need a few extra months — at least 6, to be exact — before you can lace up your shoes and take your little one on a jog.
Check out My Baby Nursery for all your baby product needs. 
It's always important to be safe when running, but when you're running with a jogging stroller, you have even more reason to be cautious. Here are some tips to make running with a jogging stroller easier, safe, and comfortable for you and your little one and everything you need to know about jogging with your newest addition. 
Jogging Stroller Readiness
Determining when your baby is developmentally ready to join you for a run is essential for her safety. Jogging strollers do not recline, so your baby will be sitting fully upright during your jog. Therefore, she must have complete head control before it is safe for her to join you as you run. 
While many jogging stroller manufacturers recommend your child should be at least six months old, others recommend waiting until she is at least eight months old to be sure. However, you may wait even longer until your baby is one year old because of the jostling involved and prevent the possibility of suffocation due to her head falling forward and restricting her breathing. 
Talk to your pediatrician for guidance on when your 6- to 12-month-old is ready to make sure your baby's neck control is substantial and she can handle the movement. Then do some research to find a safe stroller.
Minimum Age to Jog With a Baby in a Stroller
You can keep your running gear packed away for several months after bringing the baby home. Most experts say running with your baby in a jogging stroller isn't recommended until they're at least six months old.
Since most jogging strollers don't offer a fully reclining seat, jogging strollers are safe for babies at 6 to 8 months.
At 6 to 8 months, babies will have the necessary neck and head control in the sitting position to withstand fast movements and sharp turns safely to avoid a possible whiplash or head injury. In addition to getting the green light from your pediatrician, she also encourages families to follow the specific stroller manufacturer's guidelines and check for recalls.
Even when your baby reaches the safe age to take a stroll in the jogging stroller, consider walking or jogging slowly with them in it first.
This will help you get used to the stroller and see how your little one reacts to this new adventure. And before you head out the door, make sure you have the right equipment and a thumbs-up from your doctor.
Get in Gear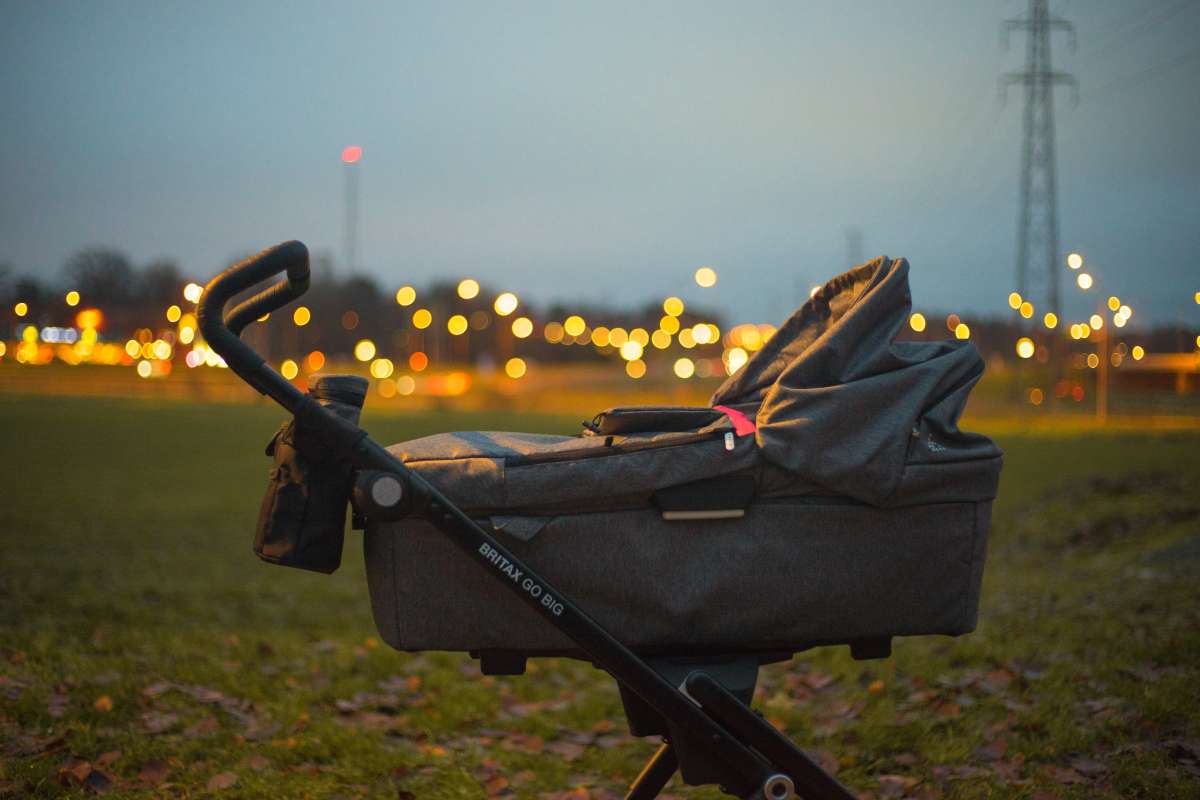 Whether you're on pavement or a dirt trail, the trusty stroller you bring to the mall isn't designed for running. To work out with your baby, invest in a sport-specific ride. 
Jogging strollers have oversized tires and adjustable shocks that minimize bouncing and ensure that your little one is comfortable. 
A locking front wheel pulls double duty, offering maneuverability around tight turns in swivel mode and stability during high speeds in locked mode (to prevent tip-over accidents). Most models also come equipped with a hand brake and a wrist strap to stop a runaway situation if you pick up too much speed or head down a steep incline.
Why Investing in the Proper Gear Is Important 
Shopping for a jogging stroller can feel overwhelming. With top-of-the-line features and the latest and greatest in steering technology, drink holders, and sun visors, deciding on the right stroller sometimes comes down to two primary factors: cost and safety.
On the safety side, the first thing to check for is a manufacturer recall. Be sure to check the make and model for any recalls — especially if you buy your stroller second hand.
You'll also want to check for a broad base on the stroller to ensure a better foundation, which decreases the likelihood of tipping over.
A safe jogging stroller must have a 5-point harness system to protect your baby while moving entirely. Just one bump or a quick stop can jolt your baby, and if not properly restrained, this could be dangerous.
And finally, don't rely on age limits to determine the safety and usability of a stroller. Always check the weight and height requirements since every child grows differently for their age.
The wheels are a vital thing to consider when looking for a jogging stroller. Some jogging strollers have a fixed front wheel, while others have a switch on the front wheel that allows runners to lock for run mode and unlock for walk mode.
It's safest to lock the front wheel into place when the jogging stroller is being used for running or jogging to prevent the stroller from tipping. Rugged, air-filled tires also make it easier to fly on various surfaces like sidewalks and gravel.
Another thing to look for in a safe jogging stroller is a wrist strap. Parents should wear their jogging stroller's wrist strap while doing any exercise, as it provides added security by keeping the stroller near the parent during their routine. Finally, check for a parking brake, which you can use when resting.
Important Safety Features
When choosing a jogging stroller, be sure to check for features designed to keep you and your baby safe.
First, make sure your stroller has a seal assuring you it meets strict standards. 
Look for a fixed front tire that does not swivel, which allows your stroller to continue moving straight forward as you jog, and a five-point safety harness for maximum stability and security. 
Check for well-inflated tires, good suspension and effective shock absorbers, as well as features like hand brakes and a wrist strap to prevent the stroller from getting away from you on hills.
Tips and Extra Precautions to Take When Jogging With Baby
Now that you have the stroller picked out and your baby has the head and neck strength to go for a run safely, it's time to consider any extra precautions you should take before pounding the pavement.
The first thing to do is to get comfortable pushing the stroller without your baby in it.
Place a heavy object in the stroller to mimic your baby's weight. This will help you test stopping and starting the stroller and get comfortable using your dominant and non-dominant arm while pushing.
Since this isn't a normal feeling, it may take some time for your walking or running gait and balance to get in sync.
Once you've gotten comfortable with the stroller, checked the weather forecast, applied sunscreen, and packed snacks and water, it's time for a quick "mommy and baby check" before heading outdoors.
With that in mind, here's her checklist for safety:
Time it Right
Your little one needs to have reasonable neck control before you take him out for a jog.
You wouldn't let your baby's head flop around if you were holding him, so make sure you don't let it do that in a stroller. It could be painful and even cause an injury.
Most babies can comfortably ride in a stroller without head support by 6 to 8 months, but your doctor should give you the final okay. 
Are you itching to start earlier? Purchase a jogging stroller that is specifically designed to accommodate a compatible infant car seat. There's little difference to him with your babysitting in a safety seat whether you're walking or running.
Be Cautious
When you're running with a stroller, the safety of your baby is the most important thing. If you exercise at dawn or dusk, make sure your stroller's front, top, and sides have reflective accents. 
If you can't avoid busy streets, be extra vigilant: Don't
Don't assume drivers can see you and your baby coming (keep in mind that the front of a jogging stroller is low).

Instead of sprinting through a yellow light, stop and wait for it to turn green.

Use your jogging stroller's built-in safety features. 
Before you start a run:
Make sure your child is buckled in.
Lock the front wheel forward.

If there's a wrist strap, put it on.
And when you stop, even for a sip of water, engage the parking brake. Online baby product directory at My Baby Nursery.
Prep for the Weather
Although you'll heat up as you move, your child will be staying still, so dress her accordingly. Pretend you're not running and think about how much clothing you would have on—that's what your baby should wear. 
If poor weather doesn't deter you from exercising outdoors, invest in a rain shield to dry your workout partner. Don't forget about the sun: A canopy provides coverage, but periodically peek in on your baby to ensure that the rays aren't shining on her.
Schedule it In
A content baby makes for more enjoyable exercise for you, so plan around meals and snoozes.
In general, avoid heading out right after your little one wakes up or when he's hungry. Chances are you won't get very far in peace. If your child starts to fuss, continue for a bit to see if the motion calms him. No dice? Cut the jog short and try again later. Some babies love it right away, and others need a chance to get used to it. Either way, it's great to get out there even for a little bit.
Make Sure Your Baby Is Old Enough
It's not safe to run with a child under six months in a jogging stroller​ unless your stroller has a car seat adapter.
Using the jogging stroller with the car seat means that the baby's head and neck will be stable, and he won't get bounced around too much.
Lock the Front Wheel
Some jogging strollers have a fixed front wheel, while others have a switch that allows you to lock and unlock the wheel. When you're running with the stroller, it's safest to lock the front wheel in place. This will prevent the stroller from turning suddenly and causing you to crash or fall.
Pack Wisely
Most jogging strollers have a basket underneath, as well as other compartments or holders, so you should have plenty of room for things you might need during your run. Don't forget diapers, wipes, water (for you and your child), snacks, extra clothes, and a toy or book to entertain your child.
Protect Your Child from the Elements
Remember that you'll warm up because you're running, but your child will not. So bundle her up in the cooler weather. If it's cold and windy, you may want to use a weather shield for your stroller.
On warm days, make sure your child is not overdressed and protected with the stroller's visor as well as sunscreen. Keep your runs short on very cold or hot days (or leave your child with your spouse or sitter).
Strap Your Child in With the Full Harness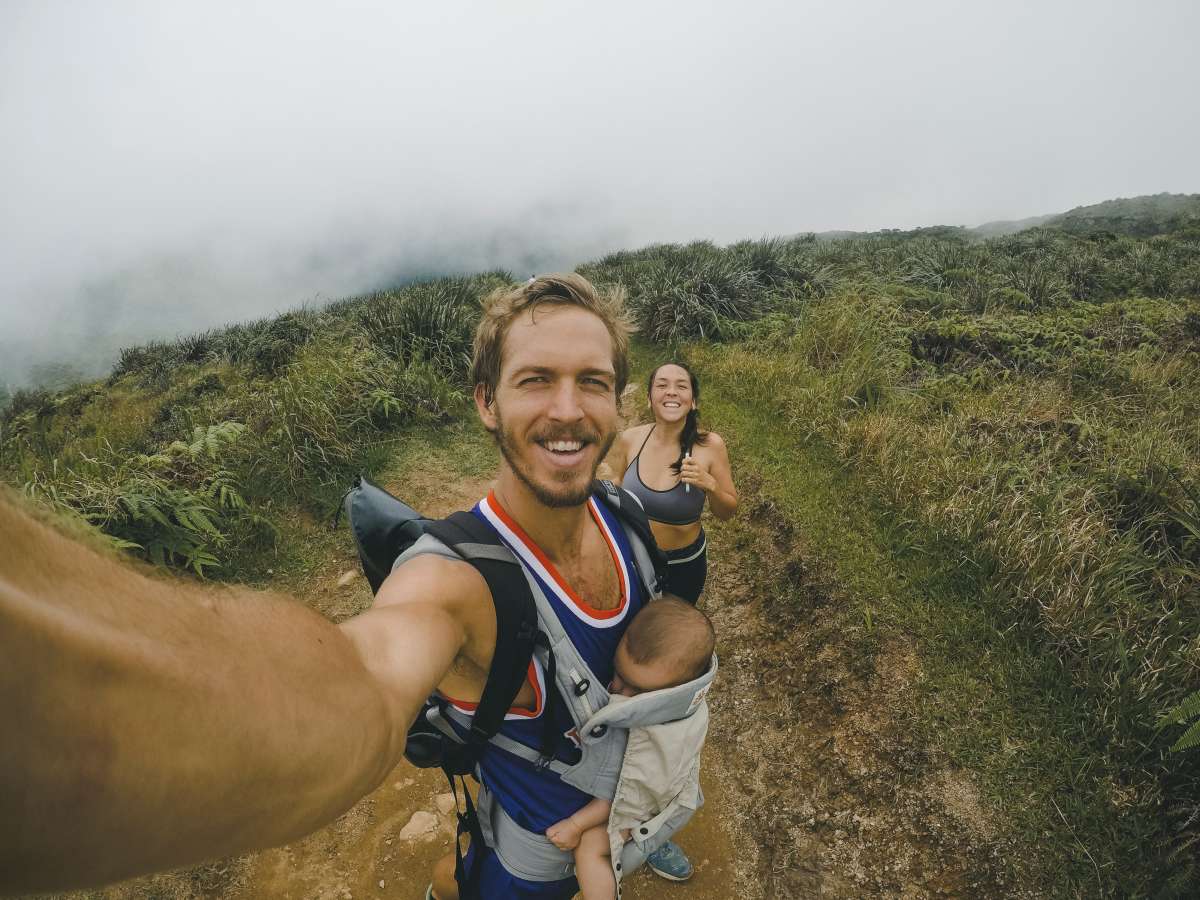 The harness will protect your child from falling out or getting shaken, so you must use it the way it's intended. Even if you're not moving too quickly, the harness will prevent him from reaching out and getting his fingers caught in the wheels.
Avoid Running Near Cars
It is a good idea to run in parks, bike paths, sidewalks, or other areas where you don't have to worry about traffic. Not only is it a safer option, but your child will have a much more comfortable ride since you won't have to stop and start a lot to cross streets or avoid cars.
Schedule Runs Wisely
Before naptime is often a good time for a run because the movement may put your child to sleep, it's not a good idea to try to run right before a meal when your child will be hungry and may not want to sit in the stroller.
Don't Run Hands-Free.
You may be tempted to push your stroller a little and let it go so that you can run hands-free, but it's not a good idea. The stroller could quickly get away from you, unsafe for your child and anyone else around you.
You Can Push With One Hand
Pushing a jogging stroller impedes your natural arm swing, which makes it much tougher on your legs. So try moving the stroller with one arm and swinging with the other. Keep switching components, so you get to work both sides.
Don't Expect to Run Your Usual Pace.
You can expect your pace to be at least one minute per mile slower than your average pace. But you're burning more calories with your effort and doing some resistance training, so don't worry about the slower pace. In addition, you'll find that the more you run with the stroller, the easier it will be.
Be in Control of Your Stroller
You should never be going so fast that you couldn't stop the jogging stroller if needed. You're responsible for using momentum in such a way that you're always in control of the stroller.
Mix it up a Little
Toddlers and preschoolers may get restless in the stroller, so you may want to let them out and play for a bit during the run. They'll be much happier and comfortable with a bit of a break mid-run.
Try running a couple of miles to a local park, let your kids out to play for a bit, and then pack them up and run back home.
Follow Race Rules
Some road races don't allow jogging strollers, while others do, but ask runners to start at the back. If you're going to run in a race with a jogging stroller, stick to the specific rules of the race.
New parents that since you're adding a challenge by pushing and adjusting your body in motion, it's a good idea to allow for a slower pace. In other words, don't use these workouts to crush your mile time.
And finally, make sure to be mindful of your surroundings and look down periodically to check your running surface.
Why a Jogging Stroller Is Safer Than a Standard Stroller
Any parent can tell you that all the baby gear you need to buy adds up quickly. And while you may find ways to cut costs and eliminate duplicates, minimizing costs by using your 3-in-1 stroller for jogging isn't the answer.
Parents should avoid jogging or running with a traditional stroller because the lack of a fixed-front wheel could make it difficult to control at a quickened pace. Having a fixed wheel provides stability to help prevent the stroller from tipping over while running.
A jogging stroller is also a lot comfier for your little one since they have a suspension system with adjustable shocks explicitly built for a higher level of impact. The wheels on jogging strollers are also larger than traditional strollers, and the tires are inflatable, unlike most regular strollers.
These features make jogging strollers superior for running and ensure a smooth ride for parents and kids.
Benefits of Jogging With Baby
Getting outdoors with your baby is suitable for both your physical and mental health. It's also a great way to introduce your little one to the sounds and sights in nature. They get to breathe fresh air and check out the birds while watching you take care of yourself.
Exercise, in general, is an excellent way for new parents to:
manage stress

boost mood and energy

burn calories

strengthen and tone muscles

get better sleep
Plus, did we mention the fantastic upper body and core workout you get when pushing a jogging stroller uphill? Since you're going against resistance (your baby!), you're also recruiting the muscles in your arms, shoulders, upper back, and core to generate power to propel you up the hill.
The Takeaway
Deciding when your baby is developmentally ready to join you on a jog in your jogging stroller is an exciting step and necessary for their safety. Although the minimum age to run with your baby in a jogging stroller is six months, your baby may not be ready until they're closer to the 8-month mark. My Baby Nursery is your one-stop baby product store.
When in doubt, ask your doctor whether your little one is ready. They can assess your baby's head and neck strength and help you choose an appropriate jogging stroller.