If you're asking yourself, "What clothes do I need for a newborn?" you're not alone! Buying clothes for an infant under three months seems easy—until you are the new parent who is doing it. You'll need the correct sizes and styles for both day and night, but you'll also need to consider how easy it is to get your little clothes. At this early stage, the materials you choose should also be soft, comfortable and gentle on the skin.
Having a comprehensive list of newborn clothing essentials at the ready will help you save both time and money. If you're expecting, it'll make it easier to tell your loved ones what you need and can even help you build your registry. Explore our guide to understand which garments will make for comfy days and cozy nights. Once you know the basics, you can have fun building your Newborn's wardrobe with seasonal colours and accessories! Check out My Baby Nursery for all your baby product needs.
What kinds of clothes do newborns need?
Clothes should be comfortable, soft and easy to take care of.
Stretchy jumpsuits that fasten at the front are best, as well as tops with envelope necks, which are easier to get over your baby's head. Jumpsuits with zips can make dressing your baby quick and easy too.
Clothes made from cotton are a good choice. Cotton clothes will keep your baby cooler in hot weather than clothes made from synthetic fibres. Cotton also washes well and is gentle against your baby's sensitive skin.
It's also important to look out for clothes with a low fire hazard label. Newborn rompers and jumpsuits should have this label.
Things to Consider When Preparing Clothes for a New Baby
Babies Grow Fast
It is unbelievable how fast a baby grows during its first year of life. This is why there are five different baby clothes sizes dedicated to the first year. They are as follows:
Newborn

0-3 mo

3-6 mo

6-9 mo

9-12 mo
With having five different possible sizes, a baby can wear in 1 year – that is a lot of size changes, which means they do not need many clothes at each height. It is not like an adult that may wear the same size for many years where it makes sense to have a wide variety. When a baby only wears a size for several weeks or months, it doesn't make sense to have a massive wardrobe of each size. You will never get to wear them all. 
In addition, when you compare a newborn outfit to a 9-12 month outfit, they vary greatly. However, when you reach a 0-3 mo to a 3-6 mo, they do not look different. With that said, sometimes a baby can wear the next size up and grow into it. It is ok if it is a little big and they will get more use out of it.
Baby Body Type
The next factor to consider when determining what clothes a new baby needs is the baby body type. All babies are born and grow at different paces. Many baby clothes come in sets with shirts and pants together (partly why you can get baby clothes cheaper). You might end up buying larger set sizes so the sweater would fit and the pants would be a bit big. Then they could wear the pants longer with a different shirt as well. 
Different Brands, Sizes, and Styles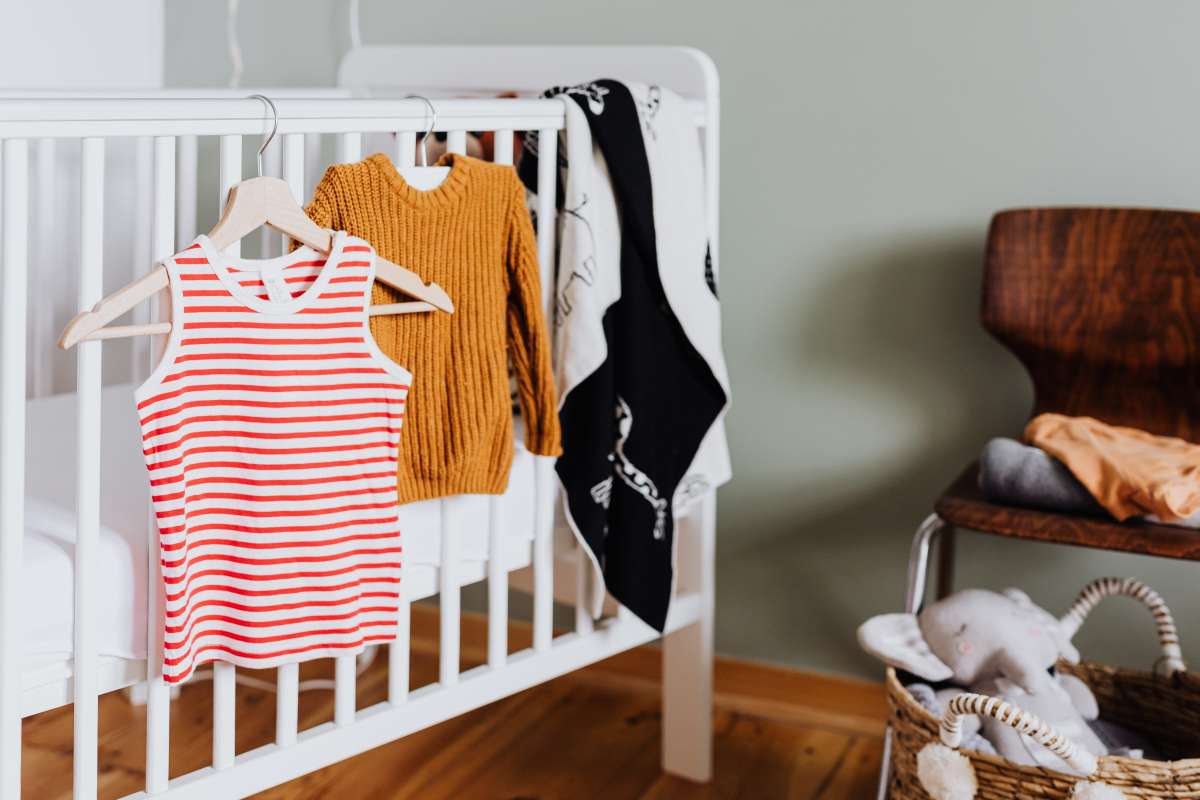 One of the hardest things to figure out with baby clothes is that all baby brands are different. Their sizing of clothes are different, and they have different styles.
Different brands size their clothes a bit differently. This means that a 3-6 mo clothing item may not fit the same in every brand. For instance, some Nike clothing typically runs a size smaller than most brands. Certain bands had more rectangular onesies and shirts, while others had more boxy/square tops. Next, the most frustrating part with baby clothes is when the same brand sizes their clothes differently. One outfit at a size will fit great, while another company at that same size will be too small. So the clothing styles, even in the same brand, may be different in size. This can make online shopping difficult because it is hard to see the type of outfit.
Lastly, when you buy a new brand in size for the first time, try the clothing on your baby before cutting the tags off. As annoying as it is to have a baby or toddler try on the dress, the worst is when you cut the tags off and put the clothes on the baby only to find that it is already too small or does not fit. That has happened to me many times and a waste of money because you get very few wears out of it or none at all. 
After a time, once you know your baby's body type, you will get to know different brands of clothing. Then you will find what brand of clothing you like for your child. 
Season and Climate Help Determine Clothes a New Baby Needs
Depending on the time of year and the climate in which you live will help determine what clothes your new baby needs. For instance, both of my babies were born in the summer, so they lived in onesies and single body pieces for the first several months. If you live in a cool climate or your baby is born in winter, you may need some warmer clothing.
How Often Do You Want to Do Laundry?
How often you want to do laundry can also determine how much clothing your baby needs. As I mentioned earlier, you may go through 3 outfits some days. So depending on how often you want to do the laundry could determine how many clothes a new baby needs.
Although please note, poop and spit-up stains won't come out well if they sit for a week first, so some laundry can't wait for a few days to be done.
A New Baby Needs Practical Clothes
Next, those first few weeks and even months, your baby isn't going out to the movies, out to eat and out socializing. The baby does not need ten fancy outfits as likely they will only wear 1 or 2 and maybe only 1 or 2 times before growing out of it. Baby outfits, especially fancy ones, are so stinking cute, but they are not practical.
Resist the urge to buy these non-practical clothes and save your money. Typically these are the most expensive outfits too. You might be able to get 4-5 onesies or sleepers for what one fancy costume would cost. Save your money and avoid getting lots of formal outfits as, realistically, your baby is not going to wear them.
Furthermore, get clothes that do not have lots of buttons, ties or take a lot of maneuvering to get on or off. These clothes will be frustrating for both you and your baby and are not worth it.
Clothes a New Baby Needs
Every baby is unique, making it nearly impossible to predict what size they'll fit into on their birthday. In most cases, infants will wear either Newborn or 0-3 months outfits when they're firstborn. Those who make their debut early may need size clothing. As a general rule of thumb, get your little one's essentials in sizes Newborn and 0-3. If you need items, you can always order them online or ask a friend to grab them from the store. Online baby product directory at My Baby Nursery.
By purchasing the basics in the two main sizes, you'll also be ready for upcoming growth spurts. For most essentials, we recommend five to seven full garments in each size. While many parents like white or neutral hues, garments in these colours may show staining. Don't be afraid to mix it up with your favourite colours and patterns, which can make dressing more fun—and hide impromptu spit-ups. Here's a full breakdown of what you'll need:
Take Me Home Outfit 
Bringing a baby home from the hospital is a celebration worthy of a unique outfit! Popular choices include matching gown and hat ensembles and infant, take me home sets, which usually have a bodysuit, pants, pyjamas, and a beanie. If it's cold outside, a patterned sleeper and cap are still cute enough for photos. Opt for comfort instead of dressy. The most important thing is that the baby is content during the car ride. An outfit in each size should be enough.
Bodysuits
These are the tried and true newborn classics. Since they are one piece and snap at the bottom, they make for easy diaper changes. Ask any experienced parent, and they'll tell you that you really can't have too many. They come in long and short sleeves, so consider if you need one type or both depending on the season in which your child is born. Layer them with pants or shorts to create a quick, cute ensemble. Onesies® Brand bodysuits come in white as well as a rainbow of other colours. If you prefer, you can even get them in plush organic cotton.
Tops
The most common styles of tops for newborns include kimono shirts that snap on the side and tees that easily stretch at the shoulders and over your baby's head. If you want to play a little dress up, you can ask for fancy blouses. At a minimum, you should get a few white tops as well as three to four other colours for mixing and matching with your favourite bottoms.
Pants
Leggings and stretchy pants are most famous for baby girls. Newborn boys look great in pull-on sweats and elastic waist "jeans." Choose primary colours like black, blue and cream for creating effortlessly adorable outfits. While they may look cute, button fly and zipper pants make frequent diaper changes more difficult. Opt for simple styles with embellishments like bows and faux pockets.
Sleepers
One-piece pyjamas with feet are simple to put on and will keep your baby warm in cooler weather. Look for ones with zippers that run from top to bottom. If you have an exceptionally tall child, try footless PJs.
Socks
Since your little one won't be wearing shoes for a while, stock up on both white and coloured socks; they'll keep toes toasty and protect their feet while you're outdoors. Look for ones that fold over, so they're less likely to slip off.
Hats
Baby beanies will help keep your child warm in those delicate first few weeks. Most parents like to get a few styles in different colours to mix and match with their outfits.
Weather-Specific and Outdoor Gear
Coats and Jackets
Fall and winter babies will need outerwear, even for quick trips from your home to the car. Have at least one light jacket and a heavier coat in each size. Select styles that zip or snap.
Hats
Fresh air is healthy for mom and baby. If you plan on taking walks in the first few months, decide whether you'll need a sun hat or wool cap. Some bucket and beach styles come with SPF protection, which helps before the baby can use sunscreen.
Sweaters and Hoodies
Easy zip hoodies and sweaters with collar snaps are both trendy and convenient. Three to four sweaters and one to two hoodies are enough for layering with bodysuits and tops.
Shorts
Summer babies can use three to four pairs of shorts in each size. Put them over floral bodysuits or pair them with graphic tees for a cute warm-weather look. Bloomers made to look like denim are adorable on newborn girls, while khaki shorts and cargo styles are fun for boys.
Helpful Extras for Newborns
Wearable Blankets and Swaddles
The ideal temperature for newborn sleeping and naps is around 70 degrees. Pair a wearable blanket or swaddle with a bodysuit, sleepsuit or footless pyjamas to help your little one sleep tight. Muslin and light cotton materials are best for spring and summer, while heavier cotton and flannel make for warm fall and winter evenings. Grab two to three of them, so you always have one clean even if you don't feel like doing the laundry.
Holiday and Formalwear
While you probably won't be taking the baby out a lot in the first few months, a holiday like Christmas or Thanksgiving may prompt you to take pictures or visit family. Since you will have little time to shop once your little one is born, be sure to get fancy dresses or bow ties and suspenders ahead of time.
How to Buy Baby Clothes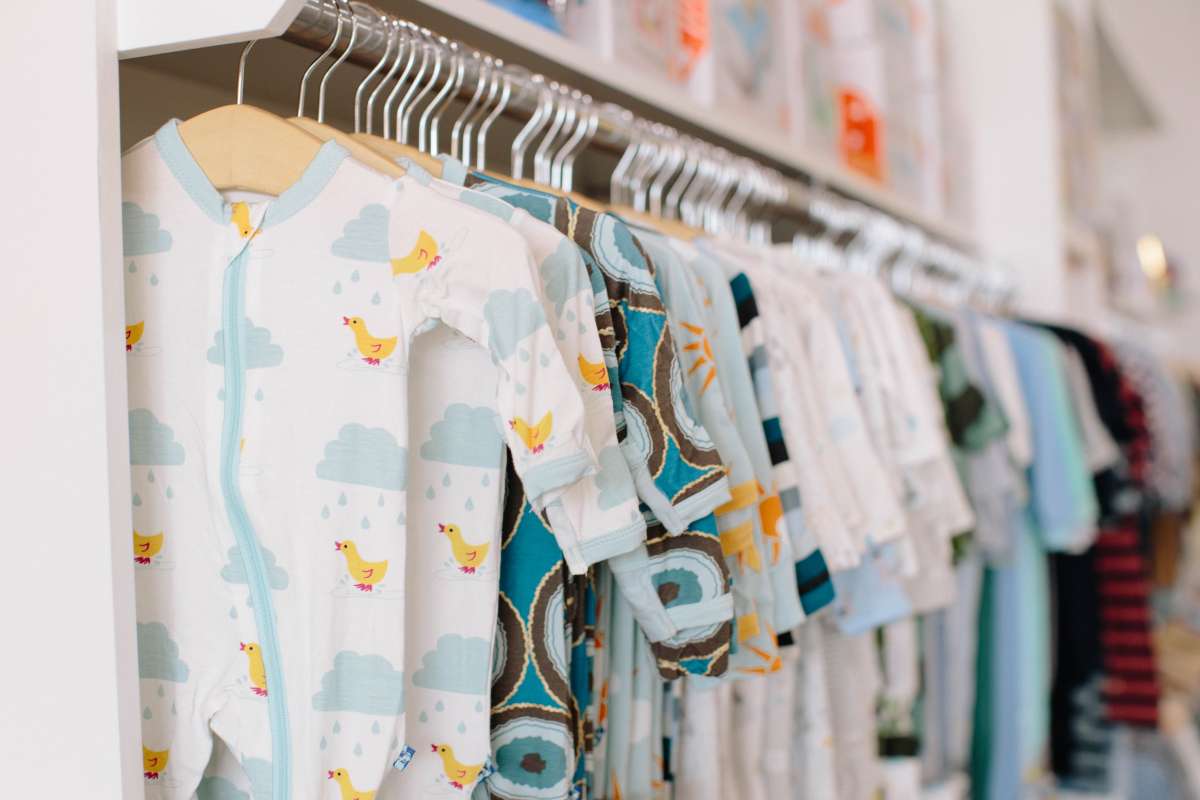 What do you need for the first 30 days? Honestly, not much. You'll be so busy getting over the delivery and used to being a mom that baby's outfits will prove much less vital than they may have seemed a couple of months ago. (Don't worry, you'll be back in that place eventually.) And remember, babies proliferate. She'll come home tiny, but newborn sizes won't fit for long. Save the good part of your budget for 0-3 month clothing and up. (Besides, once you're out and about more, you'll be able to show off her cute outfits.) Resist the urge to buy too much clothing in advance because you'll have a better idea of the sizes and styles that work best for you once the baby comes.
Here's a whole list of what you should have on hand when the baby arrives. The numbers for each item are estimates — exactly how much you need depends on how often you plan to do laundry.
2-4 infant gowns
Stick with these until the baby's cord stump falls off. It's the best way to keep it clean and irritation-free, and the gowns provide easy diaper access while holding the baby covered.
4-8 bodysuits or onesies
Look for ones with wide head openings and loose legs. It can be traumatic for both you and baby to put things over her head, so if even wide head openings prove too difficult, look for clothing that avoids the charge entirely — side-snap Ts, kimono-style shirts, etc.
4-8 undershirts or vests
Again, look for wide head openings or snaps at the shoulder. They should also snap under the crotch — otherwise, they'll ride up.
4-8 one-piece pyjamas
And hey, if you're just at home with a baby, why not make them daytime clothing too? One-piece items are generally the easiest to get a baby dressed in.
Two blanket sleepers
These are safer than blankets at nighttime, but avoid anything with drawstrings, a strangulation hazard. 
1-3 sweaters or jackets
Please make sure the button in the front, since babies spend most of their time lying down.
1-3 rompers or other dress-up outfits
This is probably the least necessary item on the list, but our hats are off to you if you have the energy and motivation to get a baby dressed up for visitors or a day at grandmas.
4-7 pairs of socks or booties
Shoes are unnecessary until the baby walks.
4-6 hats
Get broad-brimmed sun hats for a summer baby and soft caps covering the ears for a winter baby. If you want to splurge, do it on hats or booties — these are least likely to get ruined by spit-up and will make any outfit look adorable. 
Mittens
Even when it's summertime, these are a must-have for babies with quick-growing nails to prevent them from scratching themselves. If they pull off the mittens, try the onesies that buckle over the baby's hands.
Bunting bag or fleece suit
For a winter baby.
General Tips
Fabrics
Look for soft and breathable fabrics like cotton. Fleece is also a good choice for colder weather. Make sure seams are finished and avoid scratchy tags, which can irritate a baby's skin.
Fasteners
Look for fasteners that close quickly. Zippers can be troublesome since they tend to pinch — especially when a harried new parent is in a hurry. Also, skip metal snaps because metal is a common allergen (especially if you have a family history).
Sleepwear
Make sure the baby's p.j. 's are flame-resistant. When you dry them, don't use fabric softener — it can reduce their resistance qualities.
Buttons and trim
Before you dress a baby in anything with cute little buttons or other attached details:
Pull-on them.

If they feel loose, cut them off — otherwise, it's most likely the following location will be the baby's mouth or nose.

Avoid anything with fringe or strings attached — both are strangulation hazards.
Final Thoughts on Clothes a New Baby Needs
In the end, a baby does not wear all that many clothes. They grow so fast and will be in the following size before you know it. Stick with the basics and save money on baby clothes. Keep receipts and try clothes on before cutting tags off. Have fun with your baby's wardrobe without spending tons of money. Check out our range of baby nursery products and furniture for all your baby needs.