Cotton sheets with higher thread counts are softer than their low-thread-count counterparts. Because Egyptian cotton fibres are longer and thinner than most cotton fibres, it's possible to pack more threads into a smaller space. 
Egyptian cotton doesn't pill, and it doesn't irritate dust allergies, but it does require gentle cleaning. Washing your sheets weekly helps keep them clean and soft.
Egyptian cotton sheets are a simple luxury. They feel soft to the touch and provide a glorious night's sleep. But, unlike other bedding sheets, they need special care to ensure they last. 
Washing and drying your Egyptian cotton sheets requires some additional effort, but it will be well worth it to have sheets that are truly soft and comfortable when you sleep. Keep these tips in mind as you care for your Egyptian cotton sheets, and you will be guaranteed to fall asleep in comfort night-after-night.
Egyptian cotton sheets are the softest of sheet fabric available because they are made from extremely long cotton fibres that are rarely spliced within the length of the sheet. 
Egyptian cotton is only produced on the rich banks of the Nile River, making them a rare commodity. Only 8 per cent of sheet sets are made from Egyptian cotton, giving a special sleep experience each night.
Egyptian cotton sheets are an investment in your comfort. They are a luxury that is worth the money you spend as they feel soft and comfortable as long as you own them. Keep in mind that it may be difficult to find true Egyptian cotton sheets as there are plenty of knock-offs on the market. 
Only real Egyptian cotton carries a logo of a cotton plant with a black triangle around it. Others that claim to produce Egyptian cotton are impostures and will not provide you with the comfort that authentic Egyptian cotton sheets can.
Caring for Egyptian cotton sheets is a necessity as without it, not only will your sheets wear unnecessarily, but they will be rough to the touch, which can affect how you sleep. 
Keep in mind that Egyptian cotton sheets need to be washed once a week while the pillowcases need washing twice a week, depending on the climate of where you live. 
To make things easier, you may want to have a backup set of Egyptian cotton sheets so you can wash them as needed without worry or delay.
Separate To Wash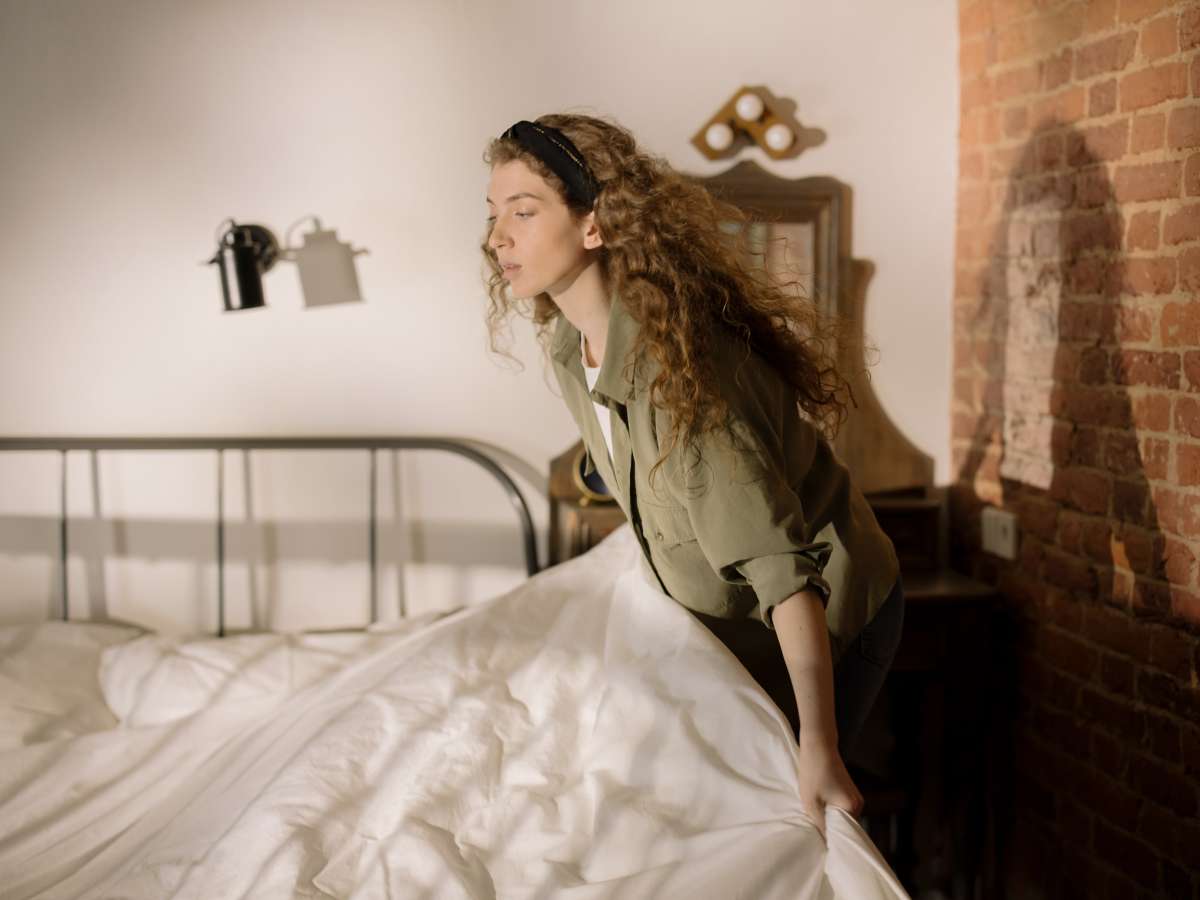 The first step in caring for your Egyptian cotton sheets is to wash them in a separate load. You may be tempted to throw in a few additional clothing items to have a full load to wash, but don't! These extra clothes can cause your Egyptian cotton sheets to wear and can actually cause damage. 
Clothing items that have hooks, buttons, or zipper can snag the material of your Egyptian cotton sheets and create holes or worn spots that can be frustrating. 
Other clothing items can cause tangling, which can stretch and misshape the sheet fabric. Taking the time to wash these sheets separately will make sure they are damage-free and retain their integrity as long as possible.
One useful tip that you might not be aware of is to keep your Egyptian cotton away from other types of fabric. 
If you throw it into the washer alongside polyester, polycotton or acrylic fabrics, these fibres can cause aggravation. Your cotton could pill faster and look older after just a few washes. To avoid this, it's best to only wash cotton with cotton.
Use Gentle Detergent
We would always recommend that you use a minimal amount of gentle detergent rather than a chlorinated bleach. 
While it is excellent for keeping your laundry a brilliant white, it can also be highly corrosive and damaging to Egyptian cotton. 
If there are any obvious stains on the sheets, you're best trying to remove them by hand prior to placing them in the wash. It may be worth choosing an extra rinse cycle to be sure that you've washed out all the detergent.
Choosing the right laundry detergent is also a must. You want a gentle detergent that will not be too harsh on the soft cotton fibres of the Egyptian cotton. 
Look for a gentle detergent that will clean well without leaving a residue or creating damage to the fibres. 
Never use bleach on your Egyptian cotton sheets and avoid fabric softener. Fabric softener can actually make your sheet fabric rougher, which will affect your night's sleep. These cleaners can weaken the fibres within your sheets, causing the material to be frail and brittle.
Choose A Gentle Cycle
Once inside your washing machine, you need to select the perfect settings to ensure a good washing as well as some protection for your Egyptian cotton sheet set. 
Make sure to choose a gentle cycle on your washer and a cold or warm temperature setting. Hot water can damage your sheets, and regular washing cycles are too powerful for these soft Egyptian cotton sheets. 
A gentle cycle will allow you to clean your sheets well without worrying about ruining your sheet set or damaging the softness of the fabric.
When it comes to washing your new items, don't turn the temperatures up too high. A cool wash of 40 degrees Celsius will keep your bedding looking its best. 
To stop colours from running, make sure to separate darks and lights before putting anything into the machine – and look out for rogue socks that could ruin everything!
Reduce Spin Cycle
As your Egyptian cotton sheets cycle through the wash, you'll want to keep an eye on the spin cycle. Because you have taken the time to make sure your sheets have been washed alone, there is no need to run them through the entire spin cycle. 
They don't need the extra spinning movement, which can save you on wear and tear over time. Stop your spin cycle once your sheets are moderately moisture-free. They will be able to dry all the way in the dryer and shouldn't be soaking wet when you take them out of the washing machine.
Tumble Dry On Low Heat
Place your Egyptian cotton sheets in the dryer and allow them to dry on a low temperature or tumble dry cycle. 
Make sure the heat level is low and gentle to keep your sheets from damage from the excessive heat. Keep an eye on them and rotate them as they dry. 
This will ensure that they dry evenly and are ready as soon as possible to come out of the dryer. You don't need a fabric softener sheet during drying as they will only clog and put a residue on the soft fibres of your sheets.
To keep your towels fluffy, run them through the tumble dryer. Keep the heat low, to stop shrinkage from being a problem. Either add dryer balls or, if you don't have them, throw a couple of tennis balls into the dryer with your towels or robes. 
This is a great way of keeping that delicious cosy fluffy texture wash after wash! Never dry clean these products, as it can ruin the texture irreversibly.
With Egyptian Cotton bedding, we would always recommend that you air dry the fabric on a clothesline. Hung correctly, the creasing will be minimal, and you won't have to spend as long on the ironing. Air drying also to maintain the cotton's lovely natural scent.
To keep it looking its best, take it out of the dryer right after the cycle is completed, and iron quickly, while it's still very slightly damp, before folding and putting away. You might find that your bedding lasts longer if you hang it out to dry. This is also an environmentally friendly option, and it can reduce creases, allowing you to cut down on ironing time. Of course, it all depends on the weather!
If you must tumble dry your Egyptian Cotton™ bedding, make sure that you use relatively low heat. Remove the sheets from the dryer as soon as possible after the cycle has finished and fold them. This will help prevent any stubborn creases from setting in.
Fold, Store, And Use
Once dry, you can place your freshly washed Egyptian cotton sheets back on your bed. Or you can fold them and store them for when you need them next. 
This will allow your sheets to retain their softness and be ready to place on your bed as you need them. Having a backup set of Egyptian cotton sheets will ensure you can take the time you need to care for them and allow them to last longer without wear.
Soften Your Egyptian Cotton Sheets
Regular wash and the use of high-quality softeners make them all the more comfortable and softer over time. 
Do you know that the presence of chemicals in these Egyptian cotton sheets make them rough-textured in the beginning? Constant and regular washing goes a long way in draining out these chemicals and making the sheets soft to touch.
Here, we throw light on some of the proven and easy ways of making your sheets of Egyptian cotton softer than what they are at present. 
Baking Soda Softener
You have been using the recommended detergent while washing your Egyptian cotton sheets in the machine — right? If you are not happy with the softness and comfort levels imparted by the same, try using baking soda for the purpose. 
Instead of adding laundry detergent in a normal wash cycle, wash your sheets in the machine with baking soda. Soda is very helpful in removing manufacturing chemicals ingrained in the cotton sheets and makes the fabric softer than before. 
All you require for the cause is a tablespoon full of baking soda, which has to be followed with a cup of white vinegar that's to be added during the rinsing cycle. 
Though warm water is more suitable for washing purposes, it is a good idea to set the setting to "cold water" when you begin the rinse process. 
Once you have line-dried the sheets after rinsing them thoroughly with baking soda, clean them with detergent, and dry them as usual.
Tips To Clean Them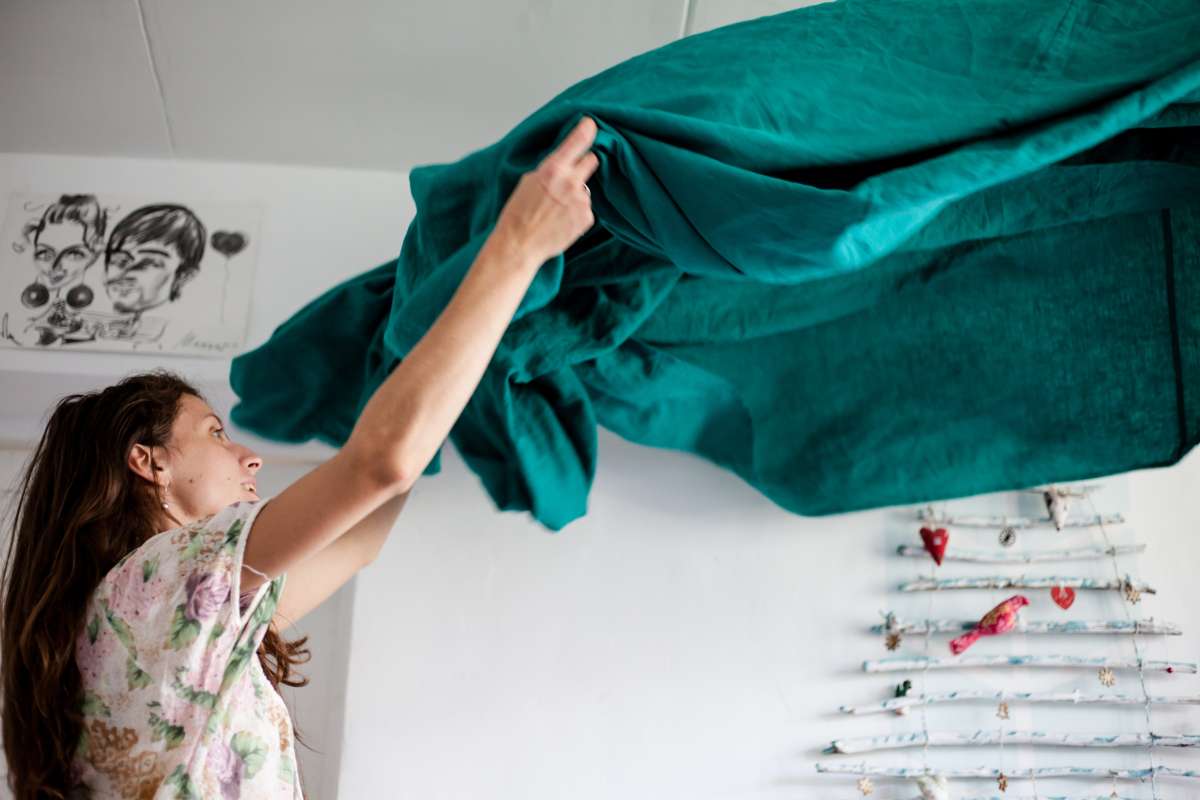 There are ways to clean cotton bedsheets without difficulty. The cotton sets are usually manufactured with long-staple cotton, which is high-quality produce of cotton. In fact, fine yarns are used in them that gives them room for softer fabric and keep them lighter.
The best way to retain the colours and texture of the cotton bedsheet is to wash them separately with water. Cotton bedsheets do require a bit of extra care for maintaining their vivacity and softness.
It is quite important that you don't use harsh products to clean your cotton bedsheets. Today various types of soap and detergent available are soft on the fabric but harsh on removing dirt and stains from the cotton bed linens. Along with this, you can also use branded fabric conditioners for making your cotton bedsheets look softer and wrinkle-free.
Taking care of cotton bedsheets while washing is a must, as you don't want your favourite bedsheets to get useless after some time. 
So, use only mild and scented detergent if you want your bedsheets to be clean and smell nice. Cotton bedsheets cannot survive harsh washing with hard soaps, as the fabric is not suitable for such action.
When you clean your cotton bedsheets, getting them dry-cleaned is also recommended. This way, you can not only retain the print shades, but the texture of the fabric also doesn't deteriorate.
Cotton is known to be the most comfortable fabric of all because it spreads evenly and requires light ironing for maintaining the sophisticated look. Usually, superior quality bedsheets are manufactured only from the finest cotton with the assistance of single-ply fibres. Longer fibres tend to define the better quality of the cotton fabric, so they are preferred when it comes to manufacturing the best quality cotton sheets.
Lengthening The Life Spans Of Cotton Sheets
Egyptian-cotton sheets have a tendency of lasting for a longer time than their other cousins, possibly because of the kind of fibre used for their making. 
As you have decided upon investing in these sheets, then you must ensure that they remain soft and durable for years in a row. If you have been using bleach for making them look whiter than before, then it is a good idea to avoid the same totally. 
Remember, chemical-based whiteners and softeners tend to cause great harm to the fabrics of these sheets and are not at all recommended for Egyptian cotton. To avoid any degradation over time, it is best advised to use gentle and good quality detergents only. Also, do remember to use moderate dryer and water temperatures to avoid any unwanted shrinkage of the fabric.
Today, bedding and linen made of high-quality Egyptian cotton are making it to the top of coveted buys for commercial accommodation owners and residential buyers alike. 
Boasting of high thread count, these sheets always succeed in imparting the right levels of luxury and comfort. Under the circumstances, they require good care and maintenance for giving you your investment's worth. 
So, if you wish to keep your cotton sheet sets looking beautiful, soft, and as good as new, you need to invest in a dryer and washer, proper materials for removing stains, and good laundry detergent too!
Egyptian Cotton bedding is a high-quality item with a truly luxurious feel. Treated well, that stunning quality will last for years to come, and with the right measures in place, you may look forward to getting the best returns from your soft and luxuriant sheets, at all times! 
Using these tips to care for your Egyptian cotton sheets help them last as long as possible. They will retain their softness and avoid damage that can be devastating to a sheet set you have invested so much into. 
It is certainly worth it to take the time necessary to care for your Egyptian cotton sheet set so you can sleep easy knowing yours are comfortable, clean, and durable.