As soon as you notice the first hint of a baby bump, you may start wondering, "how do I choose maternity clothes?" 
You've probably scrolled past and admired that Instagram fashion blogger with the perfectly shaped pregnancy belly who makes dressing her bump look effortless and fun. 
Now for the reality check: Figuring out which maternity clothes fit and flatter can be a daily challenge for many moms-to-be. 
But with the proper maternity clothing, you'll look—and feel—your best as you count down each trimester to your delivery day (promise!). 
Here's a rundown of when many moms-to-be starts wearing maternity clothes, which basics should be in every woman's maternity wardrobe and how to find the best items out there.
Do You Need Maternity Clothing?
Some first-time moms can wear a lot of their regular clothes, especially maxi dresses and other loose-fitting items and never have to invest in maternity clothing. 
Meanwhile, other moms find it hard to look put together—or feel comfortable—in anything but maternity clothes.
Ultimately, it comes down to a matter of personal preference and comfort. If you can find something comfortable in your closet, or your partner's closet, then go for it. 
But don't feel bad about picking up a few things to have something to wear.
Just remember that wearing tight clothing during pregnancy is generally not recommended. 
Aside from feeling restricted, tight clothing also can lead to a host of issues. 
For instance, I was wearing something tight while pregnant can cause pain in different parts of the body. It also can reduce blood circulation and may even lead to yeast infections. 
As a result, if your clothes are starting to feel uncomfortable and cause you discomfort, it may be time to either raid your partner's closet or shop for some maternity clothes.
When to Buy Maternity Clothes? 
No two bodies experience pregnancy the same way. This means, if you're wondering when to start wearing maternity clothes, it depends on you. 
If you ask around, you'll find that expectant mothers start wearing maternity clothing at all different times during their pregnancies. 
But here are some clues you may be ready to purchase maternity clothes:
Unbuttoning the top button of your pants is no longer reserved for after meals.

Spandex is your preferred clothing material.

You feel bloated all day, every day.

Your bump starts to peek out of your shirt to say hello to passersby.

Your button-down shirts don't button down.
These signs coincide with what's happening with a baby's growth in utero. At 20 weeks, the uterus is typically at the level of the navel. 
So many women begin to show at this point, but there is variability depending on the mother's height and body type, weight gain, number of babies in utero and the first pregnancy. 
For first pregnancies, the bump typically 'pops' a little later than in subsequent pregnancies.\
For first-time moms, it's easy to get excited about being pregnant and showing off your bump, even during the early stages of pregnancy. 
Resist the urge to start buying maternity clothes in the first 12 weeks of pregnancy. In the first trimester, you're still sorting through the changes in your body. 
When your belly starts to take shape at the beginning of your second trimester, [is when] you want to start collecting your items. 
That said, if you see a maternity must-have on sale that you love, there's no reason why you shouldn't buy it.
My Baby Nursery has an extensive range of baby nursery furniture sets to take the hassle out of choosing the right furniture that matches.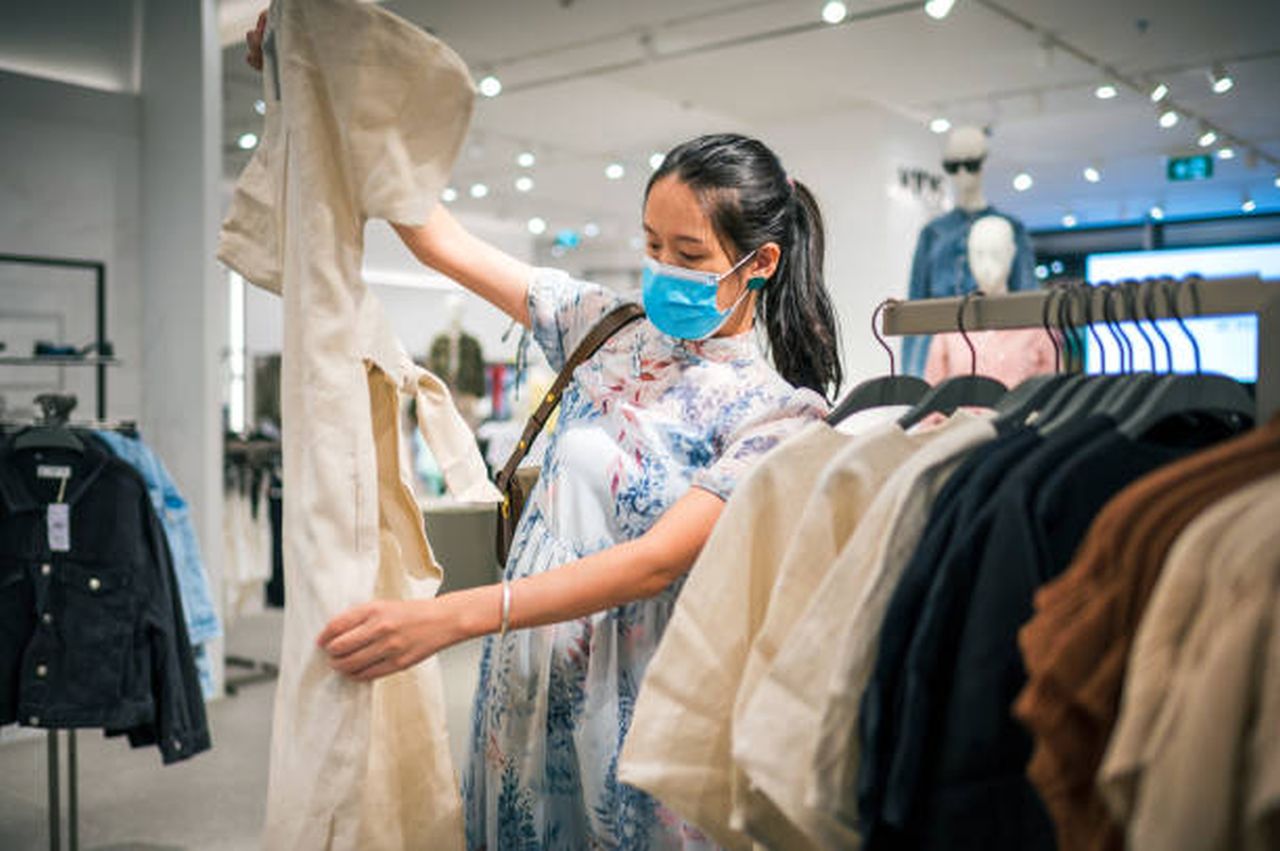 What Size Maternity Clothes to Buy?
If this is your first pregnancy, it's nearly impossible to figure out how your body will change as your pregnancy progresses. 
This means it's even trickier to estimate what size maternity clothes you'll need to buy. Typically, if you're a size six pre-pregnancy, then you'll probably be a maternity six. 
But everyone is different so that you might be a maternity eight, or you might be a maternity four, depending on how you carry your pregnancy. 
It's important to buy what's comfortable, the same as when you're not pregnant. But, again, it has a lot to do with the proportions of someone's body. 
And keep in mind, not every part of your body is growing at the same rate. For example, some women go up many bra cup sizes before their belly even pops out, so ignore the maternity clothing sizing and buy what fits and feels right.
How Much Maternity Clothing to Invest In?
A lot depends on the season you're due and exactly how your body changes, but choosing a few maternity wardrobe staples is a good place to start. 
A pair or two of quality maternity jeans (in a wash that goes with everything) will take you far, as well as at least one pair of basic black leggings—trust us; you'll live in these staples postpartum too. 
If you don't already own a few longer tees and tanks that could stretch over your bump (don't forget to shop your closet!), consider buying a minimum of three to five maternity T-shirts or tank tops in colours that pair well with your existing wardrobe. 
They're great to throw on under your favourite blazer, jacket or stylish cardigan. However, it's also a good idea to invest in two to three versatile dresses that can be dressed up or down, whether for work or play. 
Depending on what you've got planned for the last weeks of your pregnancy, you also might want a fancier dress suitable for a wedding, maternity photoshoot or baby shower. 
Beyond that, what you need might be purely seasonal (think: a winter coat that can zip over your belly or a maternity swimsuit.
Maternity Clothing Essentials
Two buzzwords you'll hear on repeat when it comes to maternity clothing are "basics" and "essentials." 
While some items will sound like familiar favourites in your pre-pregnancy closet, others are maternity wardrobe staples unique to accommodating and flattering your bump.
All The T-shirts. 
Buy a few stretchy maternity T-shirts in white, grey and black. But, of course, nothing tops off a pair of (maternity) jeans better than this most basic of basics.
Mom, Jeans, Please. 
With so many changes happening to your body, you'll feel comforted that you can still throw on a pair of jeans. And once you try super-comfy maternity jeans, you may never want to go back to your old ones.
Leggings For Days.
It's a good idea to have a few pairs of leggings in rotation. They mould to your body and are hands-down the best option for comfort.
Don't Underestimate Your Underwear. 
Invest in comfortable but pretty underwear and a few stylish, supportive bras. (Many maternity bras double as nursing bras, which gives you more bang for your buck.)
Being intentional about this most intimate layer of clothing sets the tone for every else you put on.
Maxi to the rescue. 
A form-fitting version of this popular dress may help to make you feel less frumpy as your body and silhouette change.
LBDs Are Your MVPs. 
You'll need a little black dress or two that you feel confident in and can wear to a wedding, a shower or an after-work event.
Suit Yourself In Blazers. 
An oversize blazer is an excellent second layer. It'll keep you looking chic and will fit even as you grow throughout your pregnancy.
Tips for Choosing Professional Maternity Clothes
Keep these smart shopping tips in mind when choosing maternity clothes for work:
Find Ways To Keep Wearing Your Clothes
Leaving the top button undone on your jeans or pants is fine when you use an elastic band or safety pin to hold them up. You can also invest in a Bella Band, an elastic band that can be worn throughout your pregnancy to help keep your pants from sagging down (a great invention and a huge money saver).
Buy Clothes That Will Grow With Your Body
In the first few months of pregnancy, you have no idea how your weight gain will progress throughout the coming nine months. Therefore, buying maternity clothes at the outset isn't wise. Instead, buy skirts and pants with elastic waistbands that will give you the longest wearing time.
You will, however, wake up one day ready to put on your stretchy black pants, and they won't fit. Of course, many pregnant women will try to get more wear out of these items, but you need to know when to put that pair of pants in the box for use during your subsequent pregnancy.
Invest In Wardrobe Staples
With many high-end designers making their lines of maternity wear, it's tempting to buy trendy maternity clothes, especially for work. However, any intelligent fashionista will tell you to try to resist this temptation and stick with stocking your pregnancy closet with wardrobe staples.
Buy Black, Gray And Brown Pants
Then use accessories and different tops to vary your daily attire. If your job calls for business attire, buy a basic dress that can be worn to work, as well as out to dinner. Invest in one suit jacket. Basic, non-trendy clothing also will come in handy if you plan to get pregnant again in the future.
Price Shop
Maternity clothes can become very expensive — especially because you won't be wearing some of these items for more than three months. Therefore, don't invest your entire maternity clothes budget in one designer suit. With so many maternity clothing designers today, you can price shop and still get decent apparel. In addition, many discount retailers, like Target, carry maternity clothes or Zulily.
Buy As You Go
Because your size can change drastically from one day to the next when you're pregnant, you should buy maternity clothes as you need them. Buying in advance, especially when there is a change of season coming up, isn't wise because you may jump up a size and never get to wear some items. (For this reason, always check a retailer's return policy for unworn maternity clothing).
Borrow From Friends Or Buy Used
If you're one of those people who can't fathom going nine months with such a limited wardrobe, it pays to announce to friends, friends of friends, and colleagues that you're in the market for maternity clothing. 
Many women have maternity clothes boxed in their attic that can be excellent finds for you that can help you vary your wardrobe. 
We have a wide range of nursery high chairs for your baby. Check them out here.
Tips for What to Look for in Maternity Clothes
Remember these essential tips to get the most out of your budget as you shop around for maternity clothing. A few wise purchases can even last you beyond the bump.
Does It Stretch? 
Pay attention to the fabric of the maternity clothes you're buying because you don't know where the weight will continue to grow as you move through each trimester. 
Anything with a flex fabric, a stretch fabric or a jersey fabric will give you more flexibility.
Test For Sheerness. 
Sometimes you have to bend over, touch your toes and ask the fitting room attendant if she can see anything she shouldn't be able to. 
Maternity clothing tends to have a lot of stretch in it, so it's essential to look at it in motion. 
Garments that go sheer when stretched are something to look out for when shopping for maternity clothes.
Embrace Ruching. 
It's a feature that allows your maternity clothes to grow with your bump. "It works with any single body type. 
Even if you buy an item with ruching in your first trimester, you're never going to run into any issues because it flexes with your shape.
Think Beyond Pregnancy. 
It's nice when a maternity brand has nursing features built-in. 
If you intend on breastfeeding, invest in maternity clothes that you feel beautiful and feel comfortable in for your nine months and beyond."
Coming to Terms With Your Changing Body
For some women, the thought of gaining weight and becoming curvier as their pregnancy progresses is a difficult concept to deal with.
Combine this with the fact that many people feel it's OK to make insensitive comments like "wow, you are getting big," It becomes clear why many women would try to hide their pregnancy for as long as possible.
But, it would help if you didn't let the fear of getting bigger keep you from embracing your pregnancy. 
Here are some tips on how to come to terms with your changing body.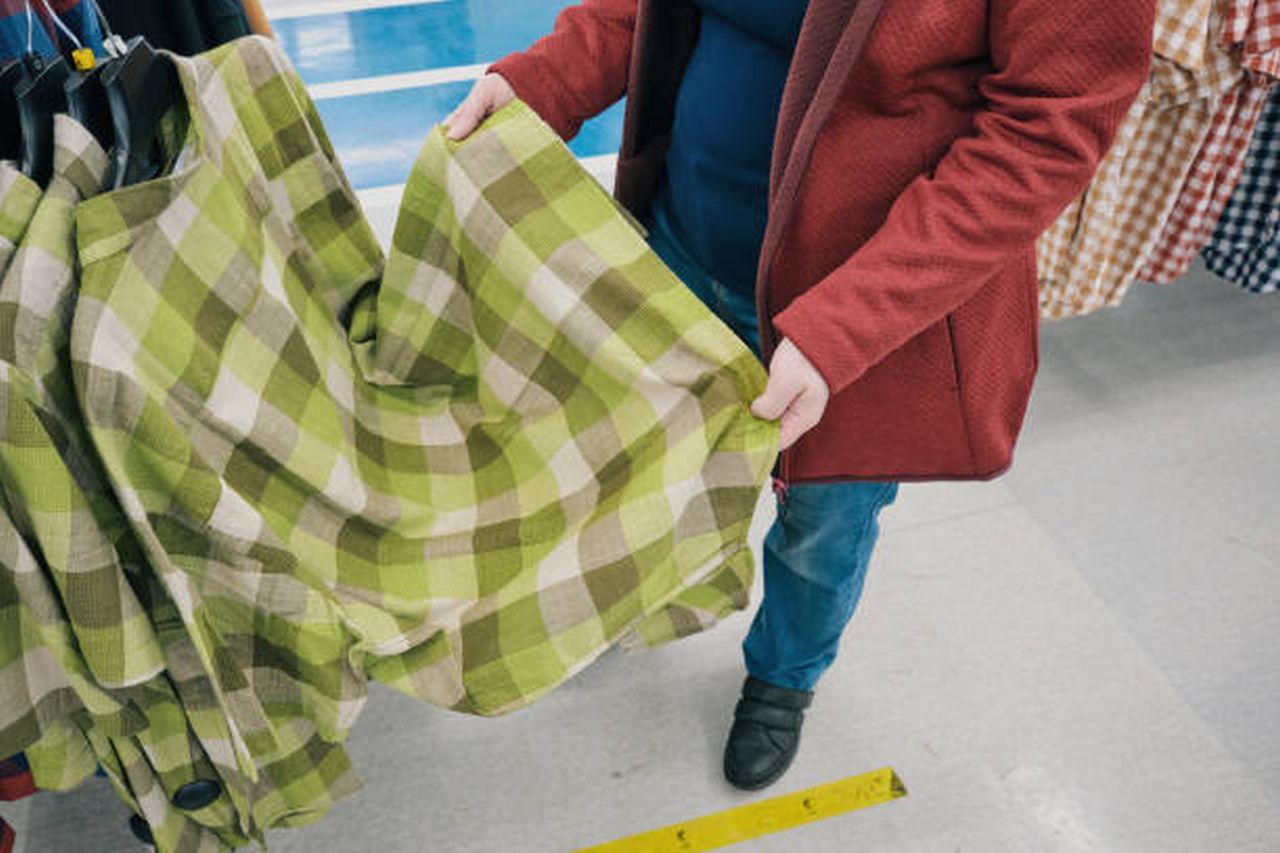 Give Yourself A Break
Remember, you are growing a baby inside of you! That is a unique, wonderful gift, and 
your protruding belly is just a reminder of the miracle that is growing inside of you.
Remind yourself that being pregnant isn't always easy and that you deserve to be celebrated. 
Don't let fears about your size or weight gain keep you from enjoying the fact that you're giving life to another person.
Stay In The Moment
Too many times, women lament about how hard it's going to be to get back to their "pre-pregnancy body." But this kind of thinking keeps you stuck in the past.
Pregnancy changes you. Yes, it changes you physically. But it also changes you mentally and emotionally. 
And that is a good thing. So embrace what you are experiencing right now. And focus on taking care of your pregnant body.
Instead of worrying about getting something back, think about what you're getting in return. 
You should be in awe of what your body is doing. Having a baby is no simple task, and you're doing something incredible.
Stop Comparing Yourself To Others
Too many times women worry about how their body looks in comparison to other women. 
The comparison game is cruel and doesn't do you any favours. Comparing yourself to others not only leads to insecurities but an overall dissatisfaction with your body. 
And that is the last place you want your mind to go.
Instead, remind yourself that this is a season in your life — one that you won't be able to repeat when you're older. 
So, don't spend your time comparing yourself to others. Instead, live in the moment and appreciate how your body changes to accommodate the little life growing inside of you.
Practice Self-care
When you're loving and caring toward your body, you'll feel more confident and secure in the changes that are taking place. 
As a result, be sure you are resting when you need to. Get your nails done. Schedule a massage, or attend a water aerobics class. 
It would help if you also focused on eating nutritious food that makes you feel balanced and healthy. Do things that make you feel good and keep your body healthy.
How Much Weight Should You Expect to Gain During Pregnancy?
Finding Maternity Clothes Without Breaking The Bank
Once you have come to terms with the fact that you may need to invest in some maternity clothing, especially when it comes to comfort, it can be hard to know where to find things to wear. 
Aside from running out to Nordstrom's, Macy's, or Motherhood Maternity, here are a few ideas on building your pregnancy wardrobe without breaking the bank.
Shop Your Closet
Before you run out and buy an entire maternity wardrobe, look through your closet and see what might work. 
For instance, loose-fitting maxi dresses, flowing skirts and tops, oversized button-down shirts, large sweaters and cardigans, and jersey-style shirts and dresses that are soft and stretchy all work well on pregnant bodies. 
Move these items to the front of your closet and build on them by adding pieces that complement them.
Borrow From Friends
If you have a recently pregnant friend, ask if she has anything that she can loan you or that you can purchase from her. 
You can save a lot of money (and time) by wearing things a friend wore during her pregnancy. But, of course, you can always make these items your own by pairing them with things you already have.
Look For Deals
Keep an eye out for sales, consignment stores, and online items. Many times, you will happen across some great bargains. 
You have to be willing to shop around. It's also a good idea not to wait until the last minute to purchase things. 
For instance, if you know you have a wedding coming up in June and it's April, start thinking about what you might like to wear and try to buy something in advance. 
Waiting until the last minute often means you have to spend more than you wanted. Just be sure to calculate how much bigger you will be when you need to wear it.
Keep It Simple
When you shop for maternity clothes, stick to the basics like a pair of jeans, leggings, and basic tops that can be professional or casual. Consider the things you have at home and buy pieces that will complement those items.
For instance, a nice pair of jeans with an elastic waist, a couple of black pants, and a button-down shirt can be used interchangeably. 
You could pair the jeans with a colourful cotton tank from home and wear the button-down over it like a sweater or a cardigan. 
Wear black pants with the button down and add a cardigan and some cute jewellery from home for a more professional setting.
By purchasing items that can be mixed and matched with what you already have, you can expand your wardrobe. 
Try to avoid purchasing one-dimensional items that don't go with anything else.
Buy Items That Grow With You
When shopping, keep in mind that your size is not the size you will be at 34 weeks. 
So, make sure that if you're going to purchase something, you select an item that will grow with your changing body. 
You don't want to buy several pairs of jeans at 20 weeks and have to turn around and buy more at 30 weeks. Instead, try to pick items that will expand or stretch as you grow and stretch.
Conclusion
When it comes to maternity clothing, it certainly isn't a one-size-fits-all endeavour. Instead, there are plenty of ways to approach dressing your pregnant body. 
Whether you want to cobble together outfits from what you already own, or you want to select your maternity pieces at a clothing store nearby carefully, the choice is yours.
You don't have to worry about breaking any fashion rules for the first time in your life. 
Most people are very forgiving when it comes to what a mom-to-be is wearing. They would rather talk about baby names. So relax, have a little fun, and get creative.
My Baby Nursery has the best range of high chairs for your baby. Check them out here.