Your baby will spend a huge chunk of the first two to three years of their life in a crib, so make sure you see it as an investment — meaning getting one that is built to last and the safest crib possible. 
Also important is to check for crib recalls at the Keeping Babies Safe website before buying one, as baby products are recalled for safety issues pretty frequently.
Some parents who live in small apartments might be drawn toward a mini crib, which (obviously) takes up less space than a full-size crib. It's a bit of a crapshoot because some babies might grow out of mini cribs before they're ready to transition to a toddler bed, so parents might end up shelling out for a bigger crib later. But in terms of safety, portable or mini cribs are fine as long as they meet the current safety standards.
The important thing is that the mattress is the right size for the crib because you don't want space between the pad and edges of the crib. "Never use a supplemental mattress or added mattress to a mesh-sided play yard, "And only use the mattress or pad that comes with the crib, bassinet, or play yard."
To keep crib time safe, remember the "bare is best" rule: no soft bedding, no crib bumpers, pillows, blankets, comforters, or toys. And keep the crib away from windows, curtains, and any chords that the baby could use to pull him or herself out of the crib or could pose strangulation hazards.
Here are a few specific things parents should look for in a safe crib:
Crib slats or bars should be no wider than 2 3/8 inches apart. Some experts suggest gauging whether a soda can would fit through — if so, they're dangerously far apart.

Mattresses should be dense, firm, and not sag under your baby's weight. They also need to reach every corner of the crib, with no spaces around the sides.

Look for a crib with an adjustable mattress. The top of the crib's rail should be 26 inches above the mattress; you'll need to lower the mattress periodically as your child grows.

Headboards should be solid with no decorative cutouts, and also make sure the corners don't have pointy embellishments on them that kids' clothing could get caught on.

Cribs with a drop-side no longer meet safety requirements (so you should say no if someone tries to give you one).

Please don't bother with bumpers in the crib; there's no evidence that they make kids safer, and older kids might use them to help them climb out of the crib.

Make sure the crib doesn't wobble when you shake it but feels sturdy. If it shakes, it might have been put together improperly.

Look for any screws, nails, or glue that stick out anywhere on the crib. And if it's painted, the paint shouldn't be peeling or splintery.

If the crib is on wheels, make sure they lock, particularly if the crib will be on a wood or tile floor.
The crib is the right size. 

The corner posts are smooth. 

The hardware is firmly secured. 

The paint colour is nontoxic. 

The mattress fits snugly inside. 

Avoid soft toys and bedding. 

Stay away from headboard and footboard cutouts and drop-sides.
Crib Safety Features
Firm, tight-fitting mattress.

No missing or broken hardware or slats.

No cutouts in the head- or foot-boards.

Slats no more than 2 3/8 inches apart (the width of a soda can)

Corner posts no higher than 1/16 inch.

Stationary sides.
The CPSC's new standards also will require mattress supports to be stronger, crib hardware to be sturdier, and more rigorous safety testing of baby beds. The CPSC, the government's top regulator of children's products, says cribs with drop-down sides have hidden hazards that cause strangulation or suffocation.
Safety Considerations When Buying a Mini Crib
Here are some of the most important safety considerations: The slats should be no more than 2 3/8 inches apart. The crib should not have decorative cut-outs in the headboard, as these can pose a strangulation risk if something gets caught on them.
What We Found
A crib is one baby item you want to buy new. That's the only way to ensure you'll get one that meets the latest safety standards. We recommend you purchase a JPMA-certified, full-sized crib with stationary sides. This guide will help you find the perfect one so the whole family can rest easy.
Basic is Best
The safest cribs have simple lines and no scrollwork or finials. Infants can strangle if their clothing gets caught in such detailed work. Following this advice will get you a safer crib and save you money. 
Consumer Product Safety Commission regulations for full-sized and portable cribs as of 2011 required the elimination of drop-side models, which have been connected to at least 32 deaths a few years prior. 
(Drop-side cribs let parents raise and lower one side to get the baby out. They are no longer considered safe.) The standards also include rigorous new durability testing and improved warnings and labelling. 
Consumer Reports tests, based on the new mandatory safety standards, address such issues as mattress support, slat strength, and structural integrity.
Buy New
If possible, avoid buying or accepting a used crib. Older models might not meet current safety standards or might be in disrepair. By law, the production date of a crib must be displayed on it and its shipping carton.
Still, be on the lookout for safety hazards. Even when you're buying a new one, bring a ruler with you when you shop for checking the spaces between the slats and other places on the crib. If they're greater than 2 3/8 inches wide, they're too far apart. If you buy a crib online, measure any openings immediately when it arrives at your home.
Check for sharp edges and protruding screws, nuts, corner posts, decorative knobs, and other pieces that could catch your baby's clothing at the neck. Buying a new crib could protect your baby from such hidden dangers as drop sides, slats, or hardware that might have been weakened by rough use, as well as loose hardware or glue joints caused by changes in humidity during storage.
Check Construction and Workmanship
One or more stabilizer bars—metal rods fastened to both end boards beneath the crib—can help to make the frame more rigid. The simplest in-store test is to shake the crib slightly to see if the frame seems loose. 
But be aware that display models aren't always tightly assembled. Without applying excessive pressure, try rotating each slat to see if it's well secured to the railings. You shouldn't find loose slats or spindles on a new crib or any cracking if they're made of wood.
Buy the Mattress at the Same Time
Pair the mattress and crib you plan to buy to ensure they're a good fit. (Mattresses are typically sold separately.) By law, a mattress used in a full-sized crib must be at least 27 1/4 inches wide by 51 5/8 inches long and no more than 6 inches thick. Still, do a quick check. 
If you can place more than two fingers between the mattress and the crib frame, the fit isn't snug enough.
Ensure to check all the hardware carefully when your crib is assembled, and periodically tighten or replace anything that's missing or loose. Missing and loose parts are a leading cause of accidents and death because they can create gaps where a baby can wedge his head and neck and suffocate or strangle. 
Tighten all nuts, bolts, and screws. Check mattress support attachments regularly to ensure none of them is bent or broken. If you move a crib, double-check that all support hangers (which hold the mattress up) are secure.
Use the Proper Sheets
When buying a mattress, make sure you also buy crib sheets designed to fit tightly. If a sheet isn't fit correctly, your baby might pull it up and become entangled. Hand-me-down sheets can be great but make sure the elastic at the corners is still strong. 
Test the sheet, whether new or used, by pulling up on each corner to make sure it doesn't pop off the mattress corner. You can buy sheets separately, but you'll find that many bedding sets come with bumper pads. If you get a bumper, toss it right in the trash because it can be a suffocation hazard for your baby. 
Resist the urge to put those adorable stuffed animals in the crib for the same reason. Blankets, quilts, and pillows also pose a suffocation hazard and should not be used in the crib. Instead, keep your baby comfortably warm and safe in a swaddle wrap or wearable blanket.
Arrange for Assembly
Cribs are shipped unassembled, so if you're not sure you can put one together correctly (it's usually a two-person job that requires up to an hour from unpacking to complete assembly), ask a handy friend or relative for help or see if the retailer can send people to assemble it in your home. The latter can cost an extra $70 or more, but it can give you peace of mind. 
Besides saving tempers and fingers, having people sent by the store to set up your crib allows you to inspect it on the spot and reject it if you discover flaws. Assemble the crib or assemble it where your baby will be sleeping initially. 
(We think it's safest for babies to sleep in the same room as their parents for the first six months.) Once the crib is put together, it might not fit through a small doorway, and you might need to disassemble and reassemble it in your baby's nursery six months later. That's inconvenient, but you'll have the reassurance that your baby is sleeping in the safest possible place.
Adjust the Mattress to the Right Height
Most cribs let you adjust the mattress height; some have three levels, some have more. The higher levels make it easier to take your infant out of the crib, but they're dangerous when your child can pull herself to a standing position. Before your child reaches that stage—about six months—the mattress should be at its lowest setting. 
Bumper pads and large toys can help your little escape artist climb out, which is another reason they don't belong in the crib.
Place your baby's crib away from windows, window blinds, wall hangings, curtains, toys, and furniture so that he can't get to anything dangerous. Make sure any baby monitors (and cords) are also out of reach.
For safety's sake, watch your child's development closely and stop using a crib as soon as he can climb out. At that point, consider a toddler bed with child railings or put the mattress on the floor. Don't put your child back into the crib after the first "escape," regardless of his age. A child attempting to climb out of a crib can fall and be seriously injured.
Types
Crib prices range from $100 to more than $3,000 for custom models. Here's what you'll find at various price points.
Economy Cribs
Manufacturers might use less-expensive materials and hardware and simpler finishes and designs, but these models can be adequate. They tend to be lighter in weight than more expensive cribs. Paint or a lacquer-like finish might cover cosmetic wood defects, such as knots and variations in shading.
You might notice minor finishing flaws, such as poorly sanded spots, uneven patches of paint, and nail heads or glue residue at the base of the slats. The important thing is that when you shake the crib, it should be sturdy and not rattle.
Mid-Priced Cribs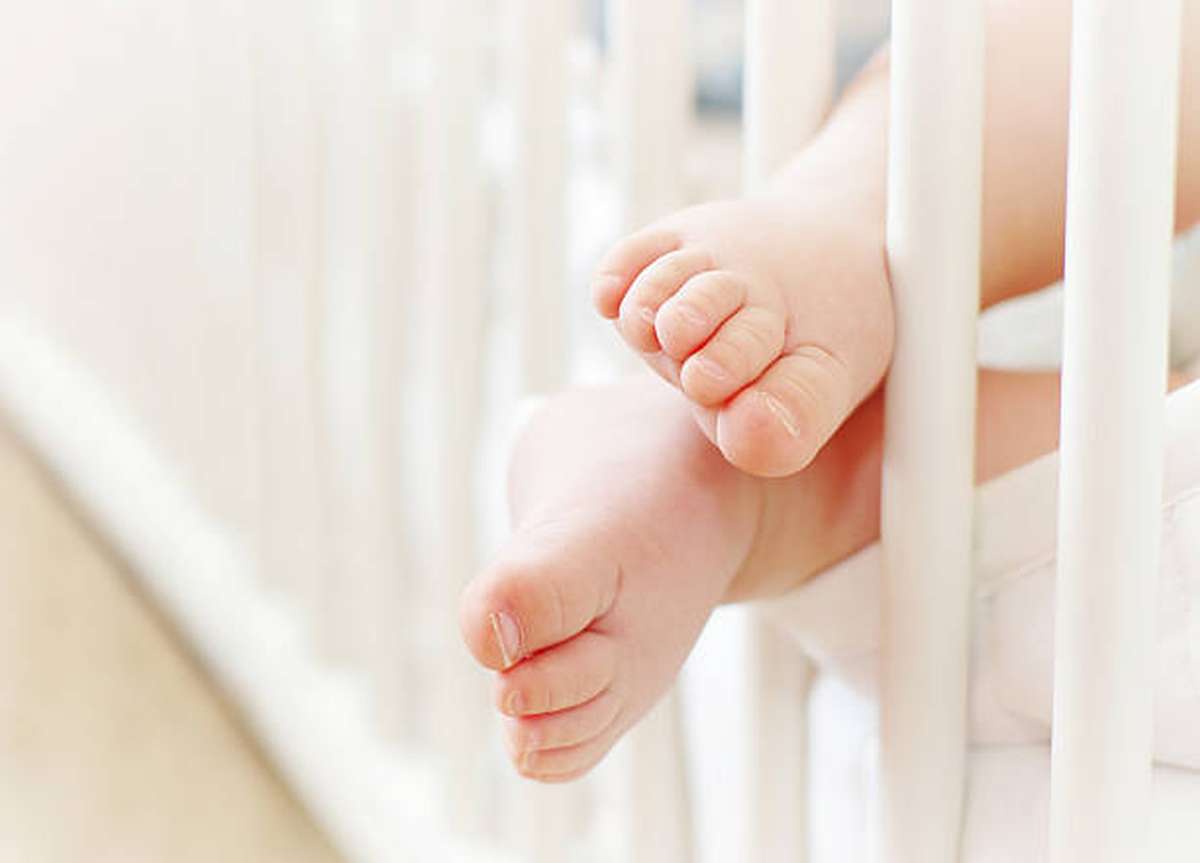 You'll find a lot of choices in this price range. These models are sturdier and more decorative than the economy models. They come in various wood finishes, such as Scandinavian-style natural, golden maple, or deep mahogany. 
End boards are usually solid with a smooth finish, and many models have slats on all sides. Slats are thicker than economy models and can be round or flat with rounded edges. The mattress supports on these models tend to be sturdy and the springs heavier.
Locking wheels or casters (sometimes optional) provide stability. There also might be one or two stabilizer bars—metal rods that extend between the two end rods—running underneath for greater rigidity. The best-made cribs in this category will have no exposed nails or glue residue where the slats are fastened to the rails and a uniform finish. Some might have storage drawers.
In this price range, you'll easily find cribs that can be converted to other types of beds. One type, often called a 3-in-1 crib, converts to a daybed and a full-sized bed. 
A typical daybed has two side panels and a back panel and can be used as a sofa or a small bed. When converted to a full-size bed, you use the long sides of the crib as the headboard and footboard, although in some cases, just the headboard piece will work.
You'll also find 4-in-1 cribs that convert to a toddler bed, a daybed, and a full-sized bed. For a toddler bed, you often need to purchase a separate rail that runs along the side to keep your child from rolling off. The most versatile cribs can become a toddler bed, a full-sized bed, and a loveseat.
High-End Cribs
Many of these models are imported from Europe (though they may have been manufactured in China or elsewhere) and have hand-rubbed, glazed, or burnished finishes. You'll see styles with curved end boards and hand-painted details, models handcrafted from wrought iron, and even round or oval cribs. 
(Round cribs are still very much a novelty, and they're not covered under the federal full-size crib regulations. (Never mind the hassle of trying to find round or oval crib sheets that fit properly!) Instead, round cribs fall under the play yards and non-full-size cribs. We believe that for sleeping, your baby is safest in a standard, full-sized crib. Play yards and the like are okay for naps or short-term use on a trip but invest in a crib for every-night use.
Some manufacturers will let you order a custom-made crib to match your nursery. Learn more about the safety concerns with protruding finials and design elements on cribs in Crib safety tips.
Mattresses on high-end cribs are usually supported by heavier-gage springs and metal frames. Like some mid- or low-priced cribs, these cribs might include a drawer and convert to a daybed/toddler bed or other nursery furniture.
You'll also find custom-made regular and convertible cribs sold as part of a nursery suite, and a "fairy-tale" canopy might be part of the ensemble. Please don't use the canopy because it could collapse onto the crib. (And it's a dust collector.) A simple, unadorned crib is the safest for your baby.
There's a wide variety of custom-made cribs at the high end, but they're unlikely to be certified.
Portable Cribs
Some parents like to use a play yard. See our Play Yard Buying Guide and tips for using them safely. Others use a portable crib.
A play yard is very compact and can be a great alternative when travelling since you never know whether a hotel will provide a safe crib. Choose one that is JPMA-certified, and read the owner's manual thoroughly.
Unlike a play yard, a portable crib is similar to a regular crib, just smaller. For one thing, they aren't as long as full-sized cribs. Some are certified by JPMA. Some people opt for a portable crib if they live in a small apartment or need something to take along to the grandparents. 
Remember that you'll need to buy a mattress and sheets specifically for this smaller crib. It's always best to use sheets provided with the portable crib or made by the same manufacturer or a sheet that the crib manufacturer has designated as acceptable for use with their crib.
Features
Some features are important for child safety, while others might make things more convenient or aesthetically pleasing, depending on your style.
Do Not Buy Drop Sides
Consumer Product Safety Commission regulations for full-sized and portable cribs require eliminating models with "drop-sides" that can be lowered for taking your baby out. Drop sides have been linked to at least 32 deaths over the past decade. 
The standards also include rigorous new durability testing and improved warnings and labelling. Suppose you used a drop-side for a child and had planned to reuse it for a younger sibling, don't. Your child is safer in a crib with stationary sides.
Single Drop Gates
A single drop gate also called a single folding side, lets you lower a small portion of the crib's side instead of the entire side. This avoids the safety hazard of a full drop side while still making it easier to get your baby out.
Mattress Height
Full-sized cribs have at least two mattress-height positions; some even have three or four. To prevent your baby from falling over the side of the crib, adjust the mattress support to its lowest height as soon as she can sit or pull up, usually between 6 and 8 months of age. 
Many models don't require tools for adjusting mattress height, while in some models, screws or bolts may be hard to reach. The distance between the mattress support (in its lowest position) and the top of the crib rail should be at least 26 inches. Check before using the crib.
Mattress Supports
Most mattress supports consist of a metal frame suspended by stiff springs. In some cribs, the mattress support is a one-piece board; in others, it's just metal hangers screwed into a wooden frame that supports a spring-wire grid frame or a grid of wood slats.
Conclusion
A crib may seem like a big place to put your tiny newborn, but it's the safest place for her to sleep. While some parents use a cradle, bassinet, or bedside sleeper for the first few months, you can save money and worry by sticking with a crib. 
They're regulated by the federal government, and many are also certified by the Juvenile Products Manufacturers Association (JPMA). There are currently no federal standards for co-sleepers or Moses baskets. 
(While some bassinets are certified by the JPMA, many are not.) Steer clear of Moses baskets and bedside sleepers (sometimes called co-sleepers) since there are concerns about their safety.