Top 30 Baby Bassinets For Your Nursery Online
Decorating your child's nursery is one of the simple pleasures of being a parent. But to ensure your baby's comfort and safety, you should always consider more than just looks when buying baby products and nursery furniture. At My Baby Nursery, we have a vast collection of the best baby bassinets.
Add a header to begin generating the table of contents
Babies are born with an instinct to be close to their mother, but when she can't be there they need a safe spot.
A bassinet is designed for this purpose and comes in many shapes and sizes. We have compiled a list of some of our favourite baby bassinets in a range of prices to suit every budget.
Choosing the right bassinet is important because it offers your baby safety as well as comfort while he or she sleeps!
Let's take a look at the best baby bassinets for your nursery!
Mocka Emily Cradle Baby Bassinets ($249)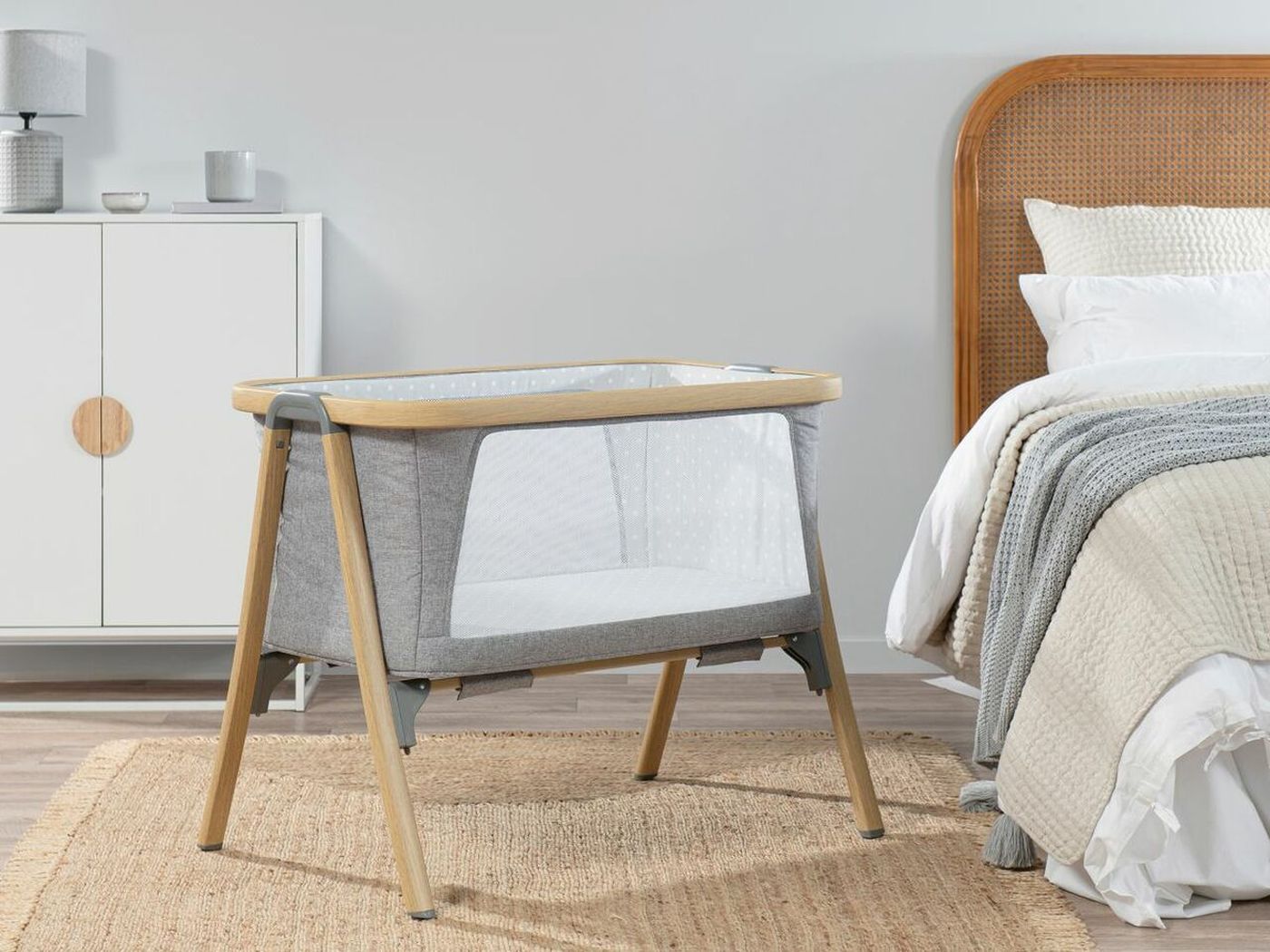 Our Emily Cradle includes a cradle mattress for added comfort and a travel carry bag for convenience.
Recommended for newborns up to 6 months or up to 9kg, you can use this cradle in your bedroom as soon as you bring your baby home. This gorgeously modern, fabric cradle has a sturdy, steel and aluminium frame so your baby is supported as they sleep. The soft, grey fabric features a polka dot lining and is lovely and soft to the touch. Two breathable mesh panels ensure adequate air flow as your little one sleeps. Settle your newborn into the Emily Cradle.
Create the perfect first sleeping space for your new baby with the Emily Cradle. Perfect for use in your bedroom as soon as you bring your baby home, this cradle helps your baby feel safe and secure as they can stay close by you throughout the night. This cradle also helps make night-time feeds easier and more convenient and is easily moved around your home during the day. Suitable for newborns right through to 6 months of age or with a max weight of 9kg – whichever comes first.
This newborn cradle features as classic cradle design with a bassinet nestled between a sturdy, fixed frame. The frame is made from steel and aluminium for maximum support and features a wood-look finish for gorgeous style. The cradle boasts a fabric design that is soft and comforting and includes two breathable mesh side panels for airflow and visibility.
Included with this cradle is a cradle mattress for added comfort and a travel carry bag for convenience. We love the simple wood-look finish on the frame and the gender neutral grey fabric of the bassinet. The adorable polka dot lining gives this cradle a touch of whimsy, while staying super soft and chic. Give your newborn a gorgeous first bed with our Emily Cradle.
Tiny Fox Bedside Sleeper ($216)
The babystudio Bedside Sleeper (WITH MATTRESS) is the perfect solution allowing parents to soothe your newborn back to sleep without having to leave bed.
This cleverly designed sleeper provides a safe separate sleeping space for newborns that attaches securely to the side of the parents' bed, without any gaps.
The drop or roll-down sides give quick and easy access, for settling and feeding throughout the night. The bedside sleeper attaches to the side of the bed, ensure a safe sleep space for baby, with the comfort of knowing nighttime snuggles and cuddles are never too far away.
This allows you and your baby to sleep next to each other safely in the first few months.
Compagno Baby Portable Bassinet Blue - Mattress & Travel Bag Included ($159)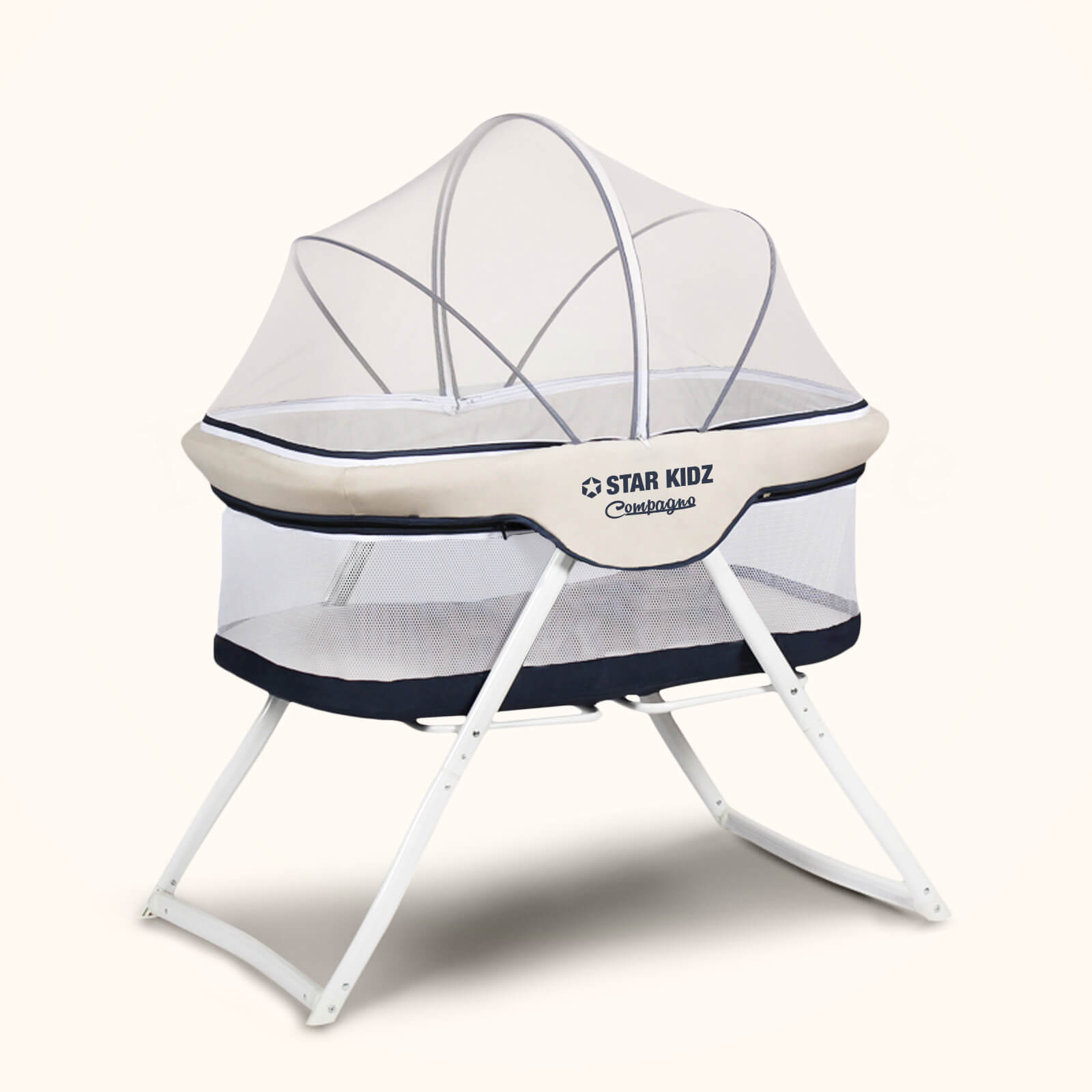 The Compagno Delux Bassinet provides the perfect sleeping solution for your baby. Take your little one's favourite place to sleep on the go with this highly portable, rocking bassinet. It takes seconds to set up! The bassinet folds back up with one step and has its own heavy-duty bag to allow easy transportation. Its rocking feet can be used to gently soothe your baby, or converted to a stationary mode for a nap or nighttime sleep. The sides of the bassinet are made from breathable mesh fabric, which helps improve airflow, keep your baby cool, comfortable, and keep them in sight so both you and your baby can rest easier.
It is a great height for next to the parent's bed at night and can be taken with you whenever you visit friends and family.
Hip Kids Tiny Harlow Sunrise Dolly Bassinet ($219)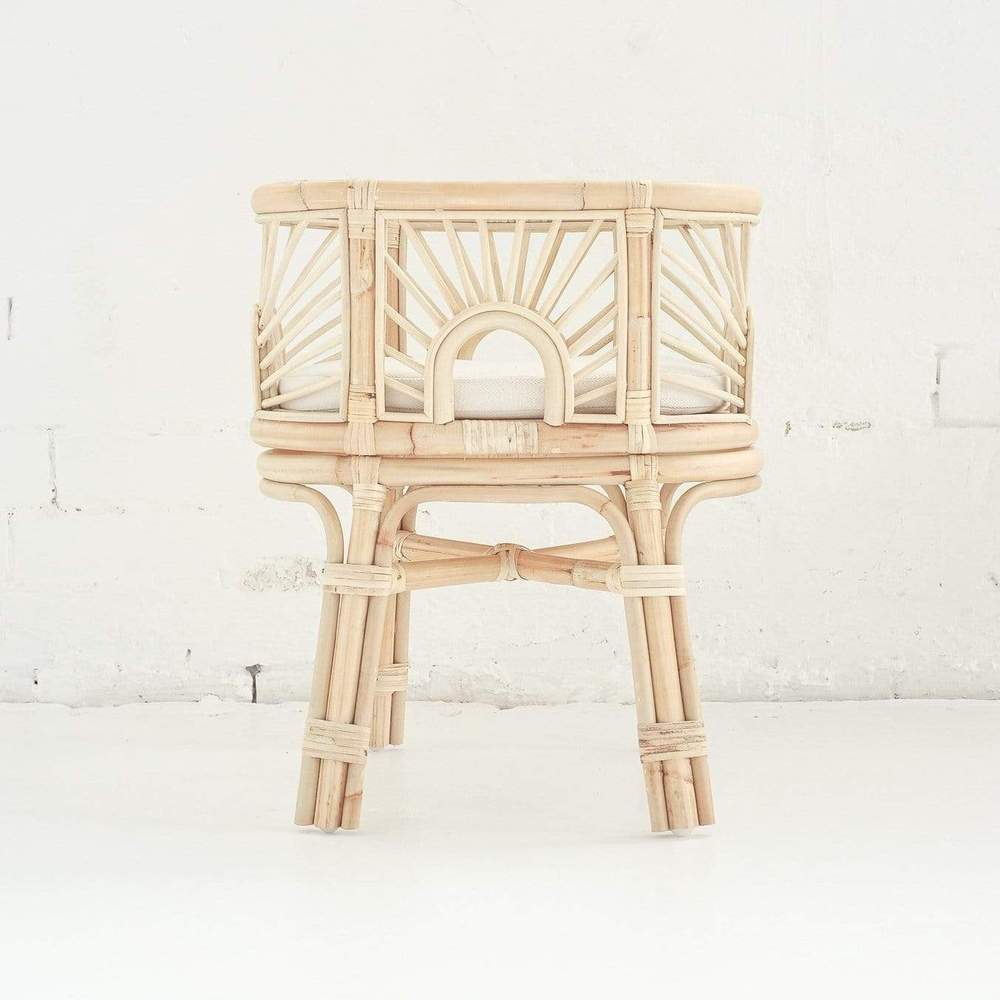 This Tiny Harlow rattan dolls sunrise bassinet makes beautiful heirloom toy, which can be passed down for generations of play.
It makes the perfect place for your dolls to rest and wake with the sunrise.
The bassinet has a thick mattress with a cotton cover that removes for easy washing.
Our dolls bassinets are made ethically with love and care in Indonesia, each piece is made by hand and patience to ensure that they will last generations of play.
Each piece is hand made and from natural cane and rattan, therefore wood grains and colours may vary with each piece.
Quirky Bubba Lani Cradle & Mattress ($289)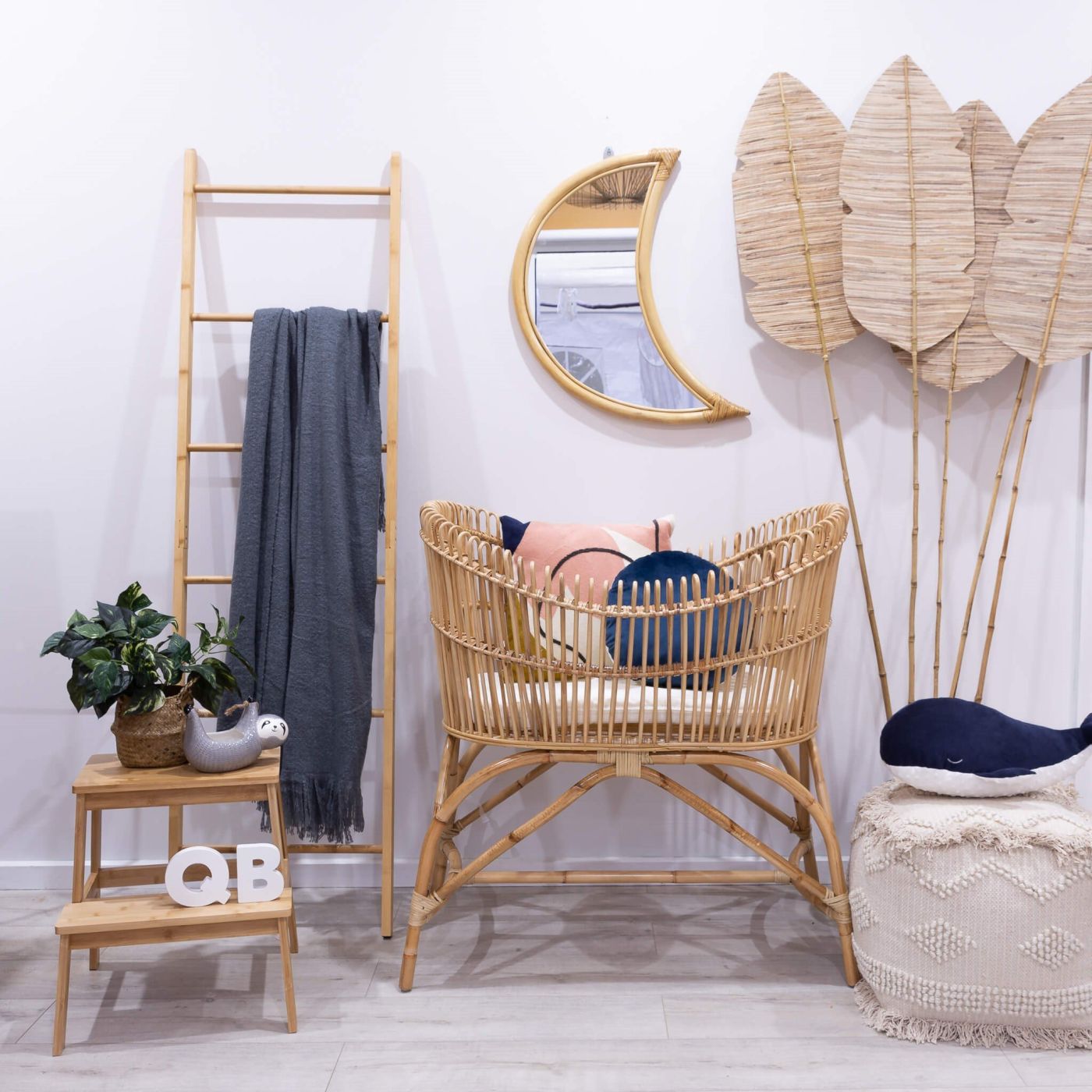 Give your little one the gift of sleep with this gorgeous rattan cradle.
Unashamedly chic and easily styled with neutral or bold-coloured nurseries, this piece is sure to be a showstopper.
Made from strong but lightweight rattan, the cradle comes assembled for ease of use and includes a foam mattress with cotton cover making it comfortable and easy to clean.
BabyStudio Seed Organic Cotton Bassinet ($139)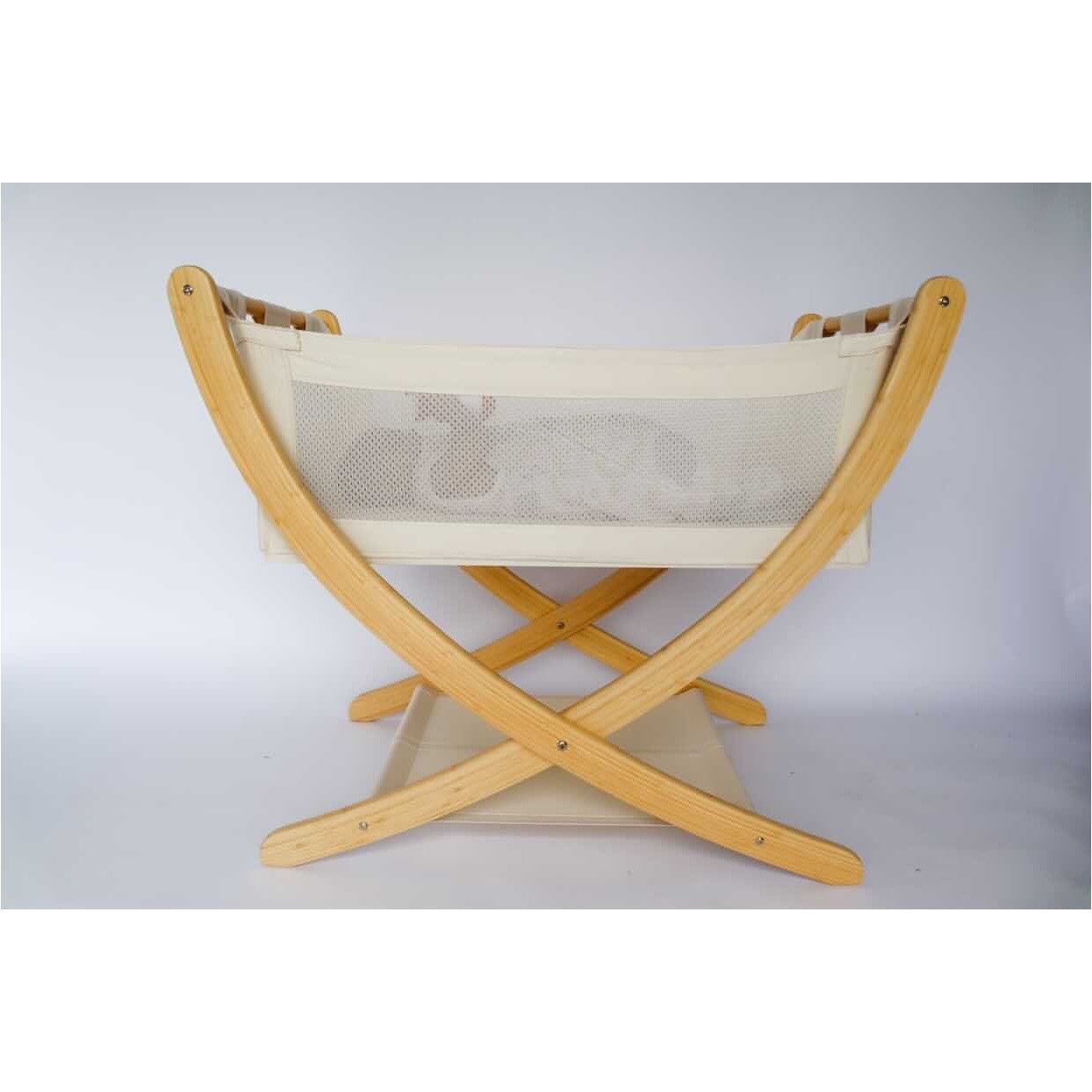 Get your little one off to the best start in life with this BabyStudio Seed Organic Cotton bassinet. This cot wrap is made from 100% washable and natural organic cotton, while its latex mattress has a breather hole design that offers breathability and an antibacterial quality to keep baby happy. We know you'll love the stand's bottom shelf for all those baby clothes and nappies on hand when needed!
- 100% Organic Cotton Liner - Washable Mess Mat
- Breather Hole Design & Hypoallergenic Mattress
- Mesh Stand (Topping) With Drawers Underneath For Storage
- Bottom Shelf
Incy Interiors Maxwell Bassinet in White ($314)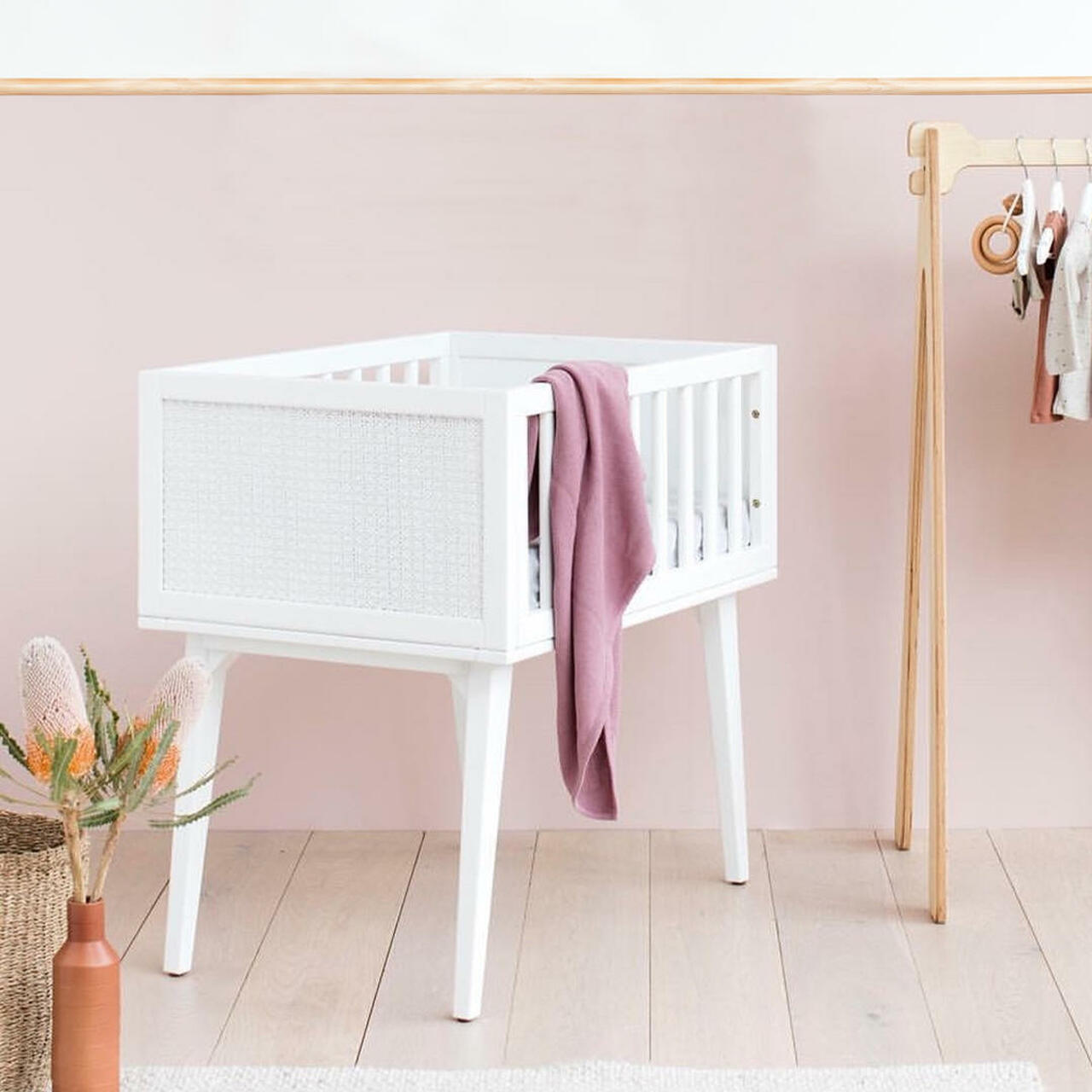 Your babe can be resting in classic luxury from the moment they are born with our mid-century inspired Maxwell Bassinet. The first Bassinet to ever grace the Incy family, this addition will pair back beautifully with a vast array of nursery and bedroom styles. Despite the solid, sturdy design of the Maxwell Bassinet which has been individually handcrafted from New Zealand Pine, it is light enough to transport easily and effortlessly as needed. The tapered legs add additional character to the already unique design which is finished from top to bottom in a non toxic water based walnut coloured stain, free of VOC's. Affordable and practical without skimping on luxury, the Maxwell Bassinet is a statement piece you will be glad you added to your nursery collection.
Cloud 9 Bassinet - Rocking Cradle ($220)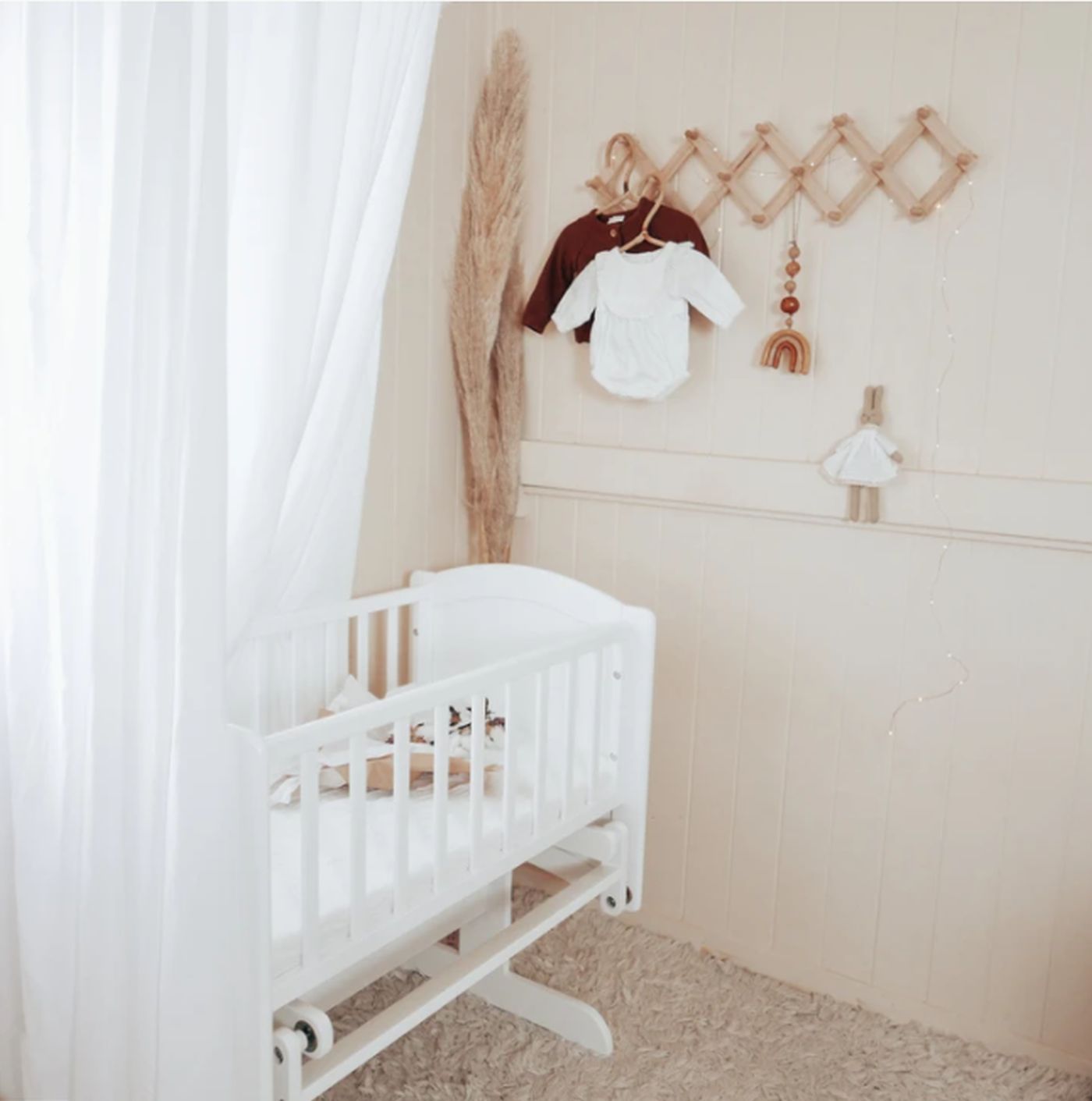 Old meets new in the design of this rocking cradle which fuses old fashioned charm with modern day safety standards and functional features. The soothing motion produced by this cradle from a slight push with just a single finger (or toe poking out from the bed covers) is a godsend for babies and exhausted Mum's alike - particularly when trying to catch some zzz's through the night. The smooth gliding motion of the rocking cradle will settle your crying baby, while gently introducing the concept of self-settling and healthy sleep habits long term.
April & Oak Hikari Baby Bassinet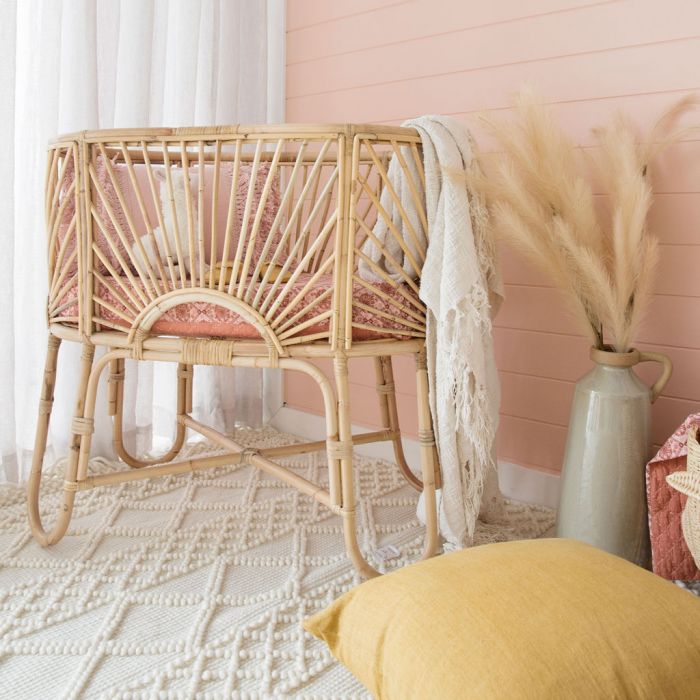 Meaning "sunshine" in Japanese, the Hikari Bassinet features a stunning sunshine-inspired rattan design to beautifully compliment your baby's nursery or bedroom. The Hikari Bassinet is lovingly hand made from sustainable rattan wood and features a wide supportive base and a firm mattress for safety.
Zanui Indy Rattan Bassinet ($599)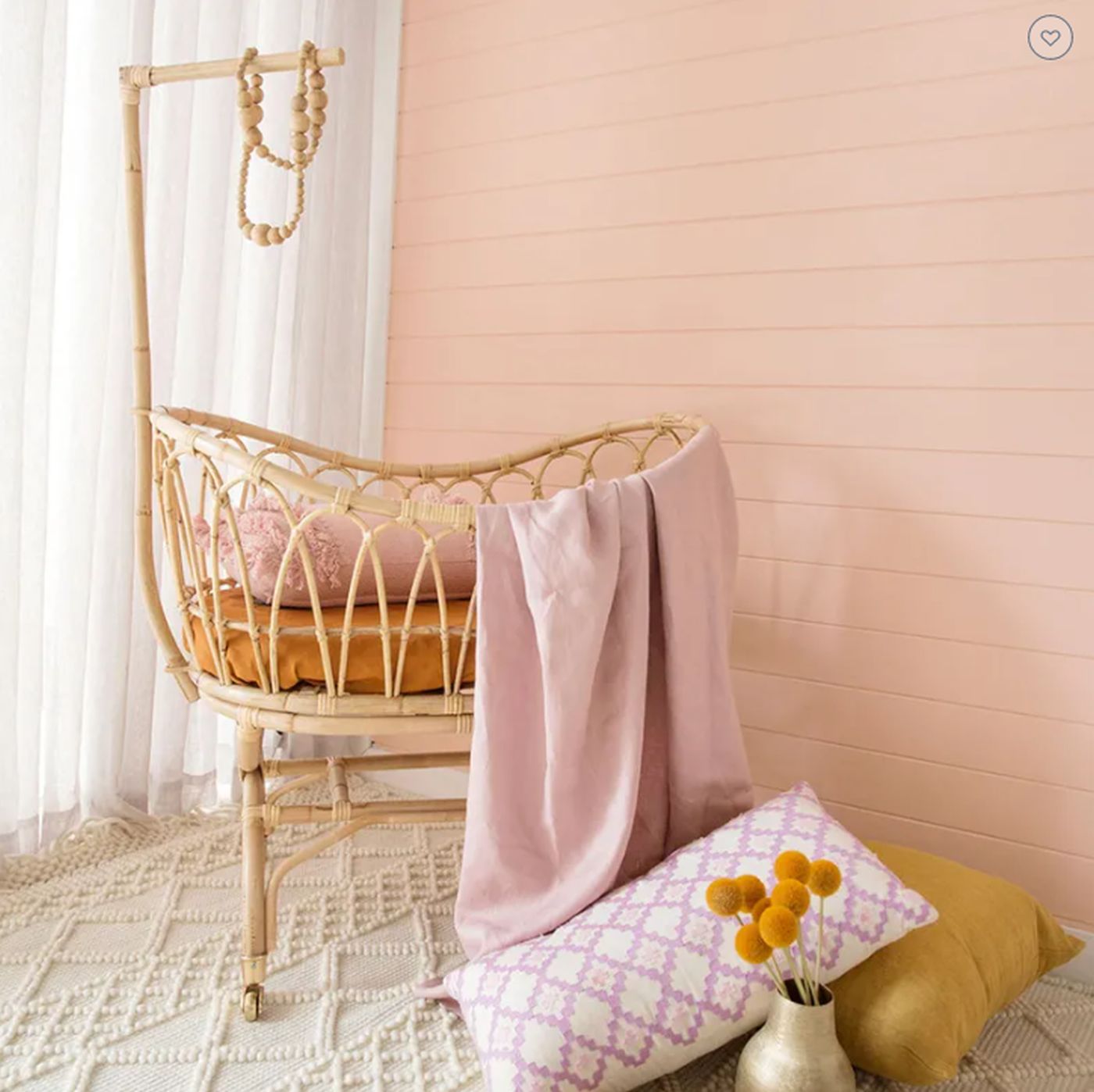 Unleash remarkable comfort to suit your baby's daily needs using the Indy Rattan Bassinet from Abide Interiors.
Carefully handcrafted by talented artisans for one-of-a-kind charm and enduring quality
Sustainable rattan cane frame inspires a gorgeous, natural look in your child's nursery that's right on trend
Foam-filled mattress is included for your convenience
Overarching arm at one end is perfect for draping a net or for hanging a mobile
Feet end in brass rollers, giving the bassinet a sophisticated quality
Rollers can also be used to move the bassinet easily about a room and your house as a whole
Perfect for bohemian, tropical, coastal, and similarly inspired home aesthetics
The Baby Closet Troll Sun Co-Sleeping Bedside Bassinet - Whitewash ($399)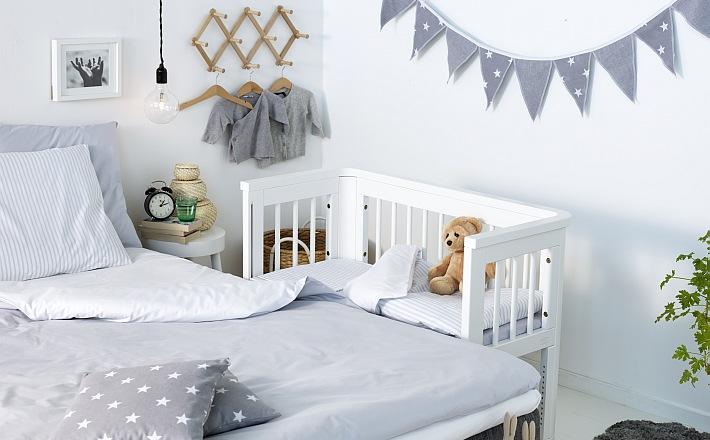 The Troll Sun Co-Sleeping Bassinet can be used freestanding as a traditional bassinet or placed next to your bed as a co-sleeper. Simply lower one side to enable you to lie next to your baby safely. It has an adjustable base height so you can match it to the height of your bed, and allows you to stay close to your baby, so there is no need to get up in the night.
The 'Sun' range is contemporary, stylish and includes a full suite of complimenting pieces.
Darby Baby Bombora - Billie Cane Bassinet ($424)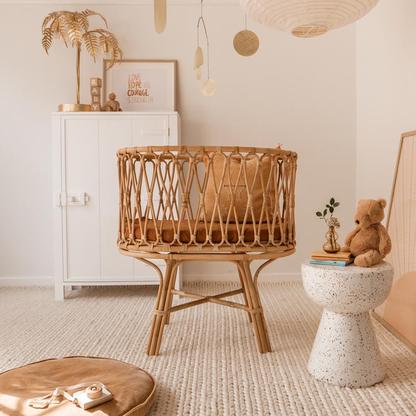 Our Billie Bassinet is hand crafted from cane; a sustainable and durable natural resource. A beautiful addition to any nursery with a delicate unisex style. Cane bassinets can suit a variety of styles from boho and vintage to earthy and beachy. The design promotes peaceful sleep with good airflow and a firm and snug fitting mattress complete with cotton casing. Our bassinets come in two parts so that the top can be later repurposed into a washing basket or toy storage once your baby has outgrown the size. Lightweight even once fully assembled making it easy to move around to keep your baby nearby.
Bassinets are recommended for newborns up until the age of approximately 6 months or when your baby is able to sit up by itself. Please refer to SIDS guidelines for more information on creating a safe sleeping environment.
Tiny Fox Baby Bjorn ($446)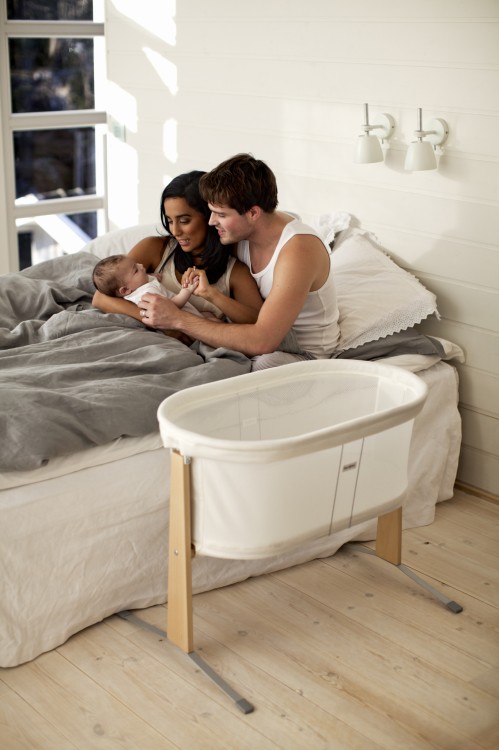 The BabyBjorn Cradle gives babies the feeling of being wrapped in their mother's arms - a security they miss from before birth. Babies sleep soundly and calmly, lying with their head at heart height between their parents or near natural light. The gentle rocking motion is similar to that of a pram and a mum's hand constantly comforting her baby never far away either. The cradle can be used from newborn upwards and has a maximum weight limit of 8 kilograms
Bebe Care Ole Bedside Sleeper V2 Natural ($199)
Bonding with your baby is a vital part of development through those early months, and the convenience of this bedside sleeper makes 3am breast feeding easy. From its polished timber leg extensions, to its elegant simplistic design, the Ole
Bedside Sleeper from bebe care is the perfect solution to keep your child close during sleep time.
Tiny Tots Baby Store Tasman Eco Venice Bassinet ($189)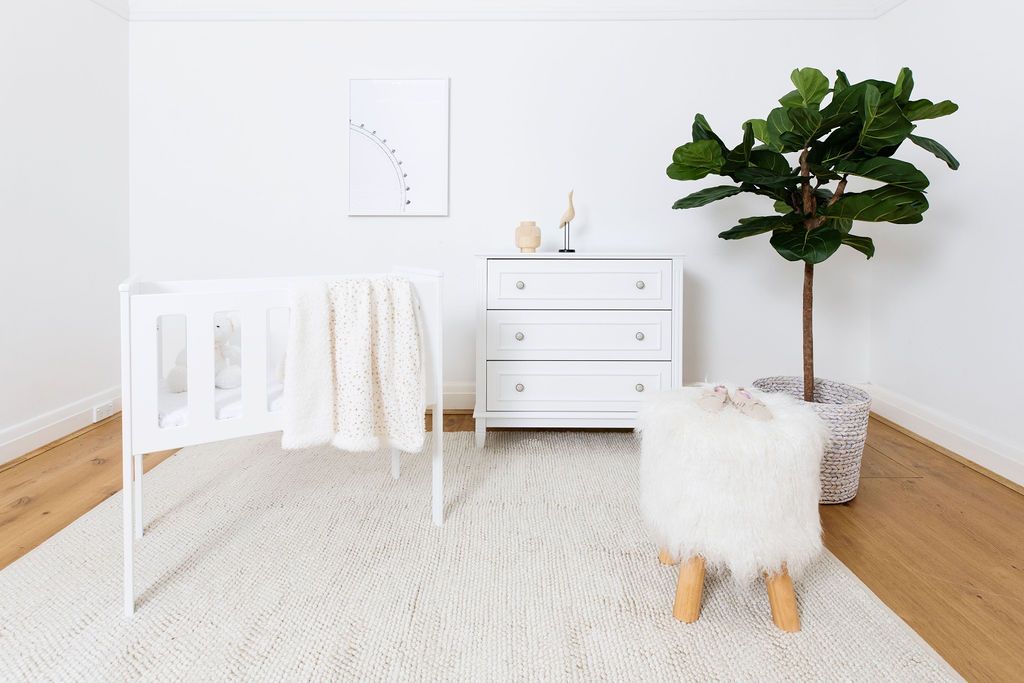 The Venice Bassinet is the perfect sleeping spot for your baby in their first six months, with its regal finishes, it is a perfect accompaniment to your Venice Cot.
It's panels allow for improved airflow for your sleeping baby.
It is flat packed for easy home assembly.
All stains and finishes are non-toxic. The Venice Bassinet has been designed and made in accordance with the Australian recommended safety guidelines for safe sleeping in bassinets. Each of our bassinets have been approved by these standards.
Baby Village 4Moms Mamaroo Sleep Bassinet ($639)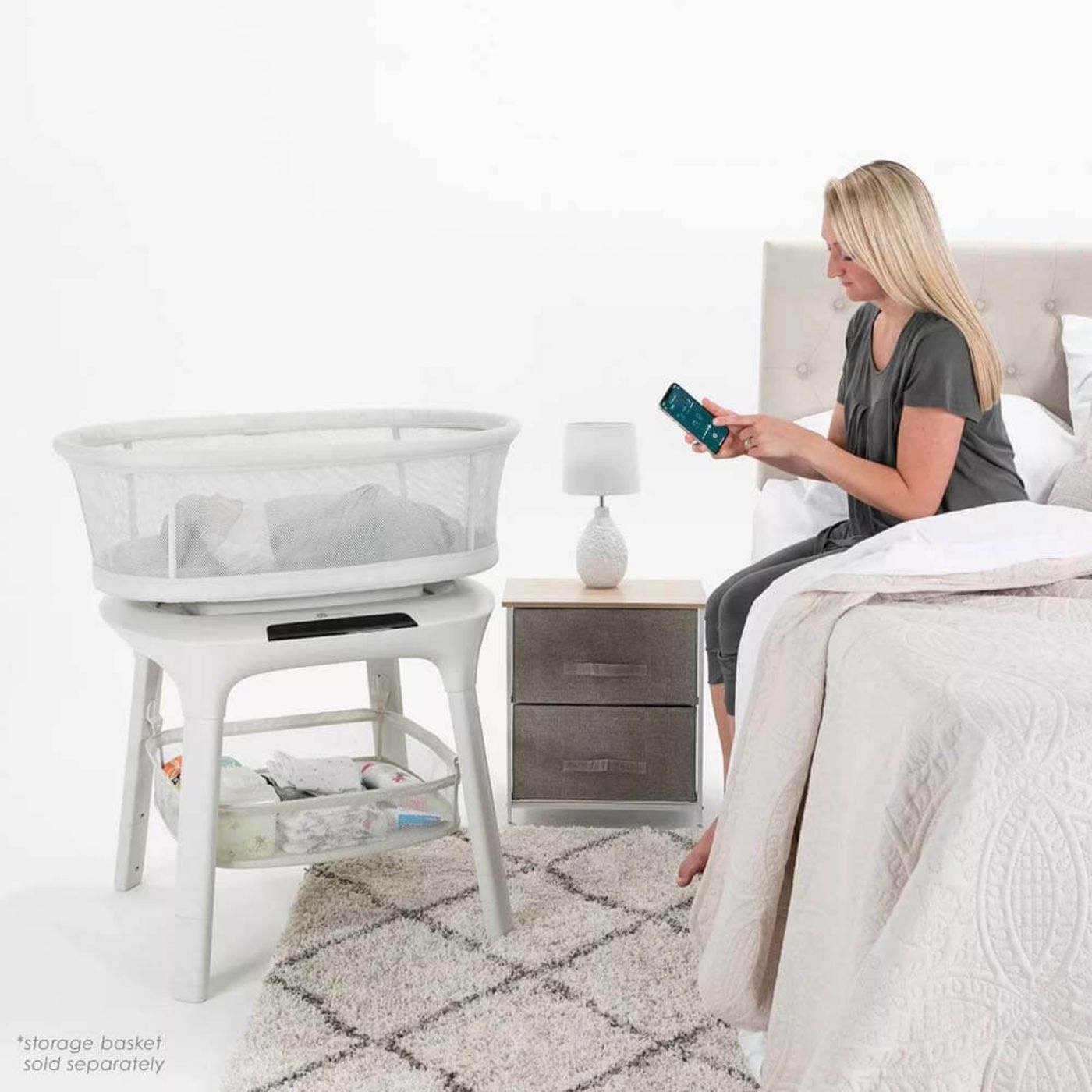 The 4moms mamaRoo rocking sleep bassinet uses the same proven motions of the 4moms mamaRoo infant seat to help your baby fall asleep and stay asleep longer.
Soothe and comfort baby in the 4moms mamaRoo sleep bassinet with its natural bounce and sway motions that move just like parents do.
It features 5 unique rocking motions (car ride, wave, kangaroo, tree swing, and rock-a-bye) and 5-speed options to find the perfect combination baby loves. Your baby bassinet can also play one of the 4 white noise options (rain, ocean, fan, and shh).
Easily control all features via the 4moms app on a compatible smart device. The 4moms app also features a timer that can be used to help establish a bedtime routine and improve sleep.
The mamaRoo sleep bassinet provides a firm, flat sleep surface that follows the AAP's Safe Sleep Guidelines for newborns. Features such as height adjust, for optimal visibility & accessibility, and mesh sides create a safe sleep environment and give you peace of mind so that you and your baby sleep soundly.
Cozy Cribs Sunrise Bassinet ($399)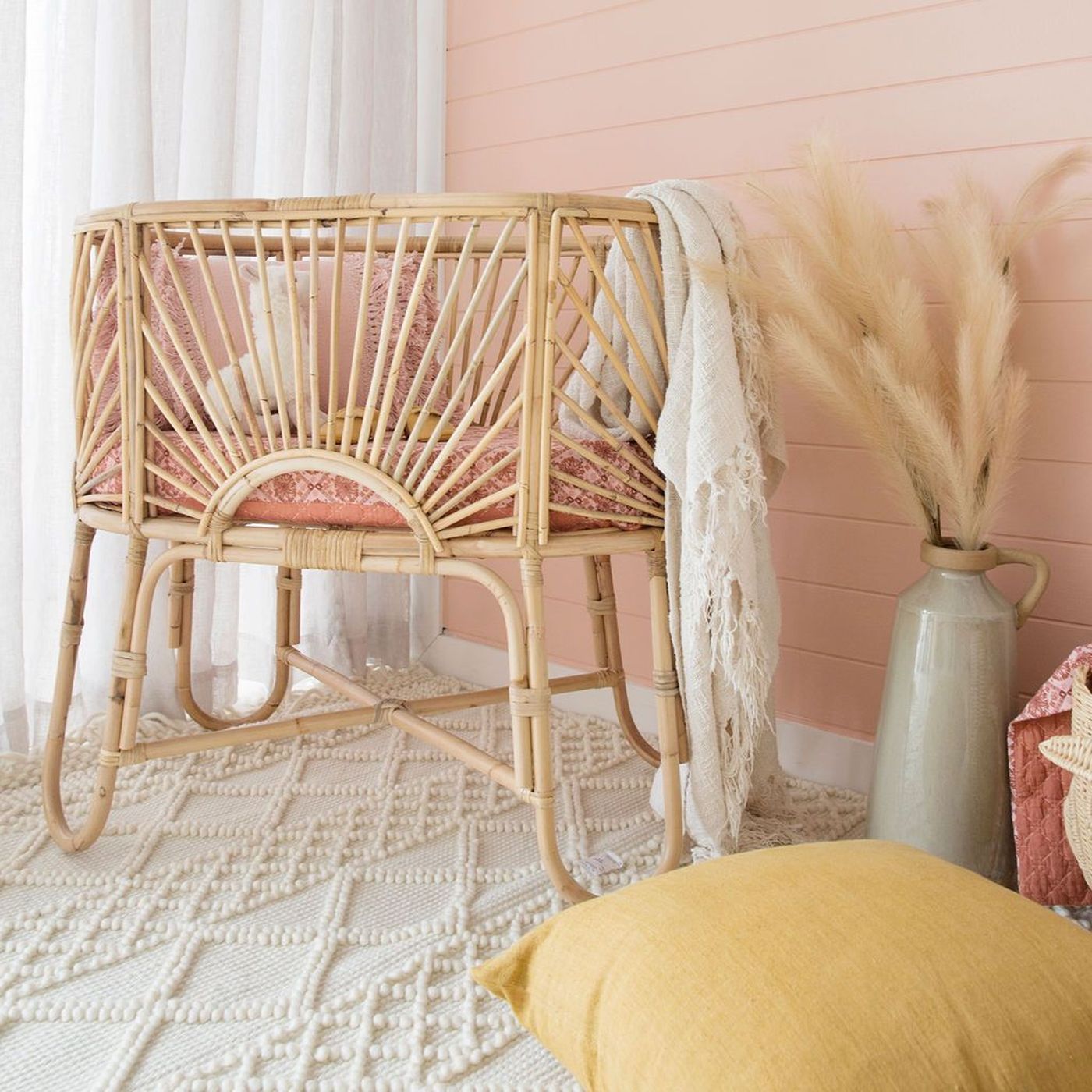 You'll be rocking your little one to sleep with the best of them soon enough! But until then, your little one will enjoy feeling as cozy and secure as they deserve. The Sunrise Bassinet is hand-made showcasing a beautiful sunrise pattern encased in a solid rattan frame. It has an elegant and classy appearance that'll suit any new nursery, but can also transform into something you just want to stare at in awe for hours on end.
Quirky Bubba Sienna Bassinet & Mattress ($299)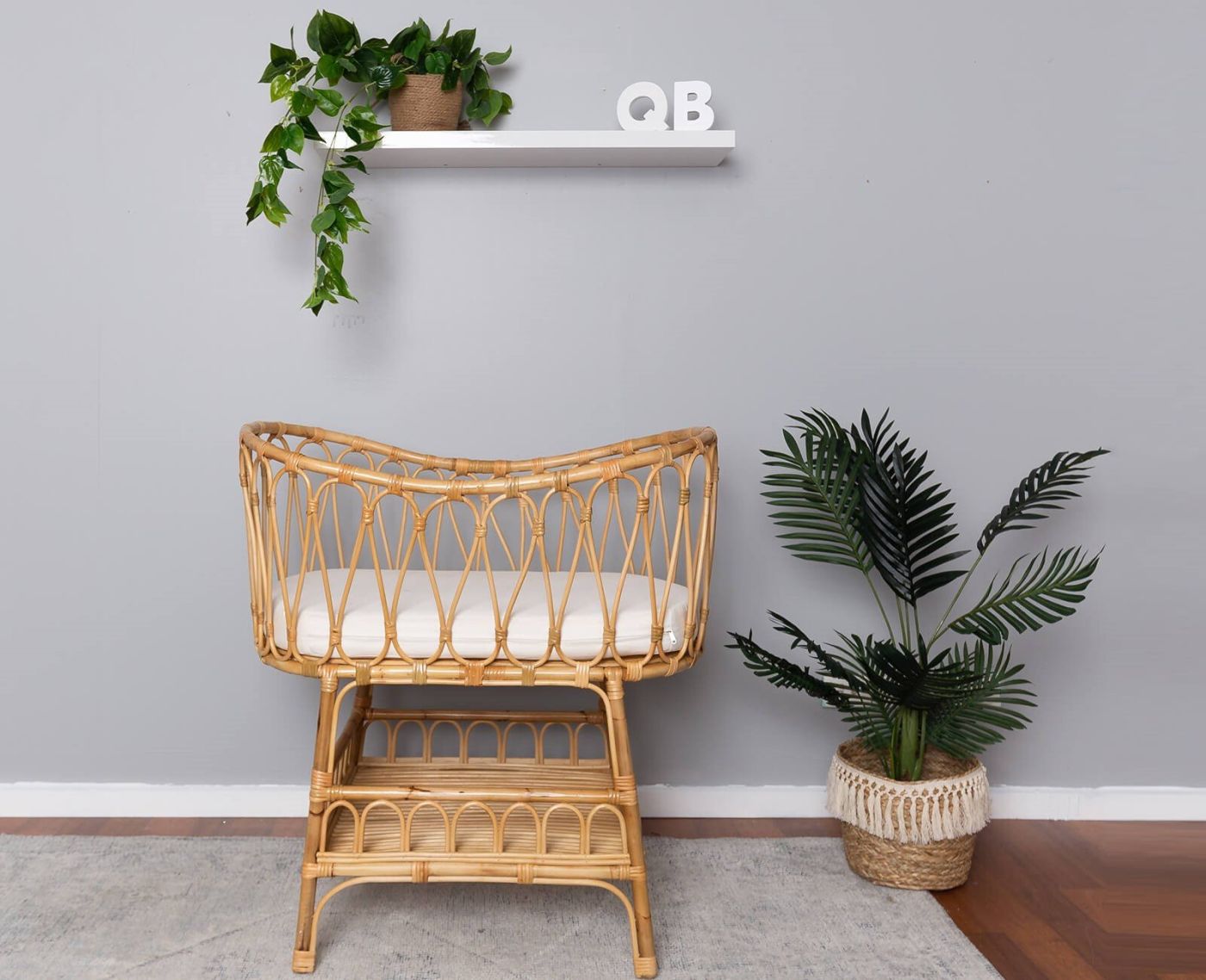 This pretty-as-a-peach bassinet is stylish and practical, with a durable rattan construction and spacious storage shelf for organization.
Breathability and visibility make this gorgeous sleep solution a favourite among parents and its designer style doesn't hurt too!
Including a foam mattress with a cotton cover for comfort, the Sienna Bassinet & Mattress is a delightful addition to any nursery.
Is there anything more gorgeous than a sleeping baby? Yes, a baby sleeping in a beautiful cot – safe and sound. A key piece of the nursery puzzle, there are plenty of things to consider when buying a cot.
When it comes to choosing the cot for your nursery, there are plenty of things to consider.  From the design and style to the practicality of where and how it will be used, it has to be the right fit. It's also essential to consider safety and quality so both baby, and mum and dad, can rest easy. The cot will likely be the centrepiece of the nursery ~ until your Bub arrives of course! From the style and design, to the functionality and practicality of this key piece of furniture, there are myriad options to meet every budget and nursery theme!
As parents, the appearance of baby cots matter as we often want to match it with the baby nursery decor. But you should make sure to check the specifications for each product or the latest customer reviews. This will help you make the best decision on what cot to purchase.
Do you choose a cot? A bassinet? Or both? It's easy to see why Grandma and Grandpa just stuck your mum in a dresser drawer when she was a newborn!
What to look for when buying a baby cot
When deciding which cot's best for your little dreamer, it's important to consider aesthetic and functionality. Here are some considerations when choosing a cot:
Space: How big/small is the room? Cots vary in size so measure your room and make sure the cot dimensions will fit your space. Use our handy nursery planning guide to help you on your way.
Safety: Safety is paramount, so be sure to choose a cot that meets Australian Safety Standard AS/NZS 2172-2003.
Quality: The quality will impact both the safety and durability of the cot. Choose a well made, sturdy cot that will last the journey.
Fixed side or drop rail: Considering a cot with drop rails? Try to select a design that allows for one-handed operation so you can hold baby in the other arm.
Adjustable mattress height: Cots should have a minimum of two mattress height options. Constantly reaching down for a tiny newborn isn't fun, plus the added height means baby won't be able to climb out of the cot.
Nursery design: Is there a nursery theme or other furniture that the cot needs to compliment? Many cots are available in sets so the change table and dresser all match too.
Features to consider when buying a cot
Teething strips: These are plastic strips that attach to the rails of the cot to protect baby's precious teeth and gums, as well as the cot itself.
Castors: Wheels make a cot easier to move around. Ensure the wheels are lockable so the cot won't move when in position.
Sustainability: Look for claims of sustainable manufactures, such as the use of plantation or FSC-certified timber.
Convertible cots: Make the transition from cot to bed as smooth as possible. A cot that doubles as a toddler bed will provide a safe and familiar environment when easing into the change.